Paul Mountain Thumbies Bar End Gear Lever Shifter Mounts - 22.2 mm Band On - Shimano Version
Manufacturer :
SJS Cycles part number :
Manufacturer part number :
Details
Paul "Thumbies" are the original upright handlebar mount for bar end shifters. They do not include the shifter but are designed to be used with indexed bar end shifters from Shimano, Campagnolo, SRAM & others, this version is for use with Shimano shifters only. These shifters are readily available for 8, 9 & 10-speeds, & most have a friction option for everything else.

There are three versions available to pair with Shimano bar end, Campagnolo bar end or SRAM TT shifters. Each company has their own unique shifter boss fitting & they are incompatible with one another.

Mountain Thumbies fit standard mountain bike handlebars but will work with almost anything that has a 22.2mm (7/8 inch) diameter. The shifter boss is raised from the bar to give clearance for bulky two-bolt brake levers & the hinged clamp makes installation easy.

Tech Info:
- Material: 6061 Aluminium
- Weight: 60g per pair (no shifters)
- Finish: Anodized
- Anodized Colour: Silver
- Clamp Size: 22.2mm
- Compatible Handlebars: Flat, Riser & Cruiser
- Compatible Shifters: Shimano Bar End
Related products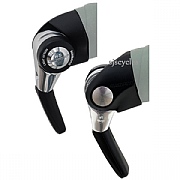 Shimano Dura-Ace SL-BS79 10 Spd Bar End Shifters
£89.99 Inc VAT
Quick view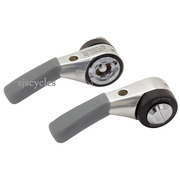 Shimano Dura-Ace SL-BS77 9 Spd Bar End Shifters
£91.99 Inc VAT
Quick view
Product Reviews (5)
Overall Product Rating 4.8 / 5
Neat and minimalist
22 Apr 2021
I recommend this product
Pros
Does the job really well
Enabled me to swap the drop bars on my Dawes Galaxy for straights while retaining the use of the original bar-end shifters. Open jaw design means easier fitting / removal. Expensive but being made in the USA that is to be expected. Good quality and an excellent accessory.
Good but maybe cheaper alternatives are better
06 Sep 2017
I recommend this product
Pros
Levers better than pods
I bought these rather than JTEK or SJS cheaper alternatives as they project more from the bar and will sit over the top of a brake lever. In fact once they are fitted you end up moving them more centrally on the bar so that the levers do not intefere while braking, so maybe the cheaper ones would have been better. That said, these do have a distinct advantage in that they are open-jaw & can be removed without removing brake lever and grips and bar ends - this means that when I pack the bike to go on a plane the shifters can be detached from bar, hang free, and be wrapped in bubble-wrap, which should protect them nicely.

Quality is good, they do the job, sod those rapid-fire pods.
Great Product
06 Oct 2011
I recommend this product
Pros
Easy to fit, work well
My apologies for getting back to you so late, but before I could give proper feedback I had to do a few test rides. Everything else was very much okay. No complaints about your service either. They arrived sooner than expected, so nothing more to wish for.

The product itself: Damn good! They are very easy to fit and place the actual shifterpart in just the right place. Way better than the original Shimano thumbies, although it can't reach the ergonomic quality of the STI unit. It's also not as fast shifting as the modern STI units, but its super bombproof and will probably outlast every other shifter combo that's on the market today.

One advantage that's also worth mentioning is that it can make combinations of shifting parts from different brands work. For "walletary" reasons I use a mix of shifting parts from different brands like Shimano, SRAM and BBB. My former XT STI's did the job but not always that good. Now, combined with DuraAce timetrial shifters, it works absolutely flawless. (For globe travellers this info might come in handy also.)

But: If I had known that regular downtubeshifters also fit on these adaptors, I wouldn't have gone through the trouble of getting timetrial shifters. Maybe that's something worth mentioning on your website?

So, thanks SJS Cycles for the quick service and for a top product.

Rediscover The Joy Of Friction Thumb Shifting
22 Jun 2011
I recommend this product
A great solution if you want quality friction thumbshifters. You'll need the barcons too but they work and are athe elegant
When Old Meets New.
01 Apr 2011
I recommend this product
Pros
Simple, stable and quality.
Made for those of use who want a bike with functioning practical parts, not something designed by NASA! Brilliant, simple, quality and made in USA.
Is the price for one or a pair?
27 Nov 2021
Can I check if the price is for one thumbie or a pair?
Price is for pair as pictured.

JK 29.11.21
Fitting On Drop Bars
18 Jan 2017
Hi, I'd like to fit these on some drop bars (don't ask!) but they seem to measure 24mm rather than 22.2mm. Do you think I'd be able to fit the thumbies to these bars, bearing in mind that I'd have to squeeze them around the curve so they'd be on the flat part of the bars.
Hi,

These thumbies unfortunately will not fit your bars, most flat/straight bars are 22.2mm and most drop bars are 24mm. All we can recommend is going for a set of the 31.8mm options and run them pressed right up against the stem on the larger section of the bar. these are SJSC part number 29187.

Thanks.
I Want To Use Pauls Thumbies With Dura Ace 9Spd Bar Ends
14 Aug 2015
How do I specify this when ordering? They're going on my Schlitter Encore recumbent hiracer
Hi
You don't have to specify, they are self assembly.
Thanks
Adrian
Do You Have 22.2Mm Clamp Paul Thumbies In Black?
08 Jun 2014
Hi,

Its not something we currently stock but we can order them in for you on a custom special order.

Thanks.
Can You Get Thumbies For Campag Bar End Shifters
11 Apr 2014
Hi,

We don't currently stock them but they are available so we can get hold of them. As we'd have to order them as a special order item the order would have to be placed over the phone.

Thanks.