Replacement Derailleur Hanger / Dropout 138 for Eddy Merckx Norco Pinarello Stevens
Manufacturer :
SJS Cycles part number :
Manufacturer part number :
Details
Made by Wheels Manufacturing in the USA.

Manufacturer's Stated Fitments:
Eddy Merckx
- EMX3 (2010 and earlier)

Norco
- Norco Team 6
- Norco Team 9

Pinarello
- Dogma 65.1 - 2013-2015
- Dogma Carbon - 2010-2013
- Dogma F8, Dogma 2 - 2015
- FCX - 2015
- FP Due - 2012
- FP Quatro - 2011-2012
- FP2 - 2011
- FP3 - 2011
- FP7 - 2010
- Marvel - 2015
- Paris - 2011-2013
- Prince - 2008-2010
- Razha - 2015


Stevens
- SLC Team (2011)

Do not confuse with #120!
Note: The mounting holes on Hanger #138 are 23mm apart, center-to-center. Do not confuse this hanger with the #120

Please see the SJSC website for accurate pictures to make a comparison with your original hanger. Alternately we can match it up physically if you send us your old dropout.
Related products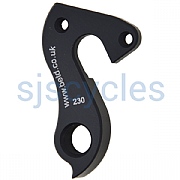 BETD Replacement Derailleur Dropout / Hanger 230 for Eddy Merckx Norco Pinarello Stevens
£19.99 Inc VAT
Quick view
Product Reviews (3)
Overall Product Rating 5 / 5
Brilliant
07 Feb 2018
I recommend this product
Brilliant
Better than the original
21 Sep 2017
I recommend this product
Pros
Speed of service, pricing,fit.
I ordered this component on line and was amazed at how quickly it arrived ! It seems to be a better part than the original one. It fitted perfectly and resolved my problem .
Perfect fit
19 Jul 2017
I recommend this product
Replaced my broken rear mech hanger. Easy to fit with a small Allen key.
What screws would I need for this please?
17 Oct 2019
I have a FP Quatro - 2011-2012
Hi
Thank you for your enquiry. Although they are not shown on the image the fixing screws are included with the hanger so you will not need to purchase anything extra to fit this.
Kind Regards. 17/10/19
Stevens Izoard Pro 2016
20 Aug 2018
Can i use this for Stevens Izoard Pro 2016 carbon bike?
Do the screws follow with this one?
We have no knowledge of that bicycle or the mech hanger, without this it is near impossible to advise. We would recommend forwarding some clear photos via email.

Thanks
Will this Derailleur Hanger / Dropout 138 work for all model of Pinarello F8
03 Aug 2018
If I need to bend this hanger with an alignment tool, will it break? Is the material bendable? Reason I'm asking is the original one broke when I bent it very slightly to alignment it.

What the cost to ship this to Singapore

Thank in advance, cheers
Hi there,

Most mech hangers should cope with some alignment, we cannot really advise how far these can be aligned.

For shipping information / costs, simply add the item(s) to your basket and follow the first steps of the checkout

Thanks
Hi Will This Hanger Fit A 2012 Pinarello Fp Uno?
06 Jul 2016
Hi will this hanger fit a 2012 Pinarello FP Uno?
Hi,

This should be the correct replacement derailleur hanger for your frame.

Thanks.
That Will Be Right One For Pinarello F8 ?
31 May 2016
My is broken from pinarello f8 model 2016
Hi,

This is indeed the correct replacement dropout for your bike.

Thanks.
Is This Hanger Compatible With Pinarello Fp7 Frame 2009?
09 Apr 2014
Hi

According to the manufacturer website this hanger will do the 2010 Pinarello FP7 there is no reference to the 2009 version. However, its more than likely that they were the same, check the spacing between the two fixing holes on your original if they are 23mm apart then you will need this one but if they are only 18mm apart then you will need Hanger #120.

Regards

Jamie