Thorn Dropout Adaptor with Propstand Mount - 18 mm
Manufacturer :
SJS Cycles part number :
Manufacturer part number :
Details
Fits ALL Thorn models with Rohloff dropouts (SJSC#26518) ie except Mercury, to enable a ESGE KS18 Propstand to fit sjsc # 49938.

NOTE: if a rear rack is fitted you need to use one of the regular dropout adaptors on the other side to balance the central fitting of the rack, this will need to be bent out to accommodate the extra width of the adaptors (if not already fitted on the bike) the replacement items (SJSC#49690 or SJSC#11703) are in the associated items further down this page.

This is the ONLY way to fit a Kick/Prop stand to one of these bikes without voiding the frame warranty.

This still needs to be used with care, many of our reservations still apply, you could bend or break this adaptor or the stand if overloaded, but importantly this won't damage the bike frames integrity in any way!
The bracket (although expensive) should be considered sacrificial...in test we've deliberately bent and bent straight one of these brackets 4 or 5 times without significant reduction in it's strength.

Required to fit to the frame : 2 x M5x12mm socket cap bolts. The stand bolts to it with M6x20mm socket cap bolts, we recommend the use of Loctite or split washers on the stand bolts.(no fitting hardware included)
Related products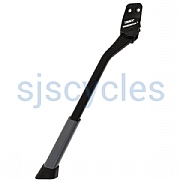 Pletscher ESGE KS18 Comp 18 Flex Stand - Black/Titan
£17.99 Inc VAT
Quick view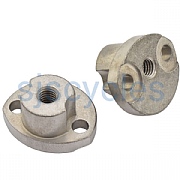 Thorn For Cast End 2 x M5 to 1 x M6 Stainless Dropout Adaptors Mk2
£39.99 Inc VAT
Quick view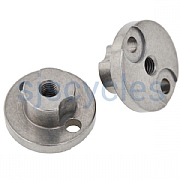 Thorn For Rohloff Cast End 2 x M5 to 1 x M6 Stainless Dropout Adaptors
Now from

£19.99

Inc VAT
Typical RRP: £29.99
Quick view
Product Reviews (7)
Overall Product Rating 2.3 / 5
It works
15 Aug 2023
I recommend this product
Cons
A bit pricey but it is unique to limited production, I get it
I found this a good solution and easy to fit. The whole thing works and now my Nomad has a stand
Useless and VERY badly designed.
28 Jul 2023
Cons
To thin, too weak, too easily bent.
I just don't get it. I live in Germany where every cycle tourist uses a side stand. Millions of them! I've never met a single one who has damaged his bike. A. Blance brags about the strength of the Nomad, but apparently, unlike German bikes, it is too weak for a kickstand. Something is wrong here. Can millions of German tourers be wrong, or is A. Blance's experience just not broad enough to know what he is talking about?

This particular solution is just badly designed. The spur with theo bolt holes needed to be at least twice as wide, then it might hold a loaded touring bike, as it is you pay £44 pounds only to watch it bend, and your bike to fall over the first time you use it. A complete fraud.
Not fit for purpose
06 Aug 2022
Cons
Can not fit suggested stand to it .pointless .
I bought this adaptor with the recommended kick stand & the bolts don't even fit .I they know this why not supply the correct bolts ?
Not worth the money
06 Jun 2022
Cons
Sacrificial part is very expensive
I, too, am disappointed with this adapter for two reasons 1) It is very expensive for such a small, "sacrificial" part, and 2) It bent easily when used on my loaded Nomad 2 making the kickstand useless (maybe that is Thorn's intent due to their opposition to kickstands).
Frankly, many of us that own a Nomad, keeping asking for a reliable working kickstand, but the request to incorporate that onto the bike continues to fall on deaf ears.
It works
09 Feb 2022
I love my Nomad MK2 and used it for 10 years. It is havy duty steel. I don´t really understand, why I have to use this adapter. All other companies accept a kickstand mounted to their frames.
bends when used with loaded bike
29 Jul 2021
Cons
Bends when used with a loaded bike
Pros
Okay for bike without any baggage
I bought this about two years ago with the recommeded pletscher stand. After two years of use I have had to remove it because it has bent so much that the bike topples over when using the stand. I have just watched a youtube video for a review of the Nomad Mark 3 bike where the reviewer has experienced the same issue. I have used the stand with a loaded bike but not carrying excessive weight - no more that 10 KGs. Just my opinion but I don't think this is fit for purpose.
SJS Customer Service:
A stand is SUCH a great thing to have that they get used a lot, this adaptor allows a stand to be used with our Rohloff bikes that offers no threat to the integrity of the frame, however the downside is that (although VERY expensive) it is deemed to be "sacrificial" like a derailleur gear hanger. It's true, unless the rider is very careful where and how they use this item it WILL bend as described.
Useful but restricted in application if you want to fit a rack as well.
17 Jul 2021
I recommend this product
Cons
Requires careful matching of stand and rack if you wish to use both.
Pros
Allows fitting of a stand without risking damage to the frame.
A useful accessory that allows you to fit a prop stand but I found that (in order to clear the recommended Esge KS18 Comp 18 Flex Stand) a Tubus classic style rack foot has to be spaced out significantly wider than the turret provided on the mount. In the end I was not happy with this arrangement and had to choose between rack or stand. This is likely to be the case with any rack which has structure more than a few mm to the rear of the lower mounting hole. It would appear from photographs that the Thorn Expedition Rack does not have these clearance issues but I have not tried one personally.
Will it fit with Thorn rear rack? Can you ship to the United States?
01 Sep 2021
I am the owner of a Mk1Thorn Nomad with the Rohlhoff dropouts, located in Pittsburgh PA in the US.

Assuming it will fit with the Thorn rear rack installed, would you be able to ship me an adapter, and corresponding KS18 ESGE kickstand?

Thank you!
Bruce
To confirm whether this would fit your bicycle, please send a photo or two to
[email protected]
Thanks
Can I use this on 2006 raven sport tour?
08 Sep 2020
Hello, This Fits ALL Thorn models with Rohloff dropouts.

Thanks,

JK 09.09.20
?
12 Jan 2020
Would this work with a thorn Sherpa?
Unfortunately only Rohloff specific bikes.

Thanks - 13/01/20