Brompton Lock-On Grips - 130 mm - Black
Manufacturer :
SJS Cycles part number :
Manufacturer part number :
Details
For S-type bars, and 2017 onwards M & H bars

DOES NOT FIT PRE 2017 M or H TYPE BARS

Weight: 118g ( Pair )

Please note Brompton have selling restrictions to some countries who have their own dealers. If you are unsure please contact our customer services.
Related products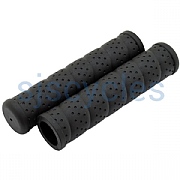 Joseph Kuosac Handlebar Grips for Bromptons - Black
£9.99 Inc VAT
Quick view
Product Reviews (3)
Overall Product Rating 4.3 / 5
Short Longevity!
22 Nov 2020
I recommend this product
Pros
good grip on wet/rainy days
Unfortunately the rubber is soft, very delicate and high wearing. I used it for less than 6 months and I need to replace them already as half of the rubber, on each grip, has gone or is damaged and no loger works as intended. I have used the foam type before and although they are easily damaged on a simple fall they are in, my opinion, better money for value. I would still reccomand them, as i did like them, but they don't last as long as the foam one.
Excellent quality and fit
28 May 2020
I recommend this product
Pros
quality and feel, larger grip
very good quality and super clean and quick fitting vs the old glue-foam parts
Buen producto
By
Jose Antonio Fernández
16 Nov 2018
I recommend this product
Cons
De momento nada en contra
Pros
No muy pesado y buen ajuste mediante tornillo, así como buen grip.
Buenos puños, con buena sujeción mediante tornillo y buen grip. Lo recomiendo.
Joseph Kuosac Handlebar for Bromptons
23 Apr 2020
Hi, could you let me know if these grips are compatible with Joseph Kuosac Handlebar for Bromptons (SJS Cycles part number : 46143)?
Hi, yes they are compatible. Thanks 24/04/2020
I have the supelight M black edition, bought in 7 june 2017, are these sutiable?
29 Apr 2019
If the gear shifters are under bar not above bar, yes.

Thanks - 30/04/19
I fitted these to a 2004 M bar without problem. What can be the downfall in this?
04 Apr 2019
The grip is almost certainly not all the way onto the handlebar.

Thanks - 05/04/19
Do these have a rigid core?
10 Dec 2017
I'm just wondering about options for modifying their length, by cutting from the thumb end and re-installing the clamp. (Not asking you to approve of this!)
Hi there,

These have a plastic core so cutting them generally ends in a bit of a mess!

Thanks