Velo Ergogel D3 Lock Handlebar Grips Standard
Manufacturer :
SJS Cycles part number :
Manufacturer part number :
Details
3 component grip, hard mixture inner for good handlebar feel, 2 soft gel mixtures on the outer for comfort and shock absorbtion, ergonomical shape, easy (dis) assembly, and perfect grip at the handlebar through the screw fixation system.

- Length: 135mm Both
Related products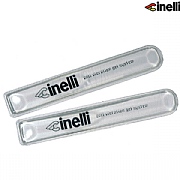 Cinelli Bar Gel Cushion Kit
£4.99 Inc VAT
Quick view
Product Reviews (5)
Overall Product Rating 4.6 / 5
Synthetic and Modern
06 Jul 2021
Cons
The fixing screws are tiny (guess 3mm diameter) and I expect they will break.
Pros
Slightly shock absorbent and grippy.
Synthetic materials have been used to create rubbery, grippy - um, grips.

Slightly bungy, so they absorb some high frequency shocks. On a hot day without gloves, these grips are extraordinarily non-slip, almost tacky. This means sweat is unlikely to cause you to slip off the grip. But I got some red patches on my hands.

I am not yet sure what these modern materials will do to my skin.
Velo Ergogel D3 Grips
14 Oct 2013
I recommend this product
Very comfortable, good quality, great value, SJS delivery.
Mr
18 Aug 2012
I recommend this product
good quality product at a very raesonable price, easy to fit.Recommended.
Mr
10 Apr 2012
I recommend this product
These grips are so comfortable I dont know why these arn't standard on all bikes
Excellent.
28 Sep 2009
The best grips I have had so far. By a long way. Especially good on my Dahon folder.
What diameter bars do these fit?
20 May 2020
I.e. would they work on 25.4mm bars?
Like ALL straight bar grips they fit handlebars of 22.2mm diameter, the 25.4mm you quote is (i believe) the diameter of the swell for the stem clamp RT
can you fit mtb bullhorns to end of these?
12 Sep 2019
could you fit MTB bullhorns onto the ends of these grips? if not, do you sell any ergonomic grips which you can?
Yes, you may need to cut a hole in the end though.

Thanks - 16/09/19