Ergotec AHS Superlight Adjustable Handlebars - 25.4mm Clamp - Black
Width
Manufacturer :
SJS Cycles part number :
Manufacturer part number :
Details
The AHS steering system is exclusively available from Ergotec. It combinesvarious handlebar designs and grip positions into a multifunctional solution. The great advantage is that it allows customization without having to dismantle anything. Just a few adjustments are needed to change the configuration. The grips are interchangeable and can be fixed in any position.

For all those who don't like cow horns. Like the AHS Premium, the handlebar angles can be varied at will. Large selection of grips. Always combinable with bar ends. Accommodates rotary shifters.

- Width: 580mm
- Grip L: 205mm
- Rise: 0 Deg
- Angle 0-90 Deg
- Weight: 450g
- Clamp: 25.4mm
- Bar Diameter: 22.2mm
- Material: AL6061-T6
Related products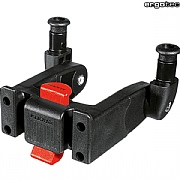 Ergotec Klick-Fix Luggage Holder for AHS Premium / AHS Superlight
£35.99 Inc VAT
Quick view
Product Reviews (4)
Overall Product Rating 5 / 5
Good Adjustable Bars!
10 Oct 2012
I recommend this product
Good bars. Adjust to how you like. Comfort for all riders!
At Last - Comfortable Handlebars!
17 Sep 2012
I recommend this product
Cons
May need shim to fit large clamp size
Pros
Incredibly comfortable
Tried and failed to resolve wrist pain and numb fingers with various unadjustable bars and bar end combos. After a little experimentation, these bars have done the trick.
Does What It Says In The Box
17 Aug 2012
Cons
a bit heavier and cost
Pros
Excellent quality and adaptability
Excellent quality. I struggled to find a handlebar that was swept back enough and this gives you all the adaptability you might require. I no longer get wrist pain.
Quality, Folding Handlebars.
01 Jul 2011
I recommend this product
Cons
Hex key required to make adjustment. (Not a big problem)
I bought these handlebars for my Dahon Jack so when I travel on the train, I can fold them up so they are not protruding. Solid product, very pleased.
Brompton use - 25.4 mm
09 Mar 2020
Follow up question - the Brompton uses a 25.4 mm handlebar. But due to that fact that the handlebars can't slide on and need a faceplate they won't work on a Brompton? Is there a modification to allow these handlebars to work on a Brompton?
You would need a stem with a face plate.

Thanks - 09/03/20
Will these mount on the Brompton - there is no removable faceplate on Brompton.
09 Mar 2020
Brompton has an 'old school' handlebar mount. I have some swept back bars, and while the fold, the fold gets much wider. Also had to switch out the cable housing. Will these mount on a Brompton? And will the interfere or enhance the fold? Thanks for your time with my question.
Without changing the stem fitting, no.

Thanks - 09/03/20
I Need A Handle Bar Stem Along With The Humpert Ahs Superlight
04 Dec 2015
Basivaaly a handle bar which fits in the Humpert AHS Superlight Adjustable Handlebars 25.4mm ClamP
Hi,

Any stem that has a removable face plate and clamps to bars that are 25.4mm in diameter will work with these handlebars.

Thanks.