Joseph Kuosac Handlebar for Bromptons - Mid Rise - 25.4mm Clamp - Silver
Manufacturer :
SJS Cycles part number :
Manufacturer part number :
Details
Designed to raise or lower the front end to suit the rider. When fitted to an S type stem the height position is the same as an M type.

Made from 6061 aluminium.
25.4mm clamp.
Ergonomic handlebar with curve in design.
600mm Wide - with cutting markings.
100mm Rise
Standard 130mm handlebar grips compatible - Brompton bars use 100mm.
Similar products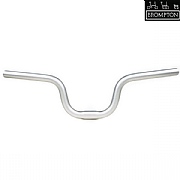 Brompton Handlebar M / H Type [2] - Low Rise - Silver
£30 Inc VAT
Quick view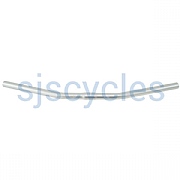 Joseph Kuosac Flat Handlebar for Bromptons - 25.4mm Clamp - Silver
£19.99 Inc VAT
Quick view
Joseph Kuosac Handlebar Grips for Bromptons - Red
£3.99 Inc VAT
Quick view
Be the first to write a review
Feel free to leave a review of this product, good or bad it helps other customers with their buying decision.
Can I use my 'old style' Brompton brake levers with this bar?
17 May 2018
Can I use my 'old style' 2011 (black plastic and silver lever) Brompton brake levers with this bar, or do I need new levers for the larger diameter bar?
Hi there,

Yes you can use your older levers with these bars.

Thanks
height clearance for bag on brompton
23 Mar 2018
Would fitting these bars to my M series Brompton leave me with enough height clearance to fit a touring bag?
You should have enough room with the biggest bag, the T bag, even using this lower rise handlebars. The one thing to watch out for is the cabling as it will need to be reduced in length and be aware of the extra width of the handlebars, having the levers set wider will pull the cables tighter.

Thanks
How long is the straight grip area of these bars?
22 Mar 2018
I need 16cm for my preferred grips, twist shifter and brake lever. Thank you.
Hi there,

The straight grip area is roughly 185mm.

Thanks
What grips with these bars?
17 Mar 2018
I'm looking to get these bars for my M3L and wondering what grips you'd recommend. Ergoo GP2's are popular with Bromptoneers but I'm conscious that these bars are already designed to be more ergonomic so wonder if they'd be an "ergonomic" too far and I should look at something like the GE2's instead?
Hi there,

You should have no problem with the GP2s, the ergonomic curve is non severe.

Be aware, fitting this to your M type will mean the stock cable lengths will need to be trimmed to size.

Thanks
Do I need longer cables with the jo Lusaka mid riser bar on s Brompton . I currently have the s bar
28 Feb 2018
If yes then price me up for cables please
Hi,

You will definitely need longer cables to use this bar with your S-type bike. As this will be a different height than any of the standard Brompton models there won't be a set cable options for it so you will need to buy a set of full length cables and work out what length they need to be as you fit them and cut them to length.

Thanks.
What is the rise of this handlebar?
28 Jan 2018
Hi there,

Roughly 10cm from center of clamp to center of grip section. (Vertically)

thanks