Joseph Kuosac Handlebar for Bromptons - Mid Rise - 25.4mm Clamp - Silver
Manufacturer :
SJS Cycles part number :
Manufacturer part number :
Details
Designed to raise or lower the front end to suit the rider. When fitted to an S type stem the height position is the same as an M type.

Made from 6061 aluminium.
25.4mm clamp.
Ergonomic handlebar with curve in design.
600mm Wide - with cutting markings.
100mm Rise
Weight: 250g
Standard 130mm handlebar grips compatible - Brompton bars use 100mm.
Related products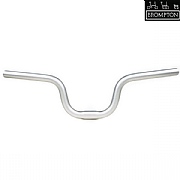 Brompton Handlebar M / H Type [2] - Low Rise - 2017 onwards - Silver
£37.50 Inc VAT
Quick view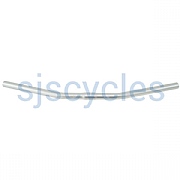 Joseph Kuosac Flat Handlebar for Bromptons - 25.4mm Clamp - Silver
£24.99 Inc VAT
Quick view
Product Reviews (9)
Overall Product Rating 5 / 5
27 Apr 2021
I recommend this product
Pros
Good value , good fine adjustment to ride position.
Very pleased with these. Easy to replace the original Brompton handlebar to give me a less upright ride position, more like my road bikes. Much more comfortable now and the bar was changed using the same cable lengths. I did add one extra cable-tie to tidy up the cabling.
Really easy fit to a 2019 M-type
25 Apr 2020
I recommend this product
Pros
Good quality, nice shape, easy to fit.
No need to change cables, and the fold was fine with the bars at full width., For aesthetic reasons I cut them down by 25mm each end with a junior hacksaw and they look more purposeful now.
You just need three different Allen keys and you're done.
The silver colour is slightly more shiny than the stock Brompton silver but it's not glaringly obvious.
I'm only 5 feet tall and I find the standard M bars a bit too 'sit up and beg' so hopefully these will be more comfortable when cycling uphill.
Excellent purchase
20 Apr 2020
I recommend this product
Pros
Better look than P bar
Used these to replace some P style bars on my Brompton. Straightforward swap with no need to shorten cables. Cut down bars by about 20-25 mm each end and fitted Ergon grips. Fold not affected, great improvement giving slightly lower overall height and more forward riding position.
Best Value
10 Jan 2020
I recommend this product
Excellent and cheap way to alter the height of your Brompton bars. As others have said, the cables don't need altering and this reduced the height of my M bars by just over 2.5mm. The width was reduced by 2mmeach end to clear the ground on folding. I can also twiddle the bars slightly to alter the reach.
Fantastic quality and price
23 Oct 2019
I recommend this product
Ordered a set of these bars to replace my original B75 old type m bars ' easy changeover and transformed the ride so much better control !!
Perfect for a B75
08 Oct 2019
I recommend this product
Pros
Perfect for B75, good quality, good price
I recently bought a B75. The bike's M stem is lower than the more recent M stem, I believe, and the bike uses old-style M bars, which are higher rise than the current M bars. I wanted to lower the front end, because I live in a hilly area and because I'm used to riding road bikes, so I bought the mid-rise bars. They worked out perfectly. The front end is now lower by at least a couple of inches, and the bars are sturdier. and wider, so the steering feels more comfortable and secure. The bike also rides much better uphill, and it is fine to ride out of the saddle. I didn't cut them down - they are nonetheless well off the floor when the bike is folded. I was also able to use all of the original cabling without any problems at all. Good price too. Very pleased!
good-m to s conversion
24 Jun 2019
I recommend this product
Pros
cut to fit, cheap, comfy
got to convert an M to an S like height on a brompton. Fitted with GP2 grips (130mm width ) without cutting (600mm wide) and it just about fit with clearance. The cable length is okay as well with lower height.

Highly recommend and cheap for a brompton upgrade.
SJS Customer Service:
These convert to a mid way height between a stock M and S handlebar/stem set up.

Thanks!
Very Good
26 Sep 2018
I recommend this product
Pros
Not too high, not too low. Very nicely finished. Look great.
I bought these bars a few weeks ago to replace my S type bars which were a little too low for me. I could have changed them over myself but as the bike was due for service, I had them professionally fitted. The only thing you have to bear in mind is that if these bars are going to be lower or higher than your existing bars you may need to change the cables as well. I am very happy with these bars. They are Goldilocks bars, not too high and not too low. Just right. I do however, plan to shorten them a bit but that is partially personal preference and partially to stop them touch the ground when the bike is folded.
Very good bars
06 Jun 2018
I recommend this product
I bought these bars to lift the front of my Brompton up to an M-Type height from the current S-Type. Very easy to do. I made a how to video here: https://youtu.be/X_sRc16N2TQ
Is this lighter on weight comparing to original H handlebar 2020?
07 Apr 2021
Thank you for your enquiry, they are around the same weight but a lower rise
Installation on H
23 Jan 2021
I am looking to purchase this mid rise to work with my Brompton H6L. I intend to use the full width of 600mm. Will there be a need to change cables and will it still be able to fold? Thank you.
You will not need to change the cables, but you will need to use larger easy wheels / a rear rack to lift the bike slightly higher.

Thanks
Hi, do you know when you'll receive more stock of these? Many thanks.
06 Nov 2020
We are receiving as much stock as we can order / JK are able to manufacture! Best bet is to add yourself to the email alert.

Thanks - 06/11/20
Can I replace it from S Brompton Handlebar without adjust the cables?
01 Sep 2020
No, you will need to fit m type cables.

Thanks - 01/09/20
Do these bars come in black?
14 Jul 2020
SJS Cycles part number : 46142

Thanks - 14/07/20

When this handlebar i fitted to a 2019 S bike will I be able to use an Brompton T bag? Thanks
10 Jul 2020
You can use the T bag on a S type if you cut off the handle / use the shorter frame.

Otherwise, fitting the Mid Rise bar will give you more clearance for the T bag.

Thanks - 10/07/20
Joseph Kuosac mid riser bar.
27 Jun 2020
Can I use Joseph Kuosac mid riser bars on my 2020 Electric Brompton to replace M type bar? I want to lower the riding position slightly without having to replace cables. Will trim bars down too.
Yes, these will fit no problem, you only need to trim down if you DO NOT have larger easy wheels / a rear rack!

Thanks - 26/06/20
Any reason I couldn't use these on a non-Brompton?
05 May 2020
They have the right rise that I'm looking for, just wondered if there is anything related to their fitting that means they aren't a good idea for a 'normal' bike

Thanks
Hi, you could use these bars on any bike you like. Thanks
Using with pre 2017 S type
02 Feb 2020
How much do these need cutting down to maintain the fold (without the handlebars ends hitting the floor) on a pre 2017 S type.
Depends on the bike! If you are using larger easy wheels and or a rack, not at all. With stock easy wheels, normally around 20-40 depending on the grips.

Thanks - 03/02/20
back sweep in degrees ?
09 Jan 2020
Hi, could you let me (and other interested customers) know the amount of back sweep on these ? Thanks.
Hi there,

We do not have this information or an accurate way to measure right now, but its very similar to the backsweep on the stock handlebars.

Thanks - 10/01/20
2017 Brompton mtype
22 Oct 2019
If I used this rather than the standard Brompton mtype handlebar then how much lower will the handlebar be approximately.

Thanks
Hi there,

The Brompton handlebars from pre-2017 have a rise of 150mm meaning that these would be 50mm lower. The ones from post-2017 have a rise of 115mm so they will be 15mm lower.

Thanks.
Kuosac mid riser on B75
07 Oct 2019
If I put these bars on a B75, will I have to change the cables, or anything else?
Because these are wider, you should be fine to leave the stock cables.

Thanks - 08/10/19
Handlebar set, cables to change Brompton S
21 Sep 2019
Hi. I have a Brompton S, 6 speeds this year 2019. I would like this handlebar to climb height. You can prepare an order with the appropriate brake cables and speeds for this handlebar. Thank you
You simply need M type cables;

SJS Cycles part number : 31211
SJS Cycles part number : 29806
SJS Cycles part number : 42917
SJS Cycles part number : 42913

Thanks - 24/09/19
Replacing S bars with the 46143
26 Aug 2019
Hi. Looking to use this 46143 handlebar to replace my S type. Question. I see you sell reverse and normal cables. I ride an English style with front brake on the right. The bike is 6 speed. Trying to work out whether I need the reverse or normal brake and gear cables
Normal is Right hand front brake.

Thanks - 27/08/19
Will these work with my 20 year old M type Brompton?
04 Aug 2019
Hi,

yes, this should be fine.
Will this lower the bars of my 2019 H6L? If so, by how much? Will the cables need to be trimmed?
12 Jul 2019
Yes, this will put them midway between M and H, roughly 30mm lower. The bars are 600mm wide and will need cutting to roughly 560/80mm (40/60mm wider than stock) meaning the stability will be improved and you will not need to trim cables.

thanks - 12/07/19
Can this bar be fitted to a 2015 H3L
24 Apr 2019
And if so what difference would it make to the handlebar height? I'm aware this will likely mean the cables need to be trimmed shorter.

Thanks
Yes this could be fitted, it will drop the height roughly 60mm, yes the cables will need to be trimmed.

Thanks - 26/04/19
Will fitting this bar to a S-Type allow use of the T-bag without fouling the cables? Thanks.
16 Apr 2019
It is one option, but you will need to recable the bike. Alternatively you can fit SJS Cycles part number : 13499 to the bag, which will ensure it to fit perfectly just slouch the bag slightly.

Thanks - 23/04/19
Can I use my 'old style' Brompton brake levers with this bar?
17 May 2018
Can I use my 'old style' 2011 (black plastic and silver lever) Brompton brake levers with this bar, or do I need new levers for the larger diameter bar?
Hi there,

Yes you can use your older levers with these bars.

Thanks
height clearance for bag on brompton
23 Mar 2018
Would fitting these bars to my M series Brompton leave me with enough height clearance to fit a touring bag?
You should have enough room with the biggest bag, the T bag, even using this lower rise handlebars. The one thing to watch out for is the cabling as it will need to be reduced in length and be aware of the extra width of the handlebars, having the levers set wider will pull the cables tighter.

Thanks
How long is the straight grip area of these bars?
22 Mar 2018
I need 16cm for my preferred grips, twist shifter and brake lever. Thank you.
Hi there,

The straight grip area is roughly 185mm.

Thanks
What grips with these bars?
17 Mar 2018
I'm looking to get these bars for my M3L and wondering what grips you'd recommend. Ergoo GP2's are popular with Bromptoneers but I'm conscious that these bars are already designed to be more ergonomic so wonder if they'd be an "ergonomic" too far and I should look at something like the GE2's instead?
Hi there,

You should have no problem with the GP2s, the ergonomic curve is non severe.

Be aware, fitting this to your M type will mean the stock cable lengths will need to be trimmed to size.

Thanks
Do I need longer cables with the jo Lusaka mid riser bar on s Brompton . I currently have the s bar
28 Feb 2018
If yes then price me up for cables please
Hi,

You will definitely need longer cables to use this bar with your S-type bike. As this will be a different height than any of the standard Brompton models there won't be a set cable options for it so you will need to buy a set of full length cables and work out what length they need to be as you fit them and cut them to length.

Thanks.
What is the rise of this handlebar?
28 Jan 2018
Hi there,

Roughly 10cm from center of clamp to center of grip section. (Vertically)

thanks