Origin8 Pro-pulsion Road Ends - Drop Bar Bar Ends - Black
Manufacturer :
SJS Cycles part number :
Manufacturer part number :
Details
Fits 22.2mm straight MTB bars to allow a drop bar position, weight 250g
Replaces Newk drop bar ends
Particularly usefull for making a drop bar Rohloff setup. Take a look at the small pictures, the Tektro drop levers have been drilled to have the cable pass through them to allow good cable routing on these bar ends.

Reach: 100mm
Drop: 130mm
Related products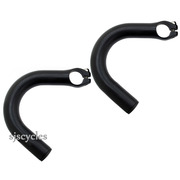 Jtek Superlight Drop Bar Bar Ends - Black
£19.99 Inc VAT
Quick view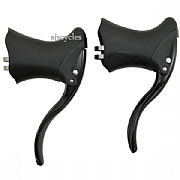 Tektro RL520 Aero V Brake Levers - Black
£24.99 Inc VAT
Quick view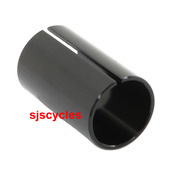 Thorn Stem Shim for Adapting 25.4 mm Stems to fit 22.2 mm Handlebars
£2.49 Inc VAT
Quick view
Product Reviews (6)
Overall Product Rating 3.5 / 5
Not Bad :)
23 Jul 2016
I recommend this product
Cons
a bit expensive and smaller than a normal road bicycle handlebar
Pros
it changed and improved my position on the bicycle which seems to help when road cycling
I purchased this item a few weeks ago and overall I like that they improve my position on the bike although a bit pricey but way cheaper than buying a road bike :)
Mr
20 Dec 2011
I recommend this product
Put these on my commuter bike (sanderson soloist) to give a different riding position especially when riding into headwinds. No problems at all, although they are quite expensive for what they are.
Fantastic Product!
22 Aug 2011
I recommend this product
Pros
Excellent position, lightweight, easy to install
I got these to give me a drop position on my Canondale Quick and they are excellent quality, lightweight and sturdy. There really isn't anything else like them out there and, short of getting a proper road bike, they are an excellent solution.
Origin8 Pro-Pulsion Road Ends
27 Jun 2011
I recommend this product
Pros
no other similar product
The product corresponds to what was expected, minus one point:
Il the lower straight end is put horizontal, the upper part starts to go upper before going down, which does not correspond to the shape of any road handlebar, and makes difficult the positionning of road brake lever. I ended with a lower straight end going upper in direction of the rider.

Origin8 Pro-Pulsion Road Ends
29 Mar 2011
I recommend this product
Cons
In drop you have no breaks.
Pros
Choice of position, Drop position
Just the job.
I have a Trek 7.1 FX and these fit no problem giving me a good choice of hand holds and on my 12mile commute to work I feel much better in the drop position.
Of course in the drop position you have no breaks so you need to be a bit selective when you use it but on a long run of road or track it's no problem.
Origin8 Pro-Pulsion Road Ends - Drop Bar Bar Ends - Black
11 Dec 2010
Cons
Too small, wrong shape, uncomfortable, expensive
I had considered returning these. I have been trying to find a solution for a drop bar/alfine combination on my airnimal and apart from the high cost of jtek levers or versa 8s there really seems to be little option. I thought this might be it. Unfortunately the bar ends are just too small for me and the bit where the allen key fits really gets in the way when positioning the ends. All in all not really the greatest purchase especially given the price and the postage.
Origin 8 Pro-Pulsion End Drop Bar
16 Jun 2016
Hi,

I want to buy this product and I want to know if these drop bars are ( 2 pieces left/right ) or one piece.

I waiting your answer to make the correct shoping .

Best regards.
Hi,

These are sold as a pair.

Thanks.