SJSC Ergo Control Bar End Grip - Black
Manufacturer :
SJS Cycles part number :
Manufacturer part number :
Details
Cycling Plus Recommended 8/10 June 2007. Dan Joyce

"Frankly, every flat or riser bar bike should have a pair of these" Dan Joyce.

A new concept that delivers significantly improved leverage and control compared to normal bar ends. Dual density moulded construction combines aluminium and resin skeleton with firm kraton rubber covering. The ergonomic profile extends both fore and aft of the bar fitting your hand naturally.
Weight is aligned over the centre of the steering
A stiff and positive bar interface with grippy surface texture.

143g per pair
Related products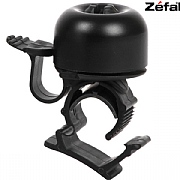 Zefal Piing Bell - Black
£1.99 Inc VAT
Quick view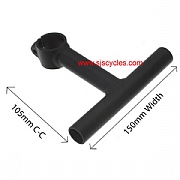 Thorn Accessory Bar MK1 T Shaped 105 mm Extension - 22.2 mm - Black Anodized
£19.99 Inc VAT
Quick view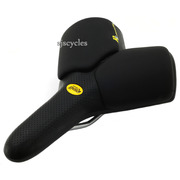 Rido R2 Saddle with Cro-Mo Rails - Black
£49.99 Inc VAT
Quick view
Product Reviews (16)
Overall Product Rating 4.9 / 5
Simple, brilliant design.
09 Oct 2020
I recommend this product
These really are worth checking out.
Simple design, very comfy and very well made. Tough rubber coating is very grippy and won't scratch every time you lean your bike against a wall!
I like them a lot!
Very good
24 Jun 2020
I recommend this product
Pros
Very easy to fit and comfy
I bought these grips for my electric Brompton. I have trouble with my left hand and needed optional positions. These worked out extremely well. Provided you set the angle carefully they don't interfere with the folding nor how the bike sits when folded. They allow the hands easily and comfortably to use various safe positions.
Great!
30 Aug 2019
I recommend this product
Pros
fit, feel,utility, price
After 7 years i have finally replaced these bar ends for another pair. They have a very tactial rubbery feel. They have helped avoid discomfort in my hands by providing an additional hand position. Leverage is also given which helps gradients to be tackled. Highly recommended.
Ergonomic but oddly angular
28 Feb 2018
I recommend this product
Pros
Grippy and supportive
I bought these for my Elephant Bike that has gently swept back handlebars. I've previously used Onza ski-bend bar ends on my other bikes. The SJSC bar ends seem well made, with a very grippy rubber outer. I had to enlarge the bar end's internal diameter to fit over one end of my handlebar.

The palm rests at the rear of the bar ends are supportive, though you have to adjust your hands to get just the right position. Then it's lovely and wonderful.

If you're wanting more reach, these aren't the bar ends you're looking for. But for comfort and a change of position they're hard to beat.
19 Jul 2017
I recommend this product
Without a doubt the best accessory on my bike for sheer ride comfort, my second set of these as my old bike sold with them still attached but instantly missed them as I do a lot of hard climbing and fire trails.......superb !
Great Bar Ends - Fit Was A Bit Tricky For One Unit
20 Jun 2017
I recommend this product
Pros
Ergonomics, price and grippiness
I wanted the cane creek bar ends, but they don't make them anymore. These are a good substitute. Priced well, good texture and feel, solid, and positioned on the bar well (not all forward like other bar ends). One unit was a bit tight to fit up to the bars. Once on they feel really secure.
Ergo Bar Ends
06 Apr 2017
I recommend this product
Excellent
Parfait!
22 Nov 2016
I recommend this product
Ergonomic, comfortable, cheap.
Very Good Product
07 Sep 2016
I recommend this product
Cons
Rubber so may make your hands sweat
Pros
Very secure and easy to fit
Fitted these bar ends to the recently purchased comfort bars made by thorn well designed product and very comfortable.
Very Ergonomic.
28 Nov 2011
I recommend this product
Pros
shape, quality, price
Great value for money. They give more than one additional position for hands.
It's worth noting that the lower parts extend inwards quite a bit, so if you have very short handlebar grips, they might interfere a little, but this gives you another position for your hands when you get used to it.
Another small but useful feature is that the rubber surface holds the bike in place much better while leaning against a wall so there's no need to risk your fancy leather saddle scraping against a rough surface.
Good Bar Ends
09 Aug 2011
I recommend this product
These are very neat, comfortable and efficient. I have them on Thorn comfort bars, and Andy may be right when he says they are not needed (well you knew he would be didn't you)

But they are excellent
Excellent Value, Comfortable, Useable Bar Ends.
27 May 2011
I recommend this product
Got these for a Brompton ahead of attempting the C2C. I'm going to need all the leverage I can get on the hills and these fir the bill perfectly. Grab the grippy rubber tops up the hills, take the pressure off your ulnar nerve on the flats (especially on unmade tracks with 16" wheels) Perfect ergonomic design. Bike still folds with them on.
Mmmm ... Excellent !!
20 May 2011
Work really well with ergonomic grips and look like they belong on my bar.
Dead comfortable and much cheaper than a similar bar end from a well known brand.
Comfortable Bar Ends
14 Mar 2011
I recommend this product
very comfortable for decent price.

Great Product
02 Feb 2011
I recommend this product
Pros
Comfort, price, looks
I considered normal bar ends for my flat bar bike until i spotted Dan Joyce's review. A much better solution for climbing hills and giving additional hand positions on longer rides. In fact, I find myself gravitating naturally towards the ergos. Fit nicely in the hand, aren't expensive and look like part of the bike, not an afterthought.
Mr
28 Jan 2011
I recommend this product
Pros
comfortable, well designed
Really excellent - comfortable, well designed. Esential addition to staright bars.
Can I use these with Ergon GP1 Grips?
20 Jul 2021
Can I use these with Ergon GP1 Grips? I guess the question is can the GP1 grips be pushed inboard the handlebar to make space for these?
Thank you for you enquiry, yes they will work with GP1 grips fine, however you will need to check if you have sufficient room on your bars to move them inwards.

WD 21/07/21
What is the length/height of these?
25 Sep 2020
Specifically are they ok on Brompton, probably meaning measuring not more than 90-100mm when measured as other barends are. Presumably the measurement is from top surface of bar to top point of barend?
These are 125mm and work fine on a Brompton, the issue is unless S type you loose too much grip space.
Thanks
Would these fit on the end of the bars with Ergon GP1?
31 May 2020
Just fine, just need to slide the grip on further.

Thanks - 01/06/20
Fit to bar with grips
02 May 2020
Do these fit around lock-on grips? Like the Cane Creek bar ends do. Or is there no space for the grip inside this bar end?
Hi, this bar end fixes directly to the end of a 22 mm handlebar. There is no space for a grip inside. Thanks
Swept back handlebar of 45 degrees
23 Jun 2018
How would these bar ends be suitable for a handlebar with a backsweep of 45 degrees
These will fit handlebars with pretty much any amount of sweep so it is really up to the user as to whether they will be suitable ergonomically.

Thanks
Do They Mount On The Handlebar Or In It Using A Expander Plug?
05 Jun 2016
I am asking to figure out if I need extra space on my handlebar to fit these or can I just take the end caps of and mount them in the handlebar tube.
Hi,

These clamp over the outside of the end of the bars so you will need extra space on your handlebars to fit these.

Thanks.