Thorn MK2 Comfort Handlebars - 25.4mm Clamp - 620mm - Satin Black
Manufacturer :
SJS Cycles part number :
Manufacturer part number :
Details
The ultimate alloy riser bar for touring. Physio-designed geometry gives great comfort levels. Expertly made of 1.8/3.0/1.8mm 2014 double butted Al Alloy. Generous 25.4mm dia centre section for bar bags, lights, computers etc followed by tight bends (to save space). 190mm straight grip section each side, 100mm straight section in centre

Tech Specs:
- 18° Bend
- 65mm Rise
- 60mm Rearward Sweep
- 620mm Wide
- Weight 294g
Related products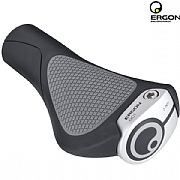 Ergon GC1 Handlebar Grips - Standard
£31.99 Inc VAT
Quick view
Product Reviews (19)
Overall Product Rating 4.9 / 5
Thorn MK2 Comfort Handlebars
27 Jun 2023
I recommend this product
Pros
High level of comfort and more upright riding position
These are the most comfortable handlebars I've ever used. I've now fitted them to three of my bikes and that says it all. The 2" rise and swept back angle has really helped me with lower back discomfort.
29 Apr 2023
I recommend this product
Pros
Light, comfortable, well priced
I've used these bars for a couple of years on my
Sherpa, just bought a second pair for my other bike.
Very comfortable,pity there isn't a polished option.
Just the job...
06 Sep 2022
I recommend this product
Bought these for a flat bar conversion. Rise, width and sweep back are just right for a comfortable riding position. They're very light too and butted for added strength where it matters.
Excellent
10 Oct 2021
I recommend this product
Pros
Just the right amount of everything.
Really good bars - they have transformed my bike (Surly Crosscheck) into something far more useful for shopping, commuting and trail riding.
So far, so good.
13 Apr 2021
I recommend this product
Pros
Good service. Well finished product.
What do I want from a bike?
Comfort, comfort and comfort.
So far so good.

Update from last review
21 Feb 2021
I recommend this product
Pros
Cost, weight, strength, arm and hand position, width.
I feel I must update my previous review of the Thorn comfort bars. This is because 5 weeks and a few hundred miles later I have found the bar width perfect actually. Previously I thought I would prefer them a tad wider but I'm converted. Once I had the position fine tuned I found for all day comfort they were great. They keep your elbows down and in, promoting a relaxed arm and shoulder position. Well done Thorn, a great design of a bar.
26 Jan 2021
I recommend this product
Pros
Price , great comfort design, strong, finish
A very well designed bar for touring , commuting and hitting the trail. Very comfy and strong. Only thing I'd change for me would to be a bit wider. That's not a criticism, I've very wide shoulders.
comfort bars (touring) sjscycles
06 Dec 2017
I recommend this product
Great comfort bars,Exellent good quality,fast service 10/10 ***** ??
Looks the part
14 Oct 2017
I recommend this product
Pros
They feel so comfortable and look the part on my bike
My bike came equipped with flat 'bars and that was fine for me at the time but, over time, my wrists and neck were getting sore so I looked for a replacement that would reduce the pressure on my wrists. I read the reviews and thought that they would be a suitable replacement. These 'bars are perfect. I haven't had the opportunity to get out on the bike due to work and weather but I just know they will do the job for me.
first class
06 Sep 2017
I recommend this product
high quality handlebar with enough extra rise to make a difference
I Would Recommend This Product
17 Mar 2017
I recommend this product
A massive improvement on my straight bars. They provide a much more natural hand position, therefore greater comfort. They even look good on my hybrid.
20 Dec 2016
I recommend this product
Excellent bars. Three of the bikes in my family now have these fitted as they are so comfortable. We use them with Ergon grips.
Thorn Mk2 Comfort Handlebars
14 Feb 2014
I recommend this product
Great geometry, and very comfortable. Bought to replace a pair of standard issue flat bars on my touring bike. I was pleasantly surprised by how much difference the rise and a gentle sweep back made to my riding. My only query is in the fact that they are easily scuffed compared to the other black bars I use (on other bikes).
Bars For Brompton
10 Jul 2013
I recommend this product
These bars are now on my Brompton to stay. They have replaced the rather bizarre bars fitted as standard to my P type which I just couldn't live with. The slight backward sweep makes the folded package slightl wider, but thats a small price to pay for the extra comfort and control these excellent bars give me. A really well thought out design and good quality. I am now considering a pair on my dropped bar tourer. Very speedy service from sjs
Fantastico!
20 Oct 2012
I recommend this product
Excellent bars, alloy, light, strong, simple and a great, great shape, sweeping back and round slightly, (18 degrees apparently), with a small rise. I use mine with Ergon GP1 biocork grips and am deliriously happy and comfy on my touring bike setup. I previously had straight riser bars which, although being very symmetrical, gave me issues in the shoulder/neck area after a few hours. These Thorn bars offer a more relaxed riding position and it now feels like my chest can open out more, easier breathing, more comfortable posture in the upper body area generally. (I'm a yoga teacher so am quite aware of this). From looking at old school Californian mountain bike photos from the 70's, back when the sport was just being invented, I'd imagine the handlebars were probably more like this.
Excellent
23 May 2012
I recommend this product
good bars which are very comfortable. Excellent service by SJS Cycles ordered Tuesday evening arrived Thursday morning
Comfort Bars
28 Feb 2012
great bars ,need cheeper shipping to u.s.a this is what held me off but couldnt find simler bar so had to pay ,ther is a lot i like but shipping is holding me back
Comfort
09 Dec 2011
I recommend this product
Cons
One pair is not enough
tI brought these bars to replace the drops on my Tourer but I am still struggling to do that because my bike was designed for me with drops.So I have instead fitted them to my old Ridgeback mountain bike and what a difference they have made.They are so unbelievably comfortable that if I do decide to fit them to the Tourer I will now have to buy another pair.
Excellent
09 Aug 2011
I recommend this product
Well they are what they say, Comfort bars. Great. Try them without bar ends you may find bar ends are not needed.
Bar end recommendation
24 May 2023
Could you recommend a set of bar ends which work with these handlebars please? Am currently using the bars with Ergon GA2 grips

Many thanks
Hello and thank you for your enquiry.
In recommending a set of bar ends to go with your current Ergon GA2 grips, firstly please take a look at stock item 13134 the SJSC Ergo Control bar ends. To fit these it would involve cutting the grip ends of your existing grips & moving your grips inward in order to fit these bar ends. Secondly, an alternative option, is item number 28403 the Ergon GP3 which has a built in bar ends.
Hope this helps.
Kind regards, PC 24/5/23.
Upsweep angle?
09 Aug 2022
It states that the backsweep is 18 deg. Can you tell me the upsweep angle?
the top of the bars can be adjusted so the grips are flat, upsweep or downsweep is achieved by rotating the bars in the stem clamp RT 10/08/2022
Can they be cut?
18 May 2022
I'm looking at either these bars or JK 46142 to fit on a MTB used for touring. In the Thorn manual it says "cannot be cut"! Is there a reason for this? I would also like to fit bar ends as it makes climbing much easier. Would the 18' sweep lead to the bar ends pointing outwards? I believe the straights at the end of the bars is 190mm. Is this correct?
Many thanks, Mike
For any information or advice on any of Thorn bikes, frames and forks or parts, please contact our dedicated Thorn bikes sales team either on 01278 441505 or
[email protected]
and they'll be able to provide you with all of the information you need.
Q about rise dimension measurement, as per 'Extra detail' below.
08 Mar 2021
I have just ordered these bars but wanted to check that the 65mm rise is measured from the top of the straight (middle) section to the highest upper point at the bar ends?
The 65mm is measured from the centre of the bar, at the stem clamping section, to the centre of the bar and the grip section.

Thanks
Upward bend
18 Feb 2021
Can you advise if there is any upsweep? If so is the 65mm rise including any upsweep?
Thank you for your enquiry, yes the 65mm rise includes the upsweep

WD 18/02/21
Can I use this with Ergon GP5?
13 Feb 2021
Thank you for your enquiry, yes will fit and work fine with Ergon grips

WD 15/02/2021
Is this product sold in Asia?
21 Dec 2020
thank you for the explanation, is this product sold in Asia? .... I live in Indonesia, close to Singapore, or if I buy, how long does it take to arrive in Jakarta, Indonesia?
Due to the Pandemic we are currently unable to ship parcels outside of the UK. As soon as we are able to do so we will add your country back to our website. Due to the nature of the pandemic we are unable to predict when this will be. Our apologies for any inconvenience caused and thank you for your patience and understanding.

JK 22.12.20
Can i use this with Tern Verge D9 folding bike
15 Dec 2020
tern has a T-shaped handlepost and uses a double stem with a width of 9 cm, I need at least 10 cm wide in the middle of the handlebar, does the flat part of the handlebar thorn have a minimum width of 10 cm, before it curves up? BTW i'm from Jakarta Indonesia,
I would say it 10cm just before it starts curving up.

Hope this helps,

JK 18.12.20
Which Ergon is best with these bars, GC1 or GP1?
19 Sep 2020
We would suggest the GP1.

Thanks
Do you have this for 31.8? or can you recommend similar bars?
08 May 2019
I have used this handlebar on my old bike but have a new bike with a wider clamp size.
Can you recommend something similar that fits please?
Thanks
use our Jtek Two Piece Stem Shim - 31.8 mm Outer - 25.4 mm Internal - 50 mm Wide … search for part 24381
Suitability for barends?
22 Feb 2018
I'm planning on buying a riser bar with some rearward sweep, but I'm concerned that this bar may not work well with my barends (Ergon GP5). Do you think it would be OK (is it wouldn't force the barends into an outward pointing position), or can you recommend a different bar that would be more suitable?
Hi there,

These will be fine with bar ends, the sweep is only 60mm so should not leave them pointing outwards.

Thanks
Can I use this bars with a Bromptom M type stem?
09 Oct 2017
Will the thicker mid section or the "sharp" angles of the Thorn bars go through the Brompton stem?
Hello,

You should be able to do this without a problem, however we have not tried this ourselves so we cannot say for certain.

Thanks.
Can I Use These Bars With A 31.8 Clamp And A Shim?
01 Apr 2016
I already have these bars on another bike, and they are my most comfortable. I can't find anything else comparable and have only recently bought a new stem, so don't want to change it yet.
Hi, yes you can use the bars with a shim on a 31.8mm stem, the shim that you can use is Part Code 24381. Regards
Suitable Gear Shifter And Brake Lever
18 Sep 2014
Will Shimano Tiagra 4600 Double 10sp Flatbar Shifter and Shimano Tiagra R550 Brake Levers for flat bars fit on these handle bars
Hi,

Both of these parts should be fine for use on these bars. These handlebars use a 22.2mm grip area which is the same as all flat bars and the same as used by the clamps on these brakes and shifters.

Thanks.