Joseph Kuosac Headset for Bromptons - 1 1/8" - Black
Manufacturer :
SJS Cycles part number :
Manufacturer part number :
Details
A great upgrade from the stock Brompton headset.
Smooth and durable sealed bearings.
To fit 1 1/8" threaded frames / forks.

PLEASE NOTE: This headset is not suitable for use with Brompton's Titanium fork.
Related products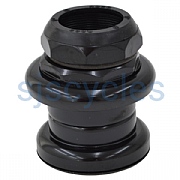 Brompton Headbearing Set 1 1/8" - Steel - Black
£15 Inc VAT
Quick view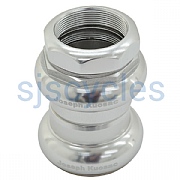 Joseph Kuosac Sealed Headset for Bromptons - 1 1/8" - Silver
£19.99 Inc VAT
Quick view
Product Reviews (1)
Overall Product Rating 5 / 5
Top Finish
02 Nov 2018
Joseph Kuosac Headset for Bromptons - 1 1/8" - Black
I recommend this product
Bought this and other JK items as finishing kit touches. It will be great when my new colour scheme is finished. Really pleased
What's included?
13 Jun 2019
Hi

Does this headset kit include everything needed to replace the Brompton headset i.e. absolutely everything top and bottom of the head tube, including seals?

Presumably you need to prise off the Brompton bearing races/cups in order to replace with the JK cartridge bearing? If so, is this a difficult job?

And what size spanners are needed for the nut and locknut, please?

Thanks
Yes, the complete headset, as pictured, is included.

The lock nuts are for 36mm spanners and yes you would need to remove the stock cups and crown race. - very easy if you have the correct tools / knowledge/experience.

Thanks - 14/06/19
Coming loose every few days
14 May 2019
Hi,

I've bought this and had it fitted a few months back by Evans on a Golden Brompton Service, but I need to tighten it every few days and always find myself taking the headset wrenches with me... is this possibly because of a defective headset, or was it a wrong fitting from the very beginning? Would you be able to advise? I think it's quite dangerous to have it come loose all the time.

Thanks
Hi there,

This sounds like it has not been fitted properly, the two nuts need to be locked off against each other properly.

Thanks - 14/05/19
Why won't it fit the titanium forks and is it lighter than the standard unit?
30 Apr 2019
The lower section fouls / binds on the steerer tube. Yes it is lighter, we recommend using SJS Cycles part number : 35038

Thanks - 30/04/19
Can it be used on any Brompton?
02 Dec 2018
Apart from Ti fork, I've read that. Thanks
Yes, we have fitted to many Bromptons including staff bikes!

Thanks - 03/12/18
Sealed and it looseball?
08 Nov 2017
Hi,

These headsets use sealed cartridge bearings.

Thanks.