CroMo Tandem Rear Quick Release Skewer for 145mm OLN Hubs
Manufacturer :
SJS Cycles part number :
Manufacturer part number :
Details
Suitable for most tandem hubs designed for 145mm frames (Dawes Galaxy Twin, Thorn original Discovery and Explorer, early Santannas etc)
Black alloy quick release Lever with high quality steel skewer. max length between closed ends 161mm overall length 205mm
Related products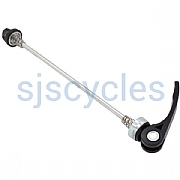 Tandem Rear Quick Release Skewer for 145mm OLN Hubs
£10.99 Inc VAT
Quick view
Product Reviews (6)
Overall Product Rating 4.7 / 5
Just what I needed
04 Aug 2017
I recommend this product
Pros
Strong, excellent value
Was looking for a slightly longer q/r to be able to pull a rear kiddy trailer and this came up in the search. It fits perfectly, is strong and was excellent value. Sorted me out without an expensive and drawn out search. Fast service from SJS too. Happy days!
Perfect
27 Dec 2016
I recommend this product
Pros
Great service at a reasonable price - part plus shipping.
I needed a long skewer to mount Co-Motion tandem onto an indoor trainer. Not finding anything, I contacted the manufacturer and they provided the link to SJS Cycles and the needed part. SJS provided the part to the USA inside of one week with a shipping cost that was not much more than a postage stamp! Amazing. The part worked perfectly.
Perfect!
09 Jul 2016
I recommend this product
Cons
The action is a little stiff, but I expect that to get better over time. Not really a negative.
Pros
Has a long threaded portion that accommodates tandems from 140-145mm OLN.
I have an older tandem which I purchased second hand. While I was restoring it I realized that someone had made do with a mountain bike skewer for the rear wheel. My spacing is 140, and the new skewer is for 145, so there's a little bit hanging out. That's fine though, much better than engaging only a couple of threads like the previous skewer.
Sjs Takes Care Of Their Customers
28 Jan 2013
I recommend this product
Cons
First one didn't work, but SJS gave me another
Pros
Simple, works on 145mm tandem hub
I ordered this skewer for the hard crome finish, so that I could put my tandem bike on a trainer without ruining my lightweight skewers. The first one they sent didn't work well...the nut on the opposite side of the skewer didn't hold the force of the clamping. I contacted SJS to tell them of the problem, and I mentioned that shipping the defective part back from the US was expensive. They very happily shipped me a replacement part without requiring me to send back the defective one. The new one works perfectly, but even more importantly, SJS has won my future business for treating me well. Thank you SJS.
Review
12 Aug 2011
I recommend this product
Pros
a must for 145 mm hubs
Excellent service, great product. Swift delivery to France.
Extra Long Quick Release
01 Jan 2011
Does exactly what it says on the box - nice long quick release skewer to enable me to tow a trailer from the rear axle of my mtb. The standard mtb QR was too short to allow for the chunky hitch to be fitted safety. QR is not quite as light or pretty as the Shimano one but works fine.

Only slight quibble was that the skewer came WITH springs but WITHOUT the spacer washers. As it happens this wasn't a problem.
Can I have a front quick release to match?
22 Apr 2020
Would it be OK to tap the thread and cut it down?
Hi, we only have rear. Cutting a thread in CrMo steel will not be easy. Thanks 22/04/2020
141mm hub
02 Dec 2018
Please be the answer to my prayers!
I have a Voodoo Hoodoo bike with a 141 mm hub which is obviously 6mm longer than the standard 135mm mountain bike hub. Therefore a standard 135mm MTB skewer is 6 mm too short. Will this skewer be suitable?

Yes this will be suitable.

Thanks - 03/12/18
Stock No: 12318 What Is The Shaft Diameter?
23 Dec 2016
Hi, the diameter of the shaft is 5mm.

Regards
Length Of Your Extra Long Skewer?
20 Jun 2015
Could you please expand on the 175mm length of your CroMo Tandem Rear Quick Release Chrome Skewer for 145mm OLN Hubs. Is that the length of just the skewer shaft, from the inside of the open quick release nut to the end of the threaded part, or is it the overall length?. I need a skewer to accomodate a bike frame plus trailer hitch of 165mm.
Hi,

The 175mm length is measure from the inside of the cam end of the skewer to the far end of the spindle/threaded portion.

Thanks.