Robert Axle Project Lightning Bolt-on Rear Axle for Cervelo R.A.T Bikes - 12x142mm
Manufacturer :
SJS Cycles part number :
Manufacturer part number :
Details
Please note: When selecting the correct axle for your bike there is a handy Thru Axle Finder so you can easily find the exact axle you need. This can be found by scrolling down the page to the downloads section or by visiting the Robert Axle brand page on our website. If you are still unsure then please contact us before purchase.

Cervelo owners with R.A.T. thru axles: This axle will replace the R.A.T. axle found on all Cervelo R.A.T. equipped bikes. In addition to this axle we include our replacement derailleur hanger with with traditional threads. This axle combined with the replacement derailleur hanger will provide a complete threaded thru axle system. Our derailleur hanger matches the geometry and construction of the stock derailleur hanger in every way for crisp shifting performance.
Related products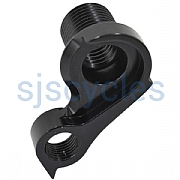 Robert Axle Project Cervelo Derailleur Hanger - M12 x 1.75
£28.99 Inc VAT
Quick view
Product Reviews (4)
Overall Product Rating 5 / 5
madJust what was needed
21 Sep 2023
I recommend this product
Used to replace a RAT axle set. Well made, great finish. Big improvement.
A perfectly engineered product
25 Aug 2020
I recommend this product
Pros
Easy to fit, well engineered and a lot neater than the RAT system.
I was never happy with the RAT axel system on my R3 and suffered terrible disk rub on the front wheel, despite the many times I tried to fix it. The Roberts Axel was very simple to fit and came with comprehensive instructions that were well written and easy to follow. The brake rub has now disappeared and the new axel system looks much tidier. It does need a 6mm hex to remove it but most bike tools have one or you could just carry a 6mm hex with you.
Glad I got this rather than a replacement
29 May 2020
I recommend this product
Cons
Cost (but similar to Cervelo replacement).
Pros
Very well engineered. Easy to install. Better.
Was never convinced by the RAT system and when the rear fa iled very happy to find my way here.
At the cost of a few seconds removal time this is such a better engineered solution. It does seem to remove what little disc rub I used to get on my R3 even on big gear max efforts. But the main thing is it's simple and I trust it.
Excellent tailored instructions too.
You will need a 6mm hex bit for your torque wrench (12Nm).

Upgrade
24 Jan 2020
I recommend this product
These were bought to replace quick release axles on a cervelo s5. Definite reduction in pad rub on discs and better shifting at rear derailleur.
compatability
19 Sep 2023
will this set fit a Cervelo P5 Disc 2021 rear?
Hi
Thank you for your enquiry. If your bike is using the Cervelo R.A.T. axle then this will be the correct replacement required.
Kind Regards. JP 19/09/23
My Cervelo R3 has a rear wheel R.A.T. axle currently 12x155 - is this compatible please ?
04 Nov 2022
Hi
Thank you for your enquiry, yes we can confirm that this would be the correct replacement axle for your Cervelo bike.
Kind Regards. JP 04/11/22
What is the weight of the rear axle without the mount
05 Nov 2020
Hello, the axle without the derailleur hanger is approx 42g,

JK 06.11.20
Questions about shipping
22 Oct 2020
Can you ship to Japan?
Yes, we can ship to Japan, simply add the item to your basket and add your Japanese delivery address. Postage rates will be calculated based on this.

Thanks,

JK 22.10.20
.
04 Nov 2019
Cervelo R.A.T. do you sell the mech hanger separate as a spare ?
SJS Cycles part number : 49776 fits Cervelo disc road frames.

thanks - 05/11/19