Rohloff Chain Tensioner - 8250
Manufacturer :
SJS Cycles part number :
Manufacturer part number :
Details
for retrofitting Rohloff hubs, this item is supplied with aftermarket hubs, If you have horizontal dropouts
shorter than 25mm or a full suspension frame with chain feedback you'll need this
Related products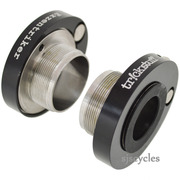 Trickstuff Exzentriker - Black
£169.99 Inc VAT
Quick view
Product Reviews (2)
Overall Product Rating 5 / 5
A quality item
09 Oct 2020
I recommend this product
Whilst this tensioner is expensive, its beautifully made and does the job to perfection. I have no doubt it will continue to function for many years.
Only the best with Rohloff
28 Aug 2019
I recommend this product
Cons
Expensive - but it will outlive your children's children
Pros
german engineered perfection, silent, easy to set up, built to last
This is the second one I've bought as I am fortunate to own more than one IGH. I have owned the Surly chain tensioner also which, although flawless itself, the Rohloff is a lot quieter! It is very easy to set up and will probably outlast me!
Rohloff state this will take up to 10 chain links. Does that equate to 20 teeth on the chain wheel?
13 Jun 2022
RT 14/06/2022 sorry I can't see where Rohloff say this, from their website we read: The Rohloff chain tensioner is a spring loaded device that maintains chain tension in a single driveline application. It should be used with the Rohloff SPEEDHUB 500/14 when horizontal adjustment of the hub is unattainable or in rear suspension applications where the distance between the bottom bracket and the rear axle change throughout the range of travel. The Rohloff chain tensioner is an excellent choice for any conversion to a single driveline system (i.e. SPEEDHUB 500/14 or singlespeed).


The Rohloff chain tensioner is easy to install, it simply mounts to the existing derailleur hanger of the frame. Spacers are used for lateral adjustability. For the quick wheel removal the Rohloff chain tensioner swings back when pulling the wheel out of the dropouts. The Rohloff chain tensioner has a tensioning capacity of 10 chain links which is sufficiant even for long travel rear suspensions.


On dropouts thinner than 7mm, the use of the 13 tooth sprocket (chainline 58mm) will require the use of the longer mounting bolt. This is available separately.
Rohloff chain tensioners are only suitable for 1/2" x 3/32" and 1/2" x 11/128" chains.
Will this tensioner work with the Shimano nexus 3 speed IGH?
15 Jan 2020
My rear dropouts are 130mm on a rear suspension bike. The nexus 3 speed has a bell crank and bolt to attach the chain tensioner cannot stick out too far as it will clash with the bell crank where it fits to the axel.
Will the chain tensioner line up with the rear sproket and is there any way to adjust so the alignment is correct?
Hi, there is no adjustment built into this tensioner. If you need to space away from the frame Rohloff suggest using washers between the mounting bolt and frame. There is no way to move closer to the frame. Thanks 16/01/2020 AK
How to fit chain tensioner?
12 Apr 2019
I've just bought the 8250 (prod no.12312) and am unable to work out how to fit it despite the instruction sheet that came with it. Maybe I have the wrong item? I'm trying to fit it to a Thorn Raven with std Rohloff hub 500/14. There's nowhere to fix this as far as I can see.
All Thorn Ravens use Eccentric BBs, so no requirement for a tensioner, and simply, no where to bolt one on!

Thanks - 12/04/19