Shimano Alfine SG-S700 Oil - 50ml - Y13098481
Manufacturer :
SJS Cycles part number :
Manufacturer part number :
Details
For use with Shimano Alfine SG-S700 internal hub gears.

This Oil can also be used on the following internal hub gears:

- Shimano Alfine Di2 SG-S7051-11
- Shimano Alfine SG-S7001-11
- Shimano Alfine Di2 SG-S705

These are an "A" match which indicates that the parts are the same in materials, appearance, finish & size etc.

Genuine Shimano replacement part.
Related products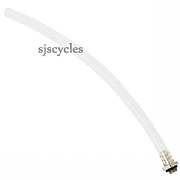 Shimano Alfine SG-S700 Tube & Bleeding Nipple Set - Y13098025
£11.99 Inc VAT
Quick view
Product Reviews (7)
Overall Product Rating 4.4 / 5
The right oil for an excellent hub
22 Jan 2021
I recommend this product
The Alfine hub deserves the right lubrication and while this oil is the right match, I'd prefer a larger quantity to enable more frequent oil changes. The old oil had done 1000 miles but had very little contamination (see through golden), suggesting well-engineered internal components.
21 Jul 2020
I recommend this product
I am new to Alfine 11, but noticed the hub went very clunky after 500-ish miles. Pil remedied it. Also ensure the yellow alignment marks are set.
1L may cost in well over time if you're a high miler, time you count multie postages of the 50ml bottles. Check out best prices for this...
The oil you need to service your alfine 11
01 May 2020
I recommend this product
Get this and sjs's bleed hose plus a cheap syringe and you're all set to change the oil on your alfine 11 hub. Just enough oil to flush the hub and refill it once- not expensive vs having the hub grenade itself , and so easy to do.
Stick With Oil Till Out Of Warranty
28 Sep 2016
I recommend this product
Pros
Its the right oil for the hub
First oil change at 500miles as gears were slipping and hub noisy. Hub now running a lot better will change oil again at 1000miles as recommended by a few forums. Would use Roholff oil but as it's a new bike I don't want to invalidate warranty. So thumbs up for oil.
Use A Rohloff Change Kit
06 Sep 2012
I recommend this product
I wondered where to get the shimano oil change kit then noticed other purchasers used the Rohloff one so I did to and it worked fine, as well as being much cheaper (I didn't use the Rohloff oil though)
Note this is just enough for the 25ml flush and 25 ml fill don't overdo the flush or there isnt enough left.
Sg-S700 Oil
31 Mar 2012
I recommend this product
Well worth it. Before I changed the oil at about 1500km my hub had become quite clunky and was starting to have problems shifting. Very little oil came out so it was more of a oil addition than an oil change. Hub running much better now.
Shimano Sg-S700
14 Feb 2012
I recommend this product
Its oil, it goes in your hub green and comes out black (its ment to do that)..... keeps stuff lubed.... what more can i say.
Can This Be Used In The Stormey Archer 3 Gear Hub?
09 Jun 2017
Can his be used to oil the stormey archer 3 gear hub that is fitted to the pashley tricycle?
Hi,

Unfortunately this oil is not suitable for use with a Sturmey Archer hub, they do however do their own grease which we stock and is SJSC part number 23876.

Thanks.