Shimano Alivio HB-MC10 Front Cone & Dust Cover - M9 x 10.4mm - Y21H98080
Manufacturer :
SJS Cycles part number :
Manufacturer part number :
Details
For use with Shimano Alivio HB-MC10 front hubs.

This Front Cone & Dust Cover can also be used on the following front hubs:

- Shimano Tiagra HB-4400
- Shimano Acera HB-M330
- Shimano Acera-X HB-M290 (w/Rubber Seal)
- Shimano C-Series HB-C052C-IM-F
- Shimano C-Series HB-C052-IM-F
- Shimano Nexave HB-IM70-NT
- Shimano Nexus HB-IM40
- Shimano Nexus HB-IM30
- Shimano HB-IM20-EC
- Shimano HB-IM20-E
- Shimano Alivio HB-MC12-P
- Shimano Nexus HB-NX40
- Shimano HB-RM60
- Shimano Nexave HB-T300

These are an "A" match which indicates that the parts are the same in materials, appearance, finish & size etc.

- Requires 13mm cone spanner
- 21.5mm dust cover

Genuine Shimano replacement part.
Related products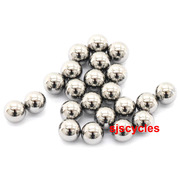 Shimano 3/16 Inch Steel Ball Bearings - 20pcs - Y00091210
£2.99 Inc VAT
Quick view
Product Reviews (1)
Overall Product Rating 5 / 5
Does what it is supposed to do.
26 May 2021
I recommend this product
Cons
Not a magic bullet for a worn hub. Check other parts for wear.
Pros
Does what it is supposed to do.
Great if your cones are pitted and / or worn out. However, check the cups of your hubs before ordering - as I found out, just having new cones won't solve the problem of excessive play in the bearings if the cups or pitted and / or worn.
I am looking for a Hub Cone.
11 Apr 2021
I need a replacement cone for an EXAGE HB-RM50 Hub. Have you got anything compatible.
Tnx
Sadly we do not stock any cones compatible with the HB-RM50.

Thanks 12.04.21
Can I use this with HB-A550 hub?
20 Apr 2020
Do you have an m9 x 10.4mm without the dust cover - my hub has external shimano branded metal covers which I'm unsure I can remove without breaking?
Hi
Thank you for your enquiry. The closest we have to this is the Wheels Manufacturing CN-R036 which is our item number 22401 & doesnt have the dust cover.
Kind Regards. 22/04/20
Hbim40 & 70 Unserviceable
27 Apr 2016
Does unavailability of Y22V03001 or Y22V03000 substitute make the hubs unserviceable?
Hi,

There may be a compatible cone that could work in replacement but we don't know for sue I'm afraid and if you can't source a replacement it may mean that the hub does become unserviceable.

Thanks.
Do You Have The Left Cone For Hb Im40 / Im41?
26 Apr 2016
This fits HBIM40 right side, but do you have the:
Y22V03001 Left Hand Cone (M9 x 12.12 mm) ?
Hi,

Unfortunately we do not have the cone you are looking for in and it is no longer available from Shimano either I'm afraid.

Thanks.
What Is The Internal Thread Size?
27 Jun 2014
Also what is the size of ball bearing this part's designed to work with?
can you provide a full set of dimensions for the part?

Many thanks
Hi,

These are designed to fit to an M9 (9mm) axle. This cone is designed to be used with 3/16" bearings. The cones are 10.4mm in length, the dust cover is 21.5mm in diameter and the main body is around 13mm in diameter.

Thanks.