Shimano Deore FH-M525 Rear Complete Hub Axle - 146mm - Y3SP98010
Manufacturer :
SJS Cycles part number :
Manufacturer part number :
Details
For use with Shimano Deore FH-M525 rear hubs.

This Complete Hub Axle can also be used on the following rear hub:

- Shimano Nexave FH-C501

This is an "A" match which indicates that the parts are the same in materials, appearance, finish & size etc.

Genuine Shimano replacement part.
Similar products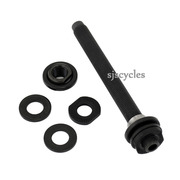 Shimano Deore HB-M525 Front Complete Hub Axle - 108mm - Y2SW98010
£10.99 Inc VAT
Quick view
Product Reviews (1)
Overall Product Rating 5 / 5
Shimano Fh-M525 Rear Complete Hub Axle Assembly - 3Sp 9801
13 Jun 2012
Shimano Deore FH-M525 Rear Complete Hub Axle - 146mm - Y3SP98010
As described,but still had to go to the shops to get bearings a grease. An option to include these would have made life easier. It was not clear if bearings were included.
Can You Supply The Ball Bearings To Use With Fh-M525
05 Jun 2017
Hi,

These Shimano rear hubs use 1/4" bearings, we sell these and they are SJSC part 19557.

Thanks.
Compatibility With Fh M530 Hubs
03 Jan 2017
Is this rear axle and cone set compatible with Shimano FH M530 hub on Trek 7500 hybrid bike (2006)? Same question about the M525 front set and HB M530 hub.
Thank you
Hi,

Unfortunately not, although similar the rear axle assemblies would not be cross compatible as the non-drive side lock nut units are totally different. This is because the FH-M525 is a disc hub and the FH-M530 is not. We do actually still have the correct front axle assembly for the HB-M530 is stock though ans these are SJSC part number 15800.

Thanks.
Fits Fh-M525-A?
01 Jun 2016
Does this assembly fit the FH-M525-A hub? The one from this tech doc? http://www.sjscycles.com/Drawings/Shimano/Shimano_Deore_FH-M525-A_Tech_Doc.pdf
Because there is also an SL version of the hub, which has parts that are (as far as I know) incompatible with FH-M525-A.
Hi,

Unfortunately as shown in that exploded diagram the axle assembly for the FH-M525-A is not cross compatible with the one for the FH-M525. The axle is the same across both hubs but the lock nut units differ.

Thanks.
Replacment Cones For A Deore M510 Hub.
27 Mar 2014
I'm trying to find replacement cones for my M510 hubs. I know that replacements for this hub are no longer available.
It looks like the front hub cones, are the same as the Shimano HB M525, M9 x 11.5mm. But the rear is not so clear. on my hubs the left one is M10 x 16mm. and the right is M10 x 9mm.
Do you have anyway of matching one set of cones to a different hub, or could you check the sizes on the M252 cones.
Regards Howard.
Hi,

The cones for the M510 on the rear are the same as the M525. The full lock nut sets won't all be compatible because the M525 is a disc hub so the spacers are different sizes but the locknuts are identical throughout.

Thanks.