Shimano Deore FH-M530 Rear Left Lock Nut Unit - Y3SR98030
Manufacturer :
SJS Cycles part number :
Manufacturer part number :
Details
This Rear Left Lock Nut Unit can only be used with Shimano Deore FH-M530 rear hubs.

Genuine Shimano replacement part.
Related products
Shimano Deore FH-M530 Complete Freehub Body - Y3SR98040
£27.99 Inc VAT
Quick view
Shimano Deore FH-M510 Rear Right Cone - M10 x 9mm - Y3AE03000
£6.99 Inc VAT
Quick view
Shimano Deore XT FH-M730-QR Rear Freehub Body Washer - Y37504000
£1.99 Inc VAT
Quick view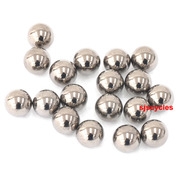 Shimano 1/4 Inch Steel Ball Bearings - 18pcs - Y00091310
£2.99 Inc VAT
Quick view
Be the first to write a review
Feel free to leave a review of this product, good or bad it helps other customers with their buying decision.
Looking at this cone to replace the left cone on hub STX FH MC-32
02 Nov 2020
I'm not too concerned about the dimensions of the flange attached to the cone being exact as it is only to accept the smaller end of the protective rubber boot. Could you possibly measure the inside and outside diameters. My cone has OD 17mm (which is the ID of the flange) and the flange has OD 25.3 which I'm guessing is a metric inch.
Hello SJS part: 22404 is more likely to be what you are after as its listed compatible with the STX FH-MC-32.

JK 03.11.20
Can I use this with the FH-M535 rear hub
31 Jul 2018
Hi there,

The data sheet does not show that this is compatible so we would have to recommend not.

Thanks
Need left cone for FH-M510, can I use this one?
17 Oct 2017
Hi,

This cone does look very similar to the one from your hub so may well be suitable, but Shimano give them different part numbers and we have never tested them so cannot say for sure.

Thanks.
Cones For Shimano Fhm530 Rear Hub
26 Feb 2016
I need to replace the cones on both sides of the FHM530 rear hub as they are a bit pitted: the left cup is OK and I just fitted a new freehub which has the righthand cup.
What do I need to order to get a left and a right cone please?
Thanks
Hi,

The left hand cone is only available in the lock nut unit which is this item (SJSC part 32014) that you have left the question on. The right hand cone is still available as an individual cone as it is used on a number of other hubs, these are SJSC part number 23524.

Thanks.