Shimano FH-RM66 Rear Complete Hub Axle - 146mm - Y3TD98010
Manufacturer :
SJS Cycles part number :
Manufacturer part number :
Details
For use with Shimano FH-RM66 rear hubs.

This Complete Hub Axle can also be used on the following rear hubs:

- Shimano FH-M3050

This is an "A" match which indicates that the parts are the same in materials, appearance, finish & size etc.

If the correct Complete Hub Axle is unavailable you can also use the assembly from the following rear hubs:

- Shimano Alivio FH-M4050

This is a "B" match which indicates that the parts are usable, but differ in materials, appearance, finish & size etc.

Genuine Shimano replacement part.
Related products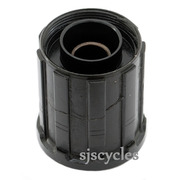 Shimano FH-RM66 Complete Freehub Body - Y3TD98040
£27.99 Inc VAT
Quick view
Shimano FH-M495-A Quick Release Skewer - 135mm - Y3B598010
Now from

£8.99

Inc VAT
Typical RRP: £13.99
Quick view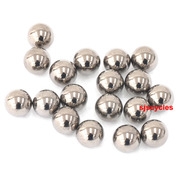 Shimano 1/4 Inch Steel Ball Bearings - 18pcs - Y00091310
£2.99 Inc VAT
Quick view
Shimano FH-RM35 Rear Hub Shell Spacer - Y3TD06000
£1.99 Inc VAT
Quick view
Product Reviews (1)
Overall Product Rating 5 / 5
Shimano Fh-Rm66
28 Dec 2016
I recommend this product
Fits perfectly !
What Size Cone Spanner Is Required To Fit This Please?
15 Feb 2017
Hi,

The cones require a 15mm spanner and the lock nuts require a 17mm spanner.

Thanks.
Fdh-Rm66 Dirt Seals?
21 Aug 2016
Hi, I need replacement dirt seals both sides of an FH-RM66 Shimano Hub assy. Can you tell me if these are available please? Thanks for your time, S
Hi,

Unfortunately the seals for your hub are no longer an available spare and there aren't any compatible alternatives listed up by Shimano either I'm afraid.

Thanks.
Upgrade Possible From Fh_ Rm66?
29 Apr 2015
Hi SJS

The rearwheel bearings of my bike are shot after just 1000 miles. I think it is due to dirt entering the hub. Is there an easy upgrade possible to an axle WITH dirtseals? The Hub is a Shimano FH_RM66.
If not I will by this set above. (3TD 9801). You also ship to the Netherlands right? How long does this take (approx). Thanks
Wouter
Hi,

I'm afraid there is no upgrade kit available for these hubs with better sealing. Yes, we can ship to the Netherlands. Our European tracked option normally takes 1-2 weeks.

Thanks.
Axle Lenght
19 Jun 2014
hi how long is this axle please , and which are the longest complete with cones and lock nuts of quick release you have available in stock please ? Asking , so I can be guided in selecting my needs.
Thank you in advance
Hi,

This axle is 146mm in length, this is for the FH-RM66 rear wheel, Shimano axles are specific to certain hubs and tend not to work well with any other than there original match. If you let me know which hub it is you have then I can find a suitable replacement for it.

Thanks.
Shimano Rm65
26 Jan 2014
can you tell me whitch axle will fit the Shimano RM65 hub it is for the rear wheel.
Hi,

The whole axle assembly like the one you've left this question on is no longer available, but the lock nuts/ cones are still available and there is a compatible single axle available. The axle is SJSC part number: 26156. The lock nuts can be found by searching for FH-RM65.

Thanks.