Shimano Saint HB-M820 Front Complete Hub Axle - Y28F98010
Manufacturer :
SJS Cycles part number :
Manufacturer part number :
Details
This Complete Hub Axle can only be used with Shimano Saint HB-M820 front hubs.

Genuine Shimano replacement part.
Related products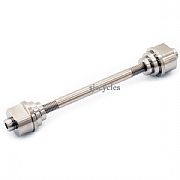 Shimano XTR WH-M988-F15 TL-HB16 Hub Setting Tool - Y20W98020
£71.99 Inc VAT
Quick view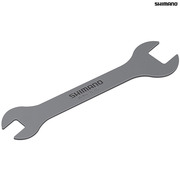 Shimano XTR HB-M976 TL-HS23 Cone Spanner - 28 x 18mm - Y20W04000
£14.99 Inc VAT
Quick view
Shimano Saint HB-M820 Steel Ball Bearings 5/32 Inch - 38pcs - Y28F98020
£5.99 Inc VAT
Quick view
Shimano Saint HB-M820 Front Right Cone - M25 - Y28F06000
£11.99 Inc VAT
Quick view
Be the first to write a review
Feel free to leave a review of this product, good or bad it helps other customers with their buying decision.
Is It An Option To Swap Cups And Cones 820 To 810?
12 Jun 2014
If I bought a kit for 820 from you is it realistic to try swap the 2x cups, 2x cones, seals and bearings to my 810... and in that case which kit do I buy ? thankyou.
Hi,

That unfortunately is not an option, none of the parts cross over between the hubs, so none of the parts can be used on the incorrect hub. Also the cones on the disc side are part of the axle and cannot be separated from it.

Thanks.
Will Saint Front Hub 820 Kit Fit The Older 810 Model Hub
11 Jun 2014
Sons saint front hub is shot, needs needs new cups, cones, seals and of course bearings... saw you have the 820 axle kit in stock, is that compatible ? what about cups and seals can I get those and do I need / you sell specific tools for this job ? (we have the lockring and conespanners)

thx Mat
Hi,

Unfortunately the M820 axle assembly is not compatible with the older M810 hub, you will need to purchase the specific set for the M810 hub. You shouldn't need any specialist tools to fit it.

Thanks.