Shimano Alfine SG-S7001 11 Speed Disc Hub without Fittings - 135mm - Black
Holes
Manufacturer :
SJS Cycles part number :
Manufacturer part number :
Details
The Alfine 11-speed internal gear hub runs on needle bearings for increased durability and high drive efficiency
Helical internal sprockets increase durability, perform better with high torque loading and provide a constant engagement for a smooth and quiet operation
Oil bath lubrication system increases durability and reduces friction in the hub, while Labyrinth seals improve sealing performance both resulting in extending service life
Silent clutch engagement also gives a smoother quieter shift
Shimano's precise manufacturing abilities have enabled them to construct the Alfine 11-speed internal hub to be there most efficient yet
Centre-Lock disc rotor compatible
135 mm O.L.D. spacing

Wider gear ratio with more lighter weight
Gear ratio: 409% (8-speed: 306%)
Smooth rotation by improved gearing
Longer durability by oil lubricant
Sporty operation by Top Normal structure as same as rear derailleur model
Weight: 1,665g
Related products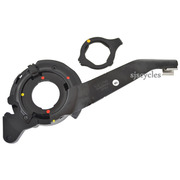 Shimano Alfine SG-S700 CJ-S700 Cassette Joint Unit - Y72A98010
£17.99 Inc VAT
Quick view
Be the first to write a review
Feel free to leave a review of this product, good or bad it helps other customers with their buying decision.
I have an Nexus 8 speed hub with disk brake
03 Jan 2022
Can I exchange/fit it with a Shimano Alfine SG-S7001 11 Speed Disc Hub.
Yes, however new shifters, and cassette joint unit is required.

JK 04.01.2022
Is this Di2 compatible, and does it have a specific motor unit which is recommended for use with it?
12 Sep 2020
Hello, not for the Di2 hub you MUST use the Di2 hub unit- sjsc code: 37566H36
How low is the lowest gear
04 Jul 2020
Assuming the recommended pedal ring for this hub, how would it's lowest gear compare to a 22 front and 32 back on a MTB?
Please take a look at this website for further info about the Alfine 11 gear ratioshttps://www.sheldonbrown.com/alfine-11.html

Hope this helps!
Are your pictures right?
27 May 2020
You list four SG S7001 products. 8 and 11 speed. Black and silver. All disk. The pictures show two tapered housings and two stepped. But the shape is not associated with number of speeds, nor even colour. Perhaps one shape is an older model?
Hi, thank you for pointing out our mistake. The black 11 and 8 are reversed. We will correct this. Thanks