Shimano Alfine SG-S7001 11 Speed Disc Hub without Fittings - 135mm - Silver
Holes
Manufacturer :
SJS Cycles part number :
Manufacturer part number :
Details
The Alfine 11-speed internal gear hub runs on needle bearings for increased durability and high drive efficiency
Helical internal sprockets increase durability, perform better with high torque loading and provide a constant engagement for a smooth and quiet operation
Oil bath lubrication system increases durability and reduces friction in the hub, while Labyrinth seals improve sealing performance both resulting in extending service life
Silent clutch engagement also gives a smoother quieter shift
Shimano's precise manufacturing abilities have enabled them to construct the Alfine 11-speed internal hub to be there most efficient yet
Centre-Lock disc rotor compatible
135 mm O.L.D. spacing

Wider gear ratio with more lighter weight
Gear ratio: 409% (8-speed: 306%)
Smooth rotation by improved gearing
Longer durability by oil lubricant
Sporty operation by Top Normal structure as same as rear derailleur model
Weight: 1,665g
Related products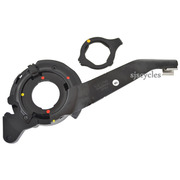 Shimano Alfine SG-S700 CJ-S700 Cassette Joint Unit - Y72A98010
£17.99 Inc VAT
Quick view
Be the first to write a review
Feel free to leave a review of this product, good or bad it helps other customers with their buying decision.
Chain line distance from centre.
19 Aug 2020
What is the distance between the centre of the hub, which is 67.5 mm from the outside of the overlock nut and the centre of the sprocket? Aka chain line. Thank you
Depending on the type of sprocket used the chainline alters- shimano sprockets are slightly offset while others are not. chainline cannot be confirmed until we know the exact sprocket you are intending to fit.
Can i use SG-S7001-11 with V Brakes rim, can you build wheel for me?
18 Mar 2020
Hi, yes you can use a rim brake. At this time we are unable to build wheels due to COVID 19 issue. This will be resolved later this year. 18/03/20
Is this available in black version?
20 Feb 2020
Yes, we just need to order it!

Thanks - 20/02/20
Is it available in black?
22 Jun 2019
I would like to order this hub for a wheel that I would like you to build for me. Only issue is that I need everything in black. Can this hub be ordered in black?
Yes, we can simply order the black version!

Thanks - 24/06/19