Rohloff Speedhub 500/14 CC 14 Speed Gear Hub w/ EX Box 32 Hole For Disc 8021 - Red
Manufacturer :
SJS Cycles part number :
Manufacturer part number :
Details
Speedhub 500/14 CC DB, Red

Oil supplied but not fitted. The even increments of 13.6% from gear to gear make it possible to ride at the optimum cadence. The overall range ensure that you have the right gear in every situation.Kit includes: Quick Release Axle with adaptor for all disc brakes with IS 2000 standard,
Rohloff SPEEDHUB 500/14 CC DB for frames with disc brakes and vertical dropouts
also earlier models for Magura/Hope, External Gear Mech, Shifter Cables, Twist Grip, Chain Tensioner,
Related products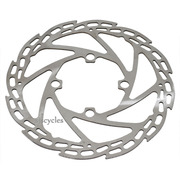 Hope Stainless 8-Arm Rotor for Rohloff Hub - 160mm
£44.99 Inc VAT
Quick view
Product Reviews (1)
Overall Product Rating 5 / 5
The best bike hub in the world!
30 Aug 2019
I recommend this product
Cons
Nothing really. Price is justified
Pros
Sealed unit, will last a lifetime, easy to self service, indestructible
If you're reading this then you'll probably have done your research already. These hubs, German made, are an incredible piece of engineering! Easy to set up once you've got the right add ons for your bike ie chain tensioner, monkey bone, tensioning arm. SJS will be able to advise on this. My brother has had one for donkeys years. I bit the bullet when building up my fat bike and... WOW. I had already built an expensive tourer but was that impressed that I spent another £1500 getting a new wheel built with another one. I'm heavy so my advice for the strongest wheel is one of these (they should be able to get you a 36 spoke version) if you're "REALLY" heavy like me. Get it built onto a Velocity Chukker rim. The company boasts tested up to 250kg!. If it's for fat or mid fat then get a Velocity Dually. Both do 32 and 36 hole variants!
What dropouts will this work with?
25 Dec 2021
Hi,
I have a custom bike and my dropouts are a mixture of diagonal/vertical/horizontal/I'm not entirely sure. They currently have a hangar for a regular derailleur to screw into.
Would this be compatible?
Thanks
HI, please email
[email protected]
with some photos of your bike and question so one of our team can best answer this for you!
JK 29.12.21
Rohloff
06 Jun 2021
Hi, I would like to use a Rohloff on a frame with horizontal drop out but want the option to use in vertical in the future. Are they specific to one or can the be used in both?
Thank you for your enquiry, yes the same hub can be used for both

Hello,
15 Jan 2020
Can I use the Rohloff, and the included 16T sprocket, with the Gates Carbon Drive or do I have to change the sprocket for a compatible version?
Hi, you will need a Gates Carbon Drive sprocket. The sprocket Rohloff include with this hub is for traditional chain drives. Thanks 16/01/2020 AK
Can this be used with bolt through
19 Sep 2019
Can the Rohloff speed hubs be used with bolt through frames as i have a 12mm rear axle and would like to convert to this gearing system but can not see this as an option?
Hi there,

Unfortunately, this cannot be used with a through-axle. You would need a specific Rohloff hub which unfortunately we do not stick im afraid.

Thanks.
Disc bolt's are include?
25 Aug 2019
Hello,

I want to know this hub set include bolt's for disc rotor fitting.
Please reply to me .
Sincerely yours.
Yes, disc rotor bolts are included.

Thanks - 27/08/19
In Stock ?
10 Nov 2017
Hello,

The red versions are difficult to find in stock from any supplier. Can you confirm you have this in RED ready to dispatch straight away?
Hi,

If it is showing as in stock on our website then we definitely have sock here ready to ship.

Thanks.
Rohloff Speedhub 500/14 14 Speed Gear Hub 32 Hole With Disc Fitting - Red
19 Jun 2017
Hi, May I know this Speedhub got TS/Threaded Axle version(Red colour)? Use M10 Bolts.
Hi,
This particular hub is the quick release version and not the nutted one, we don't currently have the nutted version but we should be able to special order one for you. Please email
[email protected]
for more information regarding lead time and prices on this.
Thanks.
Rohloff Speedhub 500/14 Cc 14 Speed Gear Hub 32 Hole With Disc Fitting 8021 - Red
18 Jun 2017
Hi, may i know this Rohloff Speedhub come with 1.Rohloff Cable Box - External, 2.Rohloff Chain Tensioner, 3.Rohloff 14-Speed Handlebar Twistshifter, 4.Shifter Cable, 5.Bayonet Connectors(Male/Female), 6.Sprocket, 7.Oil Change Fluids. full complete set?? Thank You

Hi,

This hub comes as a full set with all of the parts required for fitting. From those parts you have listed the bayonet connectors are not included though as they are used on the internal cable version not this version with the external cable box.

Thanks.
Can You Tell Me Which Frames This Hub Will Fit? How Wide Is The Hub And Which Frames Are Suitable?
10 Jan 2017
Hi,

The hub has an over lock nut or drop out spacing width of 135mm, it is designed to fit to non-Rohloff specific frames that have vertical dropouts and disc brakes.

Thanks.
Sprocket Size
08 Feb 2015
what size of sprocket is included in this set?
Hi,

A 16T sprocket is supplied with this hub.

Thanks.