Sturmey Archer QS-RC3 3Spd Aluminium Quadricycle Hub - 36 Hole
Manufacturer :
SJS Cycles part number :
Manufacturer part number :
Details
- 3 speed internal gear hub with coaster brake
- EN approved coaster brake
- Classic 3 speed gear ratio of 177%
- New hub with reverse gear
- Unique built-in mechanism makes reverse cycling possible
- Features coaster brake function
- Alloy shell body
- Compatible to CLS shifters and all S30 / S3S shifters

Specifications:
- Hub Shell Material: 6061 aluminium
- Axle Diameter: 13/32" Slotted
- Axle Length: 175 mm
- Over Locknut Dimension: 116 mm
- Right Axle Protrusion Length: 30 mm
- Left Axle Protrusion Length: 29 mm
- Spoke Holes: 36
- Pitch Circle Diameter: 67 mm
- Flange Width: 53 mm
- Spoke Compatibility: 13g or 14g
- Sprocket Teeth: 13T (fixed to hub) and accepts additional sprocket
- Chain Line: 1/8" Flat 45.6 mm
- Chain Line: 1/8" Dished 44 mm, 47.4 mm
- Chain Line: 3/32" Flat 45.2 mm, 46 mm
- Chain Line: 3/32" Dished 43.5 mm, 47.5 mm
- Indicator Chain: HSA420 Mark 5
- Weight: 1300g

Gear Ratio:
- Overall Range: 177%
- Gear 1: 75% (-)25%
- Gear 2: 100% Direct Drive (Gear 1 +33%)
- Gear 3: 133% (+)33.3% (Gear 2 + 33%)

Includes 21T 1/2 x 1/8 Dished Sprocket and SL-S30 3 Speed Thumbshifter.
Related products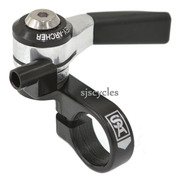 Sturmey Archer SLS30-T 3 Speed Thumbshifter - HSJ962
£15.99 Inc VAT
Quick view
Product Reviews (2)
Overall Product Rating 5 / 5
08 May 2020
I recommend this product
Pros
Fast and help to solve your problem
Brilliant service the guys always willing to help never an issue highly recommended
The Sturmey Archer Qs-Rc3 Hub Fits For Repair For Etan T-Car Gocart
23 Jul 2016
I recommend this product
Reliable seller. Delivered very quickly to Germany after 3 days. Original spare part for Etan T-Cart.
Reverse option
12 Jun 2018
How reverse mechanism works? and is it strong enough for 2 people driven pedal?
Hi there,

You simply need to come to a complete stop, and then pedal the alternate way! It has not been tested or designed for 2 people drive, but we would imagine it would be okay if you were sensible with the power input, gearing ratios and expectations.

Thanks
which sprocket to mount?
05 Oct 2017
I want to order this hub, and also need to order the second sprocket (same amount of teeth) which sprocket do I need? And do I have to order a fixing ring for the sprocket as well or is in within the delivery of the hub.
Hello,

The sprocket that you need is sjs part #19343. The hub comes with all of the spare parts that you need.

Thanks.
I Need A Replacement Part
15 May 2017
A customer of mine is looking to replace the hub mounted sprocket, do you list a spare part?


Hi,

Unfortunately for some unknown reason Sturmey Archer do not offer this sprocket as a replacement spare.

Thanks.
Do You See Just The Chain Ring For The Hub?
05 May 2016
I just bought one of your 3 speed hubs but it only came with the ring mounted with the snap ring.
thanks!
Hi,

All of our Sturmey Archer hubs are now sold at a reduced price as they don't include the sprocket, we do sell these separately though. They can be found on our website under the Sprockets - Hub Gears category.

Thanks.
Disc Brake Version
30 Oct 2015
Hi,

1. Does the 3 speed with reverse action also come with the disc adaptor?

2. Is it easy to fit to a fat bike rim for a 26" x 4" tyre?

That's what I'll require and I need to know how many spoke holes too I guess. You guys probably build wheels, right ?

Thank You
Hi,

This hub does not come with a disc adaptor i'm afraid. This hub is normally designed for fitting within the frame of a four wheeled bicycle as a gearbox rather than a hub, hence why it has the second sprocket attachment. You would need to remove the second sprocket before being able to build this into a wheel. With the sprocket removed there are 36 spoke holes. If you are looking for a more traditional 3spd hub with a disc fitting I would recommend going for one of the S-RK3 which is SJSC part number 37078. You would be able to build this hub up with any rim you wanted. If you are planning to fit it to a fat bike I would recommend checking what your rear frame spacing is though as most fat bikes tend to use extra large rear hub spacings to allow for better tyre clearance.

Thanks.