Sturmey Archer S-RF3 3Spd Aluminium Hub - 117mm OLN - 36 Hole
Manufacturer :
SJS Cycles part number :
Manufacturer part number :
Details
3 Speed internal gear hub without brake (freewheel). 163mm axle length. Classic 3 speed gear ratio of 177%.

- Hub Shell Material: 6061 Aluminium
- Axle Diameter: 13/32 Slotted
- Axle Length: 163mm
- Over Locknut Dimension: 118mm
- Right Axle Protrusion Length: 21mm
- Left Axle Protrusion Length: 24mm
- Spoke Holes: 36
- Pitch Circle Diameter: 67mm
- Centre to Flange Right: 28.3mm
- Centre to Flange Left: 28.3mm
- Flange Width: 56.6mm
- Spoke Compatibility: 13g or 14g
- Sprocket Compatibility: 13T through 24T
- Chain Line 1/8 Flat: 42.7mm
- Chain Line 1/8 Dished: 41.5mm
- Chain Line 3/32 Flat: 42.3mm
- Chain Line 3/32 Dished: 40.6mm
- Indicator Chain: HSA315 Mark 3
- Weight - 1020g

Gear Ratio:
- Overall Range - 177%
- Gear 1 - 0.75 (-25.0%)
- Gear 2 - 1.00 (Direct Drive)
- Gear 3 - 1.33 (+33.3%)

Includes 1/2 x 1/8 Inch 18T Dished Sprocket and SL-S30 Thumb Shifter.
Related products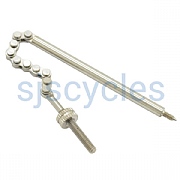 Sturmey Archer Indicator Chain MK3 - HSA315
£3.99 Inc VAT
Quick view
Be the first to write a review
Feel free to leave a review of this product, good or bad it helps other customers with their buying decision.
Can I fit a coaster brake to this?
23 Aug 2021
I need to get on and build a bike and the S-RC3 is currently out of stock. If I buy this instead can I fit a coaster brake to this hub?
Thank you for your enquiry, no sorry it is not suitable for a coaster brake

WD 23/08/21
My chainline is 42 mm, in 19T wich sprocket I should buy?
01 Oct 2018
Te flat or the dished?
Hi there,

It should'nt make a huge amount of difference. It also depends on the amount of chainrings that you are running on the front. Because of your chainline the flat one would fare a bit better but it wont make a huge amount of difference either way.

Thanks.
Items included with the S-RF3 3Spd hub purchase
11 Aug 2017
Hi
Does this item come supplied with both gear chain pull options for the indicator chain.
That is both the plastic roller and fulcrum lever arrangement and the traditional right hand axle nut with inspection hole as pictured.
thanks


Yes, what you see in the photo is what you should receive.
Can This Hub Be Respaced At 110Mm As Per The 28H Version. Thanks
18 Oct 2016
Hi,

You could re-space this down if you wanted to, the axle would protrude from the frame a long way though.

Thanks.
Sturmey Archer Hub
08 Feb 2015
Hi

Im looking for this

but with a 119mm OLD. Can you order one for me?

Cheers

Peter
Hi,

This hub is not available with an OLD of 119mm, it is only 2mm large however so will still fit. Your frame should easily be able clamp down enough to hold the hub tight or alternatively if you were to fit a 2mm washer to the axle you should still have plenty of thread to get the nuts done up fully.

Thanks.