Sturmey Archer SX-RK30 3Spd Freewheel Cruiser Disc Hub for w/ CLS-30 - 36 Hole
Manufacturer :
SJS Cycles part number :
Manufacturer part number :
Details
- 3 speed internal gear hub for use with disc brakes
- Classic 3 speed gear ratio of 177%
- Extra wide hub will accommodate a big rear end
- High polish silver hub shell
- Complete with CLS-30 Shifter

Axle Diameter: 13 / 32" Flatted
Axle Length: 215mm
Over Lockout Dimension: 169.9mm
R: Axle Protrusion Length: 23.3mm
L: Axle Protrusion Length: 21.8mm
Pitch Circle Diameter: 89.8mm
Flange Width: 90.9mm
Spoke Compatibility: 13G, 14G
Sprocket Teeth: 13-22T
Indicators: MK3
Weight: 1.40kg

Includes 1/2 x 1/8 Inch 18T Dished Sprocket
Related products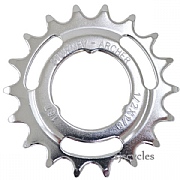 Sturmey Archer 18T Sprocket - 1/8 Dished C.P. - HSL838
£2.99 Inc VAT
Quick view
Be the first to write a review
Feel free to leave a review of this product, good or bad it helps other customers with their buying decision.
Le moyeu est il vendu avec tout le systeme complet qui se vis sur l axe?avec la petite chaine
15 May 2020
Hub sturmey Archer extra large
Hi yes all the items in the extra pictures are in the package. Thanks
Does this hub contain a freewheel
17 May 2018
The question may look obvious, buy seeing the S-RF 3 reference makes me wonder
Thank you

Hi there,

Yes this hub has a freewheel built in.

Thanks
Issue With Horizontal Dropout / Washer Tab Orientation?
16 Jun 2016
Hi, I have bought this product and fitting to a bike with horizontal dropouts (as queried in my previous question), however I think there is an issue...the orientation of the tabs on the washers forces the flat of the axle parallel to the dropout, and therefore the bike would be supported only by the washer tab. If the dropout was vertical then this would be the other way round. Therefore I think it needs washers where the tab is adjacent to the flatted side to fit to horizontal dropiut, are you able to confirm / provide?

thanks,

Graham
Hi,

These hubs are designed for use with horizontal dropouts, the tabs on the washers are orientated correctly to suit this. The flat part of the axle should sit onto the dropout as well.

Thanks.
Fitting To Bike With No Derailleur Hanger Or Other Fitting Point
11 May 2016
Hi, I'm considering this for fitting to a fat bike frame (sondors ebike) that has a reverse facing / horizontal dropout and no add ons to the frame for attaching derailleur hanger or anything else (there are some clips further up the frame which I'm assuming i can run a cable through). would it be possible to fit this hub or is any anchoring point needed (other than the axle itself)?

thanks :)
Hi,

Although the sprocket and shifter are not included, everything else you require to fit this to your bike should be included with the hub. These hubs are designed to fit to horizontal dropouts.

Thanks.
Sturmey Archer Skrk3 Hub
02 May 2016
Hello, I wanted to make sure you have 2 of these hubs in stock before I ordered? And roughly how long would it take to ship to Arizona in the United States? Thank you!
Hi,

We normally keep a few of these hubs in stock so you should be fine to order two. We normally estimate orders to the USA take around 2 weeks, but this is only an estimate and they can take longer.

Thanks.
Hub Without Sprocket
12 Mar 2015
Have to buy hub without sprocket such as when i put it to basket delivery price increasing up to USD 44 and the purchasing loosing the sence.
Hi,

As I explained in my last reply even though the sprockets do not weigh much they take the volumetric weight over into the next bracket which is why the postage jumps up by so much. I have however attempted to change it slightly so you should hopefully be able to order any Sturmey Archer sprocket with this hub for the cheaper postage price.

Thanks.
Delivery
10 Mar 2015
Dear sirs,
When I put to the basket hub, delivery price was indicated USD 26.13 , but when i added the sprocket (cost USD 3.83) delivery price indicated USD 44.57 !!!! How it is possible ? If the hub and sprocket will follow to me in the same envelope and to the same address for what additional USD 18.44 for delivery???
Is it possible to exclude it ? I think the total weight and volume of package with hub will be not increased so heavy...
Thanks, Regards
Hi,

This is actually technically correct, the hub is right at the upper limit of the lower postage bracket that the addition of anything even just a sprocket pushes it over into the next postage bracket. To help you out though I have adjusted the weights of the items in our system so that the two items together will be just below the limit of the postage bracket so they should come under the cheaper price but the addition of any other items will put the price up.

Thanks.
Sprocket
09 Mar 2015
Hi, Thanks for your last which is dully noted. Understude that need to buy separtely a sprocket only. The question is : Which one will be usefull for that hub ? Please reccomend.
Thanks
Hi,

Any 3 notch sprocket will fit apart form the 8spd specific Sturmey Archer ones. I can't recommend any particular one though as they are available in sizes ranging from 12T-22T and each different size will have an affect on your gearing ratio.

Thanks.