Sturmey Archer XL-RD3 3Spd Hub w/ 90mm Drum Brake & Gear Control - 36 Hole
Manufacturer :
SJS Cycles part number :
Manufacturer part number :
Details
- 3 speed internal gear hub with 90 mm drum brake
- Classic 3 speed gear ratio of 177%

Specifications:
- Hub Shell Material: A356 Aluminium
- Axle Diameter: 13/32" Slotted
- Axle Length: 163 mm
- Over Locknut Dimension: 118 mm
- Right Axle Protrusion Length: 24 mm
- Left Axle Protrusion Length: 21 mm
- Spoke Holes: 36
- Pitch Circle Diameter: 109 mm
- Flange Width: 63 mm
- Spoke Compatibility: 13g or 14g
- Sprocket Teeth: 13T through 22T
- Chain Line: 1/8" Flat 50.9 mm
- Chain Line: 1/8" Dished 49.3 mm, 52.7 mm
- Chain Line: 3/32" Flat 50.6 mm, 51.2 mm
- Chain Line: 3/32" Dished 48.8 mm, 53 mm
- Indicator Chain: HSA316 Mark III
- Weight: 1720g

Gear Ratio:
- Overall Range: 177%
- Gear 1: 75% (-)25%
- Gear 2: 100% Direct Drive (Gear 1 + 33%)
- Gear 3: 133% (+)33.3% (Gear 2 + 33%)

Includes 18T Dished 1/8 Inch Sprocket and 3 Speed SL-S30 Thumbshifter
Related products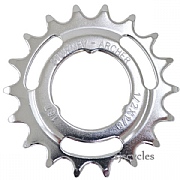 Sturmey Archer 18T Sprocket - 1/8 Dished C.P. - HSL838
£2.99 Inc VAT
Quick view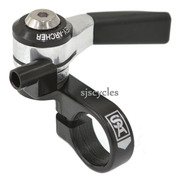 Sturmey Archer SLS30-T 3 Speed Thumbshifter - HSJ962
£15.99 Inc VAT
Quick view
Product Reviews (1)
Overall Product Rating 5 / 5
Reliable Stopping Power
02 Jun 2011
I recommend this product
Pros
reliability, braking, price
I've been using this hub on my cruiser style bike towing a trailer full of camping gear in Wales. It's proven very reliable except on those very few occasions when I've forgotten to take up any stretch in the gear cable (duh!). I especially appreciate the larger size drum brake which won't overheat as much when towing the trailer down long descents. The 3speed trigger that comes with it might look plasticy, but again seems to be perfectly positive in action and reliable. It's easy to fit a different sprocket to raise or lower the range of gears.
Can I replace the axle to a longer one?
13 Apr 2018
I need to do this to fit this hub in 135mm dropouts.

Thanks
Hi there,

You will simply need to space the hub out using one/some of the following - https://www.sjscycles.co.uk/search/?term=sturmey+archer+spacing+washer

Thanks
Hello. I will use this hub on an ebike. What sprocket size would be good for that?
30 Aug 2017
Hi,

Unfortunately as we have never fitted one of these hubs to an e-bike we would not know what a suitable sprocket size would be. We would recommend looking at the gearing ratios to see what best suits the bike and area that you live in.

Thanks.
Will This And The Equivalent Front Hub Fit A1970S Raleigh Roadster
02 Jan 2017
1974 Raleigh sports currently fitted with SA 3 speed aw hub on 26 1 3/8 590 rims. Would like to change to drum brakes . Are the widths etc the able to work? Many thanks
Hi,

You will need to double check by measuring the OLN measurement of your frame but it is unlikely as this hub uses and OLN measurement of 130mm where as a lot of older Sturmey 3spd hubs were much narrower usually around 117/118mm.

Thanks.
Which Of The 18T Sturmey Archer Sprockets Would Be Compatible?
28 Dec 2015
Hi you need our part 19347 or 27162.
What Gear Shift And Sprocket Is A Good Match For This?
04 Dec 2015
There are so many to choose from :)
I am interested in a sprocket that will make for easier hillclimbs.
Hi,

All of the SLS30 3spd Sturmey Archer shifters are compatible and suitable for use with this hub, you merely need to decided which type of shifter you would prefer. The larger the rear sprocket the lower the gear, so if you're looking for a low gear for hill climbing, something like a 22T sprocket may be the best option. One of these would be SJSC part number 19337.

Thanks.
How Much For A 700C Wheel With This Hub Built In Please?
02 Dec 2015
Hi,

We offer wheel build options through our website; just select one of these options based on what spokes you would like (the price for the wheel build option includes spokes, nipples and the labour to build it) add it to your basket along with the hub and the rim of your choice and when we get the order we will build you the wheel and send you a full finished wheel. Remember to match up the number of spokes correctly though so for this hub you'll need to select a rim and wheel build option with 36 spoke holes.

Thanks.