Sturmey Archer X-RD3 3Spd Aluminium Hub with 70mm Drum Brake with Gear Control - 36 Hole
Manufacturer :
SJS Cycles part number :
Manufacturer part number :
Details
3 Speed Internal Gear Hub with 70mm Drum Brake

Suitable for short pull brake levers.

- Hub Shell Material - A356 Aluminum
- Axle Diameter - 13/32" Slotted
- Axle Length - 162.7mm
- Over Locknut Dimension - 117.3mm
- Right Axle Protrusion Length - 23.1mm
- Left Axle Protrusion Length - 22.3mm
- Spoke Holes - 36
- Pitch Circle Diameter - 89.8mm
- Flange Width - 62.6mm
- Spoke Compatibility - 13g or 14g
- Chain Line: 1/8" Flat 13T ? 19T - 44.9 43.2
- Chain Line: 1/8" Dished 17T ? 22T - 46.6 45.0 43.2 41.6
- Chain Line: 3/32" Flat 16T - 44.5 42.9 45.1 43.5
- Chain Line: 3/32" Dished 17T ? 22T - 46.9 45.3 42.7 41.0
- Indicator Chain - HSA315 Mark III
- Weight - 1400g

Gear Ratio
- Overall Range - 177%
- Gear 1 - 0.75 (-25.0%)
- Gear 2 - 1.00 (Direct Drive)
- Gear 3 - 1.33 (+33.3%)

Includes SL-S30 Thumbshifter and 18T 1/2 x 1/8 inch Dished Sprocket.
Related products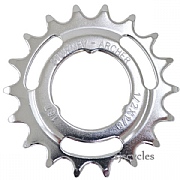 Sturmey Archer 18T Sprocket - 1/8 Dished C.P. - HSL838
£2.99 Inc VAT
Quick view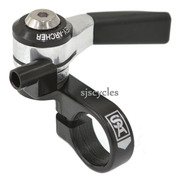 Sturmey Archer SLS30-T 3 Speed Thumbshifter - HSJ962
£15.99 Inc VAT
Quick view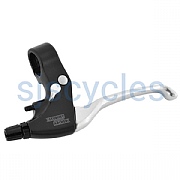 Sturmey Archer S80 Left Hand Brake Lever with Parking Button
£9.99 Inc VAT
Quick view
Sturmey Archer 70mm Brake Replacement Unit X-RD/X-RD3 - HSB429
£39.99 Inc VAT
Quick view
Product Reviews (3)
Overall Product Rating 5 / 5
Mr
10 Aug 2011
I recommend this product
Pros
Reliable, consistent, long-lasting, smooth-running
First choice for me every time from now on. Simple gear system combined with all the usual benefits of a very good, reliable drum brake. Stick to 3 speeds for durability, simplicity and efficiency. If you need more gears, walk! In my opinion and experience, there's no better solution for a commuter bicycle. Also go for Schwalbe Marathon Plus (note Plus) tyres as well, then you won't be taking the wheel off very often to fix punctures.
Another Pashley Swapout
21 Apr 2011
I recommend this product
Pros
Simpler, Stronger, Less drag
I bought this hub to replace the 5 speed version in a Pashley Roadster after two failed sun gear selector keys, too much force being put through a very small component. The 3 speed hub is much more robust as the technology is simpler. The hub is slightly narrower but will fit into the same space in the frame and the flanges are identical so the same spokes can be used. Need to ride it a bit more to let the brake bed in. With a trigger shifter, it is easier to use and the bike feels lighter on its feet.
Sturmey Archer 3 Speed Hub With Brake
19 Nov 2010
I recommend this product
Cons
wish I had bought one earlier
Pros
lighter weight, easier gear selection, more efficient, drum brake
I bought a Pashley Paramount about 2 years ago in Norwich. It had an SA XRD5 5 speed hub which was fine from new but had to go back twice for repair. It has failed again. There appears to have been a fault with the early batches and the gear selection. I decided to get the three speed to replace it.

The 3 speed is far easier to pedal and appears to be more efficient which makes up for the more limited gear range. Having had Shimano hub brakes in the past I really appreciate the drum brake of the SA units. I would not go back to rim brakes.
Brake lever compatible and Durability
28 Dec 2022
Morning, would drop bar canti brake levers pull the correct amount of cable for the drum brake?

And could this hub be considered for long distance riding? Audax for example. Looking to use on a moulton for distance riding, thank you very much.
Drop bar cantilever brake levers (short pull) will work with this brake, as for the hub being used for long distance riding, anything is possible, the limited range of gears may be an issue, for an alternative I would look at the Nexus/Alfine 8speed hubs. SK 29/12/2022
Can I use this hub with Shimano or any other company 3-speed shifters?
31 May 2018
Does it matter which model / company shifter to use with this hub?
Hello,

You should be able to use this with any shifter that has the same cable pull. For the best use it is is advised to use sturmey archers own shifters.

Thanks.
Accurate axle length, or replacement part
02 Apr 2018
Hello, what is the correct axle length for this hub? You have it listed as 162.7, but in the attached parts list it claims the axle (part 27) is 177mm number HSA808. I would like to run this hub in a 135mm frame, so if your listed part is correct, can I just order part HSA808 and swap them out to enable a 135mm OLN?

Thank you in advance!
Hello,

Our description is correct. You should be able to swap out the axles fairly easily, However we have not done this so we cannot say for certain.

Thanks.
X-RD3
18 Jan 2018
Thanks for your last response.
I will purchase this. please could you kindly put the instructions online for this hub as the pdf on the link is for the spare parts.

cheers!
Hi there,

You can find the instructions here - http://www.sturmey-archer.com/files/catalog/files/307/MANUAL%20-%203%20SPEED%20HUBS.pdf

Thanks
comparison
18 Jan 2018
Hi there,

I am looking to purchase a hub and stuck between this one and the Sturmey Archer SAB-3 3Spd Hub with 70mm Drum Brake with Gear Control. please could you advise the differences for me?
Hi there,

The main difference is the SAB is steel, the X-RD3 is Aluminium - a slight weight saving. Otherwise the gear ratios are identical, they use the same toggle chain and the X-RD3 has a very slightly wider hub flange making a very slightly stiffer wheel.

Thanks
24 spoke holes? - does it come in Black?
10 Jan 2018
hi there, please could you advise if this model comes in black and also whether it can be purchased with 24 spoke holes?
thanks in advance
Hi there,

The X-RD3 is not available in black or 24 spoke.

Thanks
Price And Shopping Costa Of Sab 3
06 Aug 2014
I would like to know the price in euro of the SJSC SAB3 drum hub part
number 19010, how to pay, the shipping costs and delivery times. Thank you.
Adriano Montanari
Hi,

As you will be actually charged in pounds we can only offer an estimation for the price in Euro's, to do this there is an option in the top right hand corner of the screen to change the currency the website shows. You can pay by either credit/debit card or with PayPal. To get a shipping quote just add all of the items you are looking at into your basket. Then proceed to the first step of the checkout. Once you have added a valid delivery address either by logging into your account or creating an account if you're a new customer the website will generate the shipping cost for you. Delivery times vary depending on destination, an outline of our postage is available on the website.

Thanks.
Sturmey Archer Sab 3
05 Aug 2014
I want to know if it is possible find an hub STURMEY ARCHER SAB 3. in case if you can give me one
Hi,

We stock the SAB3 and it is SJSC part number 19010.

Thanks.
I Want To Know If This Hub Is The Same Of Sturmey
By
Adriano Montanari italy
04 Aug 2014
Archer Sab 3
Hi,

This hub is very similar to the SAB3, the only difference being this one uses an alloy hub shell where as the SAB3 still uses an older style steel hub shell.

Thanks.
Parts With Hub
30 Oct 2013
Hi! Is this a complete kit or I need other parts (like brake cables, spare parts..)?
thanks
Luca
Hi,

This hub comes as a complete kit and should contain everything you need to use this hub.

Thanks.