Wurth Cable Connector non-insulated 2.8mm x 0.5mm Female x 1 - Fits B+M Dynamos & Lights
Manufacturer :
SJS Cycles part number :
Manufacturer part number :
Details
Cable size 0.5-1.0mm2.
Related products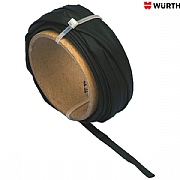 Wurth Black Heat Shrink Tubing
£1.99 Inc VAT
Quick view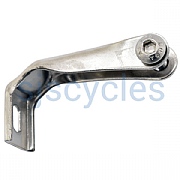 SON Stainless Steel Headlamp Bracket for Mounting SON E6 Headlamp on a Brompton
£2.99 Inc VAT
Quick view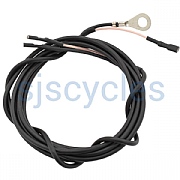 SON Coaxial Cable for Tail Light 190 cm Long Plugs Fitted - Black
£8.99 Inc VAT
Quick view
SON Handlebar Fitting Dynamo Headlamp Bracket
£10.99 Inc VAT
Quick view
Product Reviews (2)
Overall Product Rating 4.5 / 5
Connectors for wiring rear light
03 Jul 2021
I recommend this product
Needed these to connect a rear light. They are easy to fit and heat shrink tubing finishes the job nicely.
Probably The Best Connector In The World.
16 Aug 2012
I recommend this product
Cons
panics in an emergency
If you need a 2.8mm x 0.5mm non insulated female conector to fit B&M products then there is none better. I ordered 15 of these beautiesa and each one arrived lovingly packed in a very understated self seal polyethene bag with an exquisite monochrome decal affixed. First I arranged them in 5 rows of 3, then 3 rows of 5 before finally a single row of 15. Each connector glinted and glistened in the morning sun. I selected the 4th one along and carefully pried the edges of its pouch apart and allowed the shining jewel of German technology drop into my palm. Its lack of insulation was immediately obvious and was perfect in its non existence. It had no discernable smell or taste. It is non soluble in water and cannot sing. But boy it sure can conduct. I gingerly tried 230mA, first in one direction along its length then the other. Perfect! Not a single mA went astray. Its side to side performance was equally amazing. sadly thats all I've got time to write. But buy one! Buy 50. Buy 1000. They're just great.
What Material is this connector
19 Mar 2019
What material is this connector and how does it compare in terms of corossion resistivity to the SON connectors?
Hi
Thank you for your enquiry, the material of this connector is Copper-zinc. With regards to its corrosion resistance its very difficult to say, we've stocked both for some time & never had an issue with either.
Regards. 25/03/19