SON Edelux II High Power LED Headlight - Polished
Cable Length
Manufacturer :
SJS Cycles part number :
Manufacturer part number :
Details
With a brand-new IQ Tec P mirror from the specialists at Busch and Muller the new Edelux 2 leaves the older model literally in the shadows. The light field is twice as wide and focused mainly in the distance, putting most of the light further down the road allowing you to better assess whats coming, whilst still not leaving a 'dim' patch infront of the rider.

- 3 Watt high performance LED. 90 lux at 15kph
- Highly efficient by optimal cooling
- Watertight 6082 T6 aluminium housing
- Standlight & Senso
- Automatic light sensor
- Discreet rear light connection if required
- Light Includes: Stainless Fork Crown Bracket (23928), white reflector (23917)

Available in three different cable lengths; 36cm, 60cm have the connectors included and pre-fitted. The 140cm version includes connectors but they are not fitted so that the cable can be cut down by customers to the required length before applying connectors.
Related products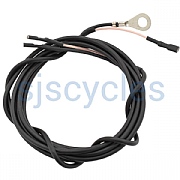 SON Coaxial Cable for Tail Light 190 cm Long Plugs Fitted - Black
£8.99 Inc VAT
Quick view
Be the first to write a review
Feel free to leave a review of this product, good or bad it helps other customers with their buying decision.
Can I use this with Shimano hub Dynamo?
28 Dec 2020
Will I need to get any extra cables and fittings to fit this light with the SON rear light? Or do they come with all the cables and fittings that I will need to mount them and connect them?
Yes, you can use this with Shimano dynamo hubs, you will need to use the plastic clip that came with your hub and wire it up as per the instructions provided by Shimano. Son rear lights come with the necessary parts to connect to SON front lights.

Thanks,

JK 29.12.20
What happens when you stop moving??
22 Dec 2020
What happens when you stop moving? Does everything just stop?
Oh, and what rear would you pair with this?
Ta
When you stop moving the light will remain on for a short while as it has a stand light function. We would recommend SJS part 37754 for Seatpost mounting and SJS part 37752 for rack mounting.

Hope this helps!
What does the switch do?
05 Dec 2019
Does the switch change between modes like high, low and flashing, switch it off completely or what?


It switches between off, sensor and on.

Thanks - 06/12/19
Handlebar bracket for SON edelux II front light
07 Sep 2019
Just bought this front light. Unfortunately it can't be fitted at the top of the forks, to my Whyte Stirling - the mudguard mounting hole is at the back but doesn't go right through. What handlebar mounting bracket would you recommend for this light?
We would use - SJS Cycles part number : 9884

Thanks - 09/09/19
How do I connect this to an SP-8 Hub dynamo
11 Nov 2018
Hi,

The Edulux 2 appears to have a specific connection to plug into the hub dynamo? Will it work (or do I need to buy something else and modify it) with an SP-8 ?

Thanks for your help.
You simply need to use the plastic junction box as supplied with the hub.

Thanks - 12/11/18
Edelux II rear light cable query
15 Aug 2018
I am thinking of fitting an Edelux II to my Brompton. I understand it comes with a cable for a rear light. Would the plugs on this fit a B&M Toplight Line Plus? If not, could you advise what they would fit? I want to avoid the rather makeshift business of crimping wires onto connectors. (I have ruled out Schmidt's own rear lights as they do not incorporate reflectors, and Brompton's rear dynamo light having read reviews of it.)
We would generally recommend and fit a SON rear light due to the compatibility and quality. You could then fit a reflector secondary if you wished for one. You will need to use - SJS Cycles part number : 15905 which will fit straight onto many rear lights.

Thanks
When we leave the EU, will this light still be legal unaccompanied by any other headlight?
21 Sep 2017
What worries me is that Britain will no longer be obliged to accept the German standards, and that bike lights in this country will once again need to be marked as complying with BS 6102. I appreciate that this is probably a very difficult question to answer!
Hello,

If were honest we would have no idea whether this would be a problem or not.

Thanks.
Can i use this with SP Dynamo SV-9 Front Hub to Suit Brompton - Black - 28 Hole
26 Jul 2017
Hi,

This light can indeed be used with a SP SV-9 Brompton hub on a Brompton.

Thanks.
Cable length for fork crown mounting
16 Jul 2017
Can you confirm that the 36cm cable is definately 36cm and not any shorter? The distance between fork crown and hub is exactly 36cm and I want to avoid coming just short! I hope that with connectors it actually reaches 37cm to give some contingency?
Hello,

The cable length is 36cm but it is able to be taught more to reach 37cm.

Thanks.
Dual Front Light From Schmidt Dynamo
14 Feb 2016
Can you run 2 front lights off a Schmidt Dynamo looking for a mount for my current one, see there is a mount that could take two, could I run two edelux lights from my hub?
Hi,

If you have the Schmidt 28 hub then you can definitely run two Edelux headlights from it, but if you have the Schmidt Delux hub, which has less electrical pick ups, we can't say for sure as we have never tested it with this hub.

Thanks.