Busch & Muller Toplight LineTec Brake Plus Rear Dynamo Light
Manufacturer :
SJS Cycles part number :
Manufacturer part number :
Details
Designed and built in Germany the Toplight LineTec Brake Plus is very small - 16mm thick, 90mm wide and 44mm high. It fits into many spaces that previous lights would not fit! It has good all round visibility and is very light weight. 50mm fitting for pannier rack mounting.

LineTec is a very clever concept developed by B&M. Before LineTec cars approaching a bicycle from behind could only see a single rear light spot without being able to judge the distance very accurately. To judge distance the human eye requires spacial relation - especially in 'spaceless' darkness. B&Ms lights with the LineTec light strip emit 'spatial' light. With LineTec other road users can estimate the distance to a cyclist much more accurately.

BrakeTec - How does it work for bicycles?

Motorised vehicles signal braking with bright shining red light to following traffic. This style of function is now available for bicycles. The new BrakeTec technology is integrated into rear B&M light. Unlike vehicles no connection is need to the brakes. Simply exchange your existing rear light for a BrakeTec rear light. This new function is approved by German road traffic regulations.

How does it work? Firstly your dynamo system needs to be operating. A processor inside the rear light analyses signals from the dynamo. If the velocity of the bicycle decreases significantly the processor registers deceleration and the rear light shines noticeably brighter.

- Patented lighting technology - Made in Germany!
- Extremely bright light exit at 320 degree all round visibility and glass protected red reflectors
- With plug contacts (central) for power and mass connection
- Beam shape helps motorists gauge your distance more easily
- Very light weight approximately 53g
- Switch for standlight deactivation
Related products
Wurth Cable Connector Red Insulated 2.8mm x 0.5mm Female x 1 - Fits B+M Dynamos & Lights
£0.25 Inc VAT
Quick view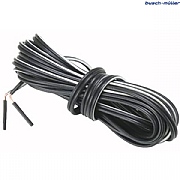 Busch & Muller Dynamo Wire Twin Core - No Connectors - Per Metre
£1.49 Inc VAT
Quick view
Product Reviews (1)
Overall Product Rating 4 / 5
impressive but incomplete
08 Oct 2017
I recommend this product
Cons
Marginally more faff to set up than need be
Pros
lots of light, when you need it
The light is bright and the standlight impressive, after just seconds of wheelspin. I can't watch behind me to see if the brake light actually works, as it's better not to crash while testing things. But why does a quality light like this not come with the two mini-connectors it needs, and preferably shrinkwrap as well? Everyone will need these after all and would cost B&M just pennies (or eurocents) to add in.
Also it would be useful (but not quite as essential) to have a backing plate or bar the width of the two bolt holes, which would help if your rear rack doesn't have the right width holes.

compatibility with SON edelux II and what's needed to set up
11 Feb 2020
I have Shimano alpine hub running a SON edelux II front dynamo light. Can I connect this B&M rear light to the SON edelux and what else do I need to buy to set this up. I can't see any other port to connect another set of lights to the SON edelux. Thanks
Hi you need a SON Coaxial Cable for Tail Light part # 15905. There is a port for this cable near the mounting bracket hole on a Edelux II. Thanks 18/02/20
Can this be mounted on a seatpost? If so are there additional parts required?
09 Jun 2018
This is designed to fit on a rear rack, to fit to a seatpost you would need to create a custom bracket.

Thanks
Hi Is This Light Compatible With Hub Dynamo Sp Dynamo Pd-8 Disc. Thank You
20 Nov 2016
Hi,

Rear dynamo lights can only piggy back off of a compatible Dynamo front light, they cannot be powered directly from the hub. As long as you have a front light compatible with this rear light (anything by B&M or Schmidt) then you should be fine using them with that hub dynamo.

Thanks.
Standlight
04 Oct 2016
I have one of these which has been great. Still works fine - except the standlight feature which now doesnt ?
Any idea why before I order another one ?
Its on a brompton with son hub dynamo and son edulux front. Thanks
Hi,

The most likely cause of a light having this issue is that the capacitor within the light has failed meaning it cannot hold any charge anymore. The light will obviously still work when there is power being supplied but it cannot hold its own power so will turn off as soon as the power is ceased.

Thanks.
Compatibility And Wiring
21 Jun 2015
I am keen to buy this light but need reassurance that it is compatible with b&M IQ2 front light.
Also I have seen indication that it foes not come with wires to connect to front light. If this is so, do you have the necessary cables in stock?
Thanks, Iain.
Hi,

You are correct in that these lights do not come with the necessary wiring. The cabling just needs to be standard dual core dynamo wiring like SJSC part 25542, this cable only comes with two ends fitted so you will need to purchase some more separately. These are 2.4mm spade connectors which are SJSC part 4614. It is also recommend that you cover the newly fitted spade connectors with heat shrink wrap which is SJSC part 4606.

Thanks.
Is This Compatible With The B+M Luxos U Front Light?
22 Feb 2014
There are a number of reports online (Peter white cycles, Sheldon Brown) That the earlier versions of this light are known to not be compatible with the Lumotec IQ2 Luxos U front dynamo light.
However the newer versions of the above light ARE compatible. These apparently not only get brighter, but also pulse under braking. Please advise if this is in fact the compatible version you have in stock and if it is I will buy one from you.

Further info: http://www.peterwhitecycles.com/taillights.asp
Hi,

I know the lights are the newest available from out supplier, but I'm afraid I don't know for sure whether it is compatible with the Luxos light.

Thanks.