Sturmey Archer Internal Grease - 100 ml Tub
Manufacturer :
SJS Cycles part number :
Manufacturer part number :
Details
Sturmey Archer grease for their range of internal gear hubs.

Essential for the smooth running of your Sturney hub gear - old or new.

Screw lid pot of 100ml.
Related products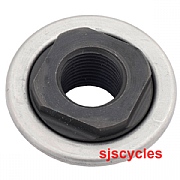 Sturmey Archer Cone / Dustcap - HSA101
£3.99 Inc VAT
Quick view
Product Reviews (6)
Overall Product Rating 4.8 / 5
Worth every penny.
24 Jan 2022
I recommend this product
Like other reviewers, I've used all sorts of oils and grease on SA hubs with varying degrees of success. This stuff looked expensive but I decided to give it a go. Why on earth did I wait so long? The difference is unbelievable, the gears run so quietly and shift so smoothly. I will never use anything else. Thoroughly recommended.
Does the job and is cheap
03 Jul 2021
I recommend this product
Cons
Messy if overapplied. Not for every part of the hub.
Pros
Cheap and self-healing because it flows
I prefer SA hubs run in oil, since you never need to open them up again to clean out the wear particles, but you can't do that for all of them, like the ones with coaster brakes. This
Does Exactly What It Should Do
15 Jul 2020
I recommend this product
After a number of rebuilds using thick oils, other thin grease and any number of such combinations I finally and belatedly bought the SA grease. Why did I wait so long? This stuff is great and the hub internals are purring like a kitten again. I still use waterproof grease for the cone races just in an effort to limit water ingress.
Liquid synthetic grease,correct for sturmey hub gears.
25 Jul 2019
I recommend this product
Goes a long way because the hubs only require its use sparingly.
Everything you need
31 Oct 2017
I recommend this product
Pros
Excellent stock and service
I bought this, excellent price, and several other parts, including a clutch, to overhaul a 5 speed hub. SJS have always had all the parts needed and the delivery options are great. Hub is fixed and running like a dream
Sa Special Grease
18 Oct 2010
I recommend this product
I used ordinary grease in a hub strip down. Big mistake - another breakdown and more damage. This product is much runnier and I trust, the right stuff for the job.
Is SA-103A shipped internationally?
30 Oct 2020
I am looking to purchase a pot of the SA-103A Sturmey Archer grease, do you ship international? I live in California, USA, zip 90808, cannot find this product domestically. Thank you
Yes we can ship this to California, please add this to your basket and add your full shipping address. postage is calculated at checkout.

JK 30.10.20
Is SA 103b bearing grease available
27 Oct 2020
As above
Does this grease actually exist?
Yes it does exist however is possibly no longer manufactured- we suggest contacting Sturmey Archer directly for guidance as to what alternative greases to use.

JK 28.10.20
Thicker grease for bearing races?
28 Oct 2019
Would you recommend a thicker (perhaps waterproof) grease than this for the ball races to help stop water ingress during the winter?

The bearings aren't well sealed so a runny grease sounds like it will wash out quite quickly.


For the internal of a Sturmey a thick grease will cause more issue than good. The hubs like a slightly thinner grease which allows everything to move freely. The only way to keep things happy is to pop open the hub and clean / regrease it regularly.

Thanks -29/10/19