Sturmey Archer Internal Grease - 100 ml Tub
Manufacturer :
SJS Cycles part number :
Manufacturer part number :
Details
Sturmey Archer grease for their range of internal gear hubs.

Essential for the smooth running of your Sturney hub gear - old or new.

Screw lid pot of 100ml.
Related products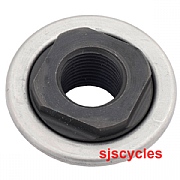 Sturmey Archer Cone / Dustcap - HSA101
£3.99 Inc VAT
Quick view
Product Reviews (4)
Overall Product Rating 5 / 5
Does Exactly What It Should Do
15 Jul 2020
I recommend this product
After a number of rebuilds using thick oils, other thin grease and any number of such combinations I finally and belatedly bought the SA grease. Why did I wait so long? This stuff is great and the hub internals are purring like a kitten again. I still use waterproof grease for the cone races just in an effort to limit water ingress.
Liquid synthetic grease,correct for sturmey hub gears.
25 Jul 2019
I recommend this product
Goes a long way because the hubs only require its use sparingly.
Everything you need
31 Oct 2017
I recommend this product
Pros
Excellent stock and service
I bought this, excellent price, and several other parts, including a clutch, to overhaul a 5 speed hub. SJS have always had all the parts needed and the delivery options are great. Hub is fixed and running like a dream
Sa Special Grease
18 Oct 2010
I recommend this product
I used ordinary grease in a hub strip down. Big mistake - another breakdown and more damage. This product is much runnier and I trust, the right stuff for the job.
Thicker grease for bearing races?
28 Oct 2019
Would you recommend a thicker (perhaps waterproof) grease than this for the ball races to help stop water ingress during the winter?

The bearings aren't well sealed so a runny grease sounds like it will wash out quite quickly.


For the internal of a Sturmey a thick grease will cause more issue than good. The hubs like a slightly thinner grease which allows everything to move freely. The only way to keep things happy is to pop open the hub and clean / regrease it regularly.

Thanks -29/10/19