Carradice CarraDry Rear Panniers - Grey - 48 Litre
Manufacturer :
SJS Cycles part number :
Manufacturer part number :
Details
From the Carradice CarraDry range this 100% waterproof pannier bag helps to keep your valuables safe & dry. Made from wipe clean re-inforced PVC with high frequency welded seams to make it water tight, this tough & dependable pannier will take whatever you throw at it. Fixing is with Carradice own C-System with enables easy on/off bike use. All CarraDry bags come with a lifetime guarantee against defective materials & workmanship

Tech Specs:
- Material: 600 Denier Polyester & reinforced PVC nylon
- Dimensions: H 51cm x W 32cm x D 16cm
- Fully waterproof
- Deep lid & drawcord top prevent rain penetration
- Internal zipped pocket & external zipped side pocket
- Panniers can be fastened together for easy off the bike carrying
- Adjustable straps can be used as shoulder straps or for additional loads
- Rear facing Hi-viz reflectors
- Weight 2500g (Pair)
Related products
Carradice CarraDry Universal Panniers - Grey - 20 Litre
Now from

£49.99

Inc VAT
Typical RRP: £60
Quick view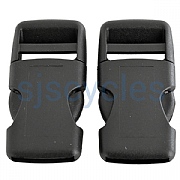 Carradice QR 25mm Plastic Buckles for Pannier Bags
£2.99 Inc VAT
Quick view
Product Reviews (12)
Overall Product Rating 4.8 / 5
Great panniers
10 Sep 2022
I recommend this product
Cons
To big for comutting to work
Pros
Lge space waterproof good value
They are larger than I expected but that's good. I reckon there's e ough spaceto do a large shopping expedition with these on my e bike. I'm really pleased
Fantastic Panniers
21 Apr 2021
I recommend this product
Cons
Only available in silver
Pros
Outstanding quality, low cost, UK made.
Superb value for money with these panniers. Very pleased with the quality, at a very reasonable price. Super strong clips for rack fitting, and good volume for touring. Usual quality servoce from SJS also. Top marks for a UK product.
Well made panniers and excellent service
28 Jan 2021
I recommend this product
Very happy with my recent purchase from SJS Cycles. The price of these panniers is a bargain and their service reassuringly efficient. I haven't tested the panniers in the rain yet but I really like their design, especially the quick release mechanism. I find the material a bit stiff and inflexible at the moment, but I am sure it will loosen-up with use. They are large too, and accommodated my supermarket shop very nicely. I have an E-bike so I am unashamedly using it as a workhorse and the load must have been close to 20kg with both panniers full on the back.
Large and waterproof
24 Dec 2020
I recommend this product
Cons
Requires some self assembly, including bashing in plugs with a hammer
Pros
Large, waterproof, simple to use
Capacious bags with good size side pockets too. So far no leakages. Easy to mount and remove
Perfect for the commute and shopping
02 Sep 2020
I recommend this product
Cons
None worth mentioning
Pros
Well made and easy to keep clean. Quick release feature is a great improvement
I have always bought Carradice and found I needed to replace some well worn duck cotton Super C panniers after the stitching came away on one of the straps. At some point I will try and get them repaired. I opted for the Carradry as they were cheaper than the super C. They are well made and I like the quick release feature. I had the older click fitting before which were not very forgiving to the fingers! Surprisingly roomy even though capacity is smaller than the duck cotton version. I am sure they will also be easier to keep clean.
By
Returning customer up in Stirlingshire.
15 Nov 2019
I recommend this product
Just fantastic. These are taller than Ortliebs 70lt offering which means I can put my tent in the pannier out of sight and still have room for other things. ( My tent is similar dimensions to the Ortlieb M rackpack.)
Thank you SJS and thank you Carrardice.
11 May 2019
I recommend this product
Cons
Heel clearance might be limited on smaller frames? (not on mine)
Huge panniers made of waterproof material. Easy to attach and remove. Competitive price so good value for money.
Fabulous bit of kit.
18 Jul 2018
I recommend this product
Pros
Large Capacity, Waterproof, Well constructed.
I've had lots of panniers over the years and these are without doubt the best value and most waterproof I've used. Very difficult to find this amount of litres storage for such a reasonable price. Well constructed, good rack securing system a must for any touring cyclist.
Vert good if they fit
02 Sep 2017
I recommend this product
Pros
waterproof, plenty of capacity, pockets.
These seem to be of a thick polythene construction and I've only had then a short time so I can't say anything about durability, but they should cope with any amount of rain.
Be aware that there is 385mm from the top of the rail the panniers hang from to the bottom of the pannier, so this may interfere with the rear changer etc. (for me I think this would limit using the right pannier to one of my two bikes, fortunately the one I use most!). Personally I'd probably not get it again for that reason. Like my previous Carradice panniers it has an outside pocket convenient to keep lights etc. in. The attachment mechanism works well.
Good Size, Strongly Made
12 Sep 2016
I recommend this product
Cons
you end up packing too much stuff
Pros
Large size, easy to carry
I purchased these before going on a weeks touring holiday. They are very good with the clasp holding the pannier to the rack. Luckily, we didn't get any rain when we were away so I haven't tested the waterproof but they certainly kept my clothes clean from the dust
Great, Big Panniers...
03 Jan 2014
Cons
Lack of colour options.
Pros
Size, water resistance.
Practically, these are great.

They're big, waterproof and (I think) they look great when fully loaded. The external extra pocket has proven to be very handy.

They fit onto my Tubus racks rattle free and although the clips feel fiddly to start with, a few uses will ensure you get the hang of them.

I bought mine specifically for a tour, but since then I've surprised myself by how much I use them day to day.
Carradice Carradry Rear Panniers
07 Jan 2011
I recommend this product
Pros
Size, Material, Price.
Bought to replace/supplement some very large roll-top panniers. Initially appeared smaller than I thought, but it takes a couple of days use for them to fully expand from their packed size. We find this size and material the ideal shopping and holiday type - very easy to keep the insides clean. Only the carrier clips are fiddly - the positioning of the straps and internal reinforcement makes them more awkward than usual to use.
Is this price for a bag or a pair?
04 Jun 2023
Hi
Thank you for your enquiry. The price shown on the website is for a pair of bags.
Kind Regards. JP 05/06/23
Clips included..?
15 Jan 2021
Would it be right to assume these panniers are supplied with clip system to attach to the rack? Thanks
Yes these are supplied with clips as seen in that last image.

Thanks 18.01.21
Size?
28 Mar 2020
Hi on carradice website they quote these panniers as 48 litres capacity whereas you are quoting 58. Who's correct? Thanks
Our mistake, now amended.

Thanks - 30/03/20
Is the stated weight correct?
02 Oct 2019
I saw the Carradice website lists these as 1893 grams but you have them at 2500 grams, can you confirm the weight?
Each bag is 1.12kg including strap, not including fittings. 2500 is a pair of bags with straps and fittings.

Thanks - 08/10/19