Carradice Super C Audax Saddlebag - Black - 9 Litre
Manufacturer :
SJS Cycles part number :
Manufacturer part number :
Details
Compact version of the Super C Saddlebag. Ideal for day rides and Audax.

- Weight: 610 grams
- Capacity: 9 litres
- Dimensions: 28cm Wide x 16cm High x 15cm Deep
- No. of Pockets: 2 External pockets with storm flaps and quick release buckles
- Materials: Cotton Duck

Other Features:
- Internal organiser with zipped pocket
- D rings on the lid to attach extra loads
- LED strap
- Reflectors on each pocket

Note: Sometimes when the cotton duck is new, the fabric needs to soften a little so that the fibres spread out for maximum waterproof protection. If used immediately in extreme conditions some leakage may occur (this is not common though). Extra reproofing might help.
Related products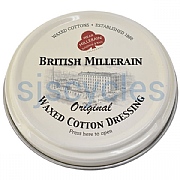 Carradice Cotton Duck Reproofing Wax
£5.99 Inc VAT
Quick view
Carradice Original Bagman Quick Release Support - Sport
£55.99 Inc VAT
Quick view
Product Reviews (13)
Overall Product Rating 4.8 / 5
V. good.
13 May 2023
I recommend this product
Pros
Hard wearing cotton duck. Weatherproof.
I now have two of these (plus quite a few other Carradice bags). A good size for everyday use.
Excellent saddlebag
05 May 2021
I recommend this product
Pros
Ideal for my needs both now and in the future
I have an old Carradice Saddlebag which has seen better days. It is still in good working order but I needed something bigger. This new bag is really good. Well made and practical for my needs. Two useful side pockets and the main pocket closes with a draw cord. Rear light attachment strap.
Great piece of kit
02 Apr 2021
I recommend this product
Pros
Superb quality and fantastic price
I have been wanting one of these for years. So with the reduced price,I took the plunge. So glad I did,it's a solid piece of kit,looks as though it will last forever and looks good on the bike. Love it
27 Mar 2021
I recommend this product
Been wanting to buy one of these for ages and at this price,bargain of the century. Fantastic bit of kit.
27 Mar 2021
I recommend this product
Pros
Superb quality and fantastic price
Been wanting to buy one of these for ages and at this price,bargain of the century. Fantastic bit of kit.
27 Mar 2021
I recommend this product
Pros
Superb quality and fantastic price
Been wanting to buy one of these for ages and at this price,bargain of the century. Fantastic bit of kit.
So practical
25 Apr 2018
I recommend this product
Cons
Fixing bag to saddle with no saddle loops could be easier.
Pros
Sturdy, practical and weather resistant
Really impressed with the carrying capacity and weather resistance of this bag. It reduces vibration which makes carrying a camera much less risky. Easy access to contents is also a plus. Bag loops on your saddle would be preferable, but I have secured my bag around the frame of my saddle.
A Sensible & Practical Bike Bag For Everyday Use
08 Feb 2017
I recommend this product
Pros
Practical, simple & fail proof
I've used a modern styled bike packing bag for long days in the saddle and everyday commuting. They are not easily accessible and in most cases not waterproof, requiring a liner. This is not the case for the Carradice Super C Audax. Easy to fit, easy to access and completely waterproof. Used with a rear rack or bag support, there is also no side to side wobble. An old design, that proves timeless and practical
Great Day Bag
04 Sep 2016
I recommend this product
Pros
Great all-round gear container.
I should have bought this bad years ago. The capacity is brilliant for day rides when map reading ones' way round the countryside. I was able to get in my waterproof jacket, sandwiches and 3 OS maps needed to plot my ride. Great!!!!!
27 Jul 2016
I recommend this product
Kind of an essential accessory for a British-style steel framed touring bike with leather saddle, etc. Not sure how I've gotten through all these years without one!
Just the right size for organizing small stuff that you may need in the course of a day, so as to avoid rummaging in your panniers while on the road. Destined to carry tools, first aid kit, jumper, rain gear & a sandwich or two. Some of that strapped to the outside: am making a few approx. 60 cm long webbing straps.
On my Flyer saddle, using the existing eyelets would lead to a very traditional droop, so I am planning to make extra eylets and attach them to the bolts at the bottom ends of the springs. This should allow the bag to rest on the back carrier.
A Quality Bag
08 Apr 2013
I recommend this product
Quite pricey. But feels like it would last. Everything about it has that quality look and feel that gives you confidence.
Just the right size to carry my bits and bobs and change of clothes for my commute to work.
Lovely Bag
01 Oct 2012
I recommend this product
Pros
Beautiful and practical
My Super C Barley is great. Only problem was a missing strap on the back, but I sent it straight back to Carradice and they replaced it within a couple of days. Looks as though it will last forever.
Carradice Super C Barley Saddlebag - 9Ltr
22 Jul 2012
I recommend this product
Excellent bag big enough for a few extra things, but not voluminous. Very good & prompt service from SJS.
Will this bag work without support if attached to a Brooks saddle on a Thorn Club Tour?
11 May 2020
This depends on 3 things:
1) Do you have STRONG bag loops on your saddle to attach straps?
2) Is there enough space between the saddle and the mudguard or rack
3) If there is lots of space and the bag doesn't sit on the rack, do you mind the bag attaching to the seatpost? (this can often interfere with your legs when pedalling) RT
Would this work as a handlebar bag for a pinnacle gravel bike?
05 Jun 2019
Hi I have a pinnacle arkose and was wondering if this would fit on the handlebars instead of as a saddlebag, between the drops?
Hi, it's very unlikely that a saddlebag will mount satisfactorily as a handlebar bag, the attachment points are in the wrong positions and it would move about too much. Thanks 05/06/2019
What material is used to reinforce the bottom and lower rear of the bag?
01 Dec 2018
Hi there,

Unfortunately we do not know exactly what material it is, however by looking at it, it does seem like it is some type of faux leather.

Thanks.
06/12/18
Will It Fit To The Loops Of A Cambium Saddle?
02 Dec 2016
Hi,

The straps for fitting this bag should fit to the loops of a Cambium saddle absolutely fine.

Thanks.
Size Of Main Compartment Audax Supers C Seatbag
02 Nov 2015
Hi,

The dimensions are as we have listed in our description. These are the internal measurements. They are 28 x 16 x 15cm.

Thanks.
How Does This Attach To The Saddle?
02 Sep 2014
Does this bag require a saddle with loops (i.e. Brooks)? And does it attach using leather straps, as indicated in one of the photos, or webbing straps? Thanks.
Hi,

This bag is originally designed to fit to a saddle with loops like the Brooks, but It can be fitted to a normal saddle juts by using the leather straps to attach it to the rails. this won't be as neat and will sit the bag lower though, to counteract this you could use one of the support systems instead like the uplift system or the bagman support.

Thanks.
With Reference To The Carradice Super C Audax Saddle Bag
05 Aug 2014
In order for the bag to remain upright i.e.: not sag, does this need the extra support frame? I'm using a Brooks B17.

I'm torn between the Audax and the Super C Saddlepack at 8L . is there a huge difference between the two?
Hi,

It would sag without extra support. For extra support you could use either the bagman support or the uplift system. aside from the actual designs there is not a huge amount of difference between the two, they're both very similar in quality of construction and material.

Thanks.