Manufacturer :
SJS Cycles part number :
Manufacturer part number :
Details
Made from 100% waterproof cotton duck the Super C has been THE choice for countless expeditions due to its rugged, reliable nature. The bag has a rigid internal support case designed to protect contents from knocks & weather & the outer lining can be easily re-proofed & repaired. The Rixen & Kaul KLICKfix® system allows for easy on/off bike use with 25.4mm and 31.8mm fittings supplied as standard, there is an optional extender to clear computer mounts, lights etc. All Super C bags come with a lifetime guarantee against defective materials & workmanship

Tech Specs:
- Material: Heavy duty black Cotton Duck
- Dimensions: H 16cm x W 26cm x D 14cm
- 5L capacity
- Fully waterproof
- Mesh side pockets
- Two internal organiser sections
- Zipped internal pocket
- Large detachable, clearview folded map case
- Shoulder strap for off bike use
- Detachable light bracket
- High visibility reflectors & mounting points for LED lights to keep you safe on the road
- NOT for carbon bars (use Thorn accessory bar instead if 1 1/8" Ahead on bike)
- Weight 794g

Note: Sometimes when the cotton duck is new, the fabric needs to soften a little so that the fibres spread out for maximum waterproof protection. If used immediately in extreme conditions some leakage may occur (this is not common though). Extra reproofing might help.
Related products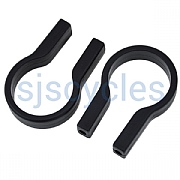 Klick Fix Handlebar Adaptor Set for 31.8mm Oversize Handlebars / CC-100 Per pair
£2.99 Inc VAT
Quick view
Product Reviews (3)
Overall Product Rating 4.7 / 5
Carradice quality.
20 Mar 2019
I recommend this product
Cons
Super C . They will last forever .
Pros
Easy to reproof. When required.
Fit for purpose, simple and good quality, thanks Susan.
Fantastic - I Should Have Bought One Years Ago !
11 Sep 2012
I recommend this product
Pros
Rugged, closes well, Classic
I already use a Super C Rack bag for commuting, but I wanted a handlebar bag for day trips to just throw a camera, maps, food bars etc in where I could get to them easily. The Super C rack bags works perfectly. The elastic around the lid holds it closed normally on all the surfaces I've tried so far without having to use the clips, but allows access with one hand while riding. The kickfix bracket makes it a breeze to get on and off.
The bag is currently on a flat bar bike and I thought i might need the extension kit to clear the brake levers , but the standard mount fits snugly. Other bags might be cheaper and smarter looking, ( however no bar bag is going to look cool ! ) but the Carradice looks like it will last forever the look reminds me of military backpacks.


Very Good Design, Could Use Better Quality Control
19 Jun 2012
I recommend this product
Cons
Klikfix off location!
Pros
Sturdy, Functional, Waterproof
After looking at several other bar bags (Ortlieb, Arkel, Vaude), I decided on this one primarily because of the brand. I've had many Carradice products, and have been satisfied with them all. Other points in favor of the Carradice were the price (usually slightly less than the others), the number of pockets for organizing things (three inside, one of them zippered, and two mesh on the outside), and the Klikfix system for fastening it to the bars. Overall, I've been very happy with, except for one thing... The Klikfix mounting plate on the bag is off center, by about a quarter inch (6.5 mm). It's rather annoying. Your choices are either have the Klikfix centered on your bars and have the fingers of one hand brush the bag, or go ahead and center the bag between the bars and deal with the poor aesthetics of the Klikfix being off center. Other than that one complaint, the quality on the rest of the bag seems excellent, and I would still recommend it on its sturdiness and functionality alone.
Can I mount this on your accesorize bar with a 22,2mm diametrer?
21 Aug 2020
For the 22.2 accessorize bar this will not fit- however if you use SJSC code 33509 which uses a 25.4mm bar- you can mount this bag.
Max weight loaded
05 Feb 2020
is there a recommended/advised max weight to carry in this bag whist fitted to the klickfix connector on the handlebars. thanks
Hi, there is no maximum weight given by the manufacturer. The bag is meant for carrying kit that you want to hand when cycle touring (like maps and sandwiches), heavy kit should be carried in lower mounted panniers so as to not affect bike handling. If you fill it full of heavy things (like tools) then go on an off road adventure it will probably break. Thanks 05/02/20
Sherpa City bike narrow bars
03 Jul 2019
Hello, I recently purchased the Sherpa lightweight city build with narrow bars, would this clear the brake levers? And would I need to remove the bell? Appreciate I'll likely need to move the front light. Thank you.
Would depend on the angle of the levers, if not you'd also need to order the Rixen & Kaul Distance Adapter KF828 (our part # 21943) RT 05/07/19
Will this interfere with the dynamo light mounted on my fork crown?
23 Jan 2019
Hi I wonder how far below the level of the handlebars will the bottoms of bag sit? I ask because I'd like to work out whether it will interfere with my SON Edelux dynamo light which is mounted on my fork crown. I can see that the bag has a mounting for the light, but it is perfect on the fork crown and that's where I'd like it to stay. Thanks.
It is ca 70mm between middle of the mounting bracket and a bottom of it.
I Have A Thorn Raven Will This Bag Leave The Handlebar 'Cluttered' Or Cause Any Obstruction.
30 Apr 2017
would it be better to have an extender fitted to stem
Hi,

This will all depend on which handlebars you have fitted to your bike and how many other items are attached to your bars. If this would be the only item you have fitted to your handlebars then it would be fine, if you have other things like lights fitted to your bars then it could cause the handlebars to look cluttered and it would likely obstruct the light. in this case some form of accessory bar or extender may be a helpful solution.

Thanks.
Do You Actually Have To Buy 31.8 Mm Adaptors?
20 May 2014
The picture shows the adaptors and according to Carradice they come with the bag. Why do they need to be purchased separately?
Hi,

Previously we received the bags only with the 25.4mm fittings, they do now come with both sizes of fittings.

Thanks.