Carradice Super C Rackbag - Black - 13 Litre
Manufacturer :
SJS Cycles part number :
Manufacturer part number :
Details
Made from 100% waterproof cotton duck the Super C has been THE choice for countless expeditions due to its rugged, reliable nature & is the classic choice of many serious cycle tourists. They are perfect for any type of cycle touring especially when used in conjunction with the matching rear panniers & barbag. The Super C Rack Top bag can be fixed to any rack via its four large velco straps & has reinforced sides that help it keep its shape & stability. All Super C bags come with a lifetime guarantee against defective materials & workmanship

Tech Specs:
- Material: Heavy duty black Cotton Duck
- Dimensions: H 21cm x W 16cm x D 36.5cm
- Fully waterproof
- Easily straps to any rack
- External pocket to rear
- Drawcord top under easy access lid
- Four D-rings on the lid to allow additional loads or wet gear to be strapped
- All round reflective strips for safety
- Carry handle on lid plus shoulder strap for off the bike use
- LED light mounting strap
- Ideal for long day or weekend rides
- Weight 690g

Note: Sometimes when the cotton duck is new, the fabric needs to soften a little so that the fibres spread out for maximum waterproof protection. If used immediately in extreme conditions some leakage may occur (this is not common though). Extra reproofing might help.
Related products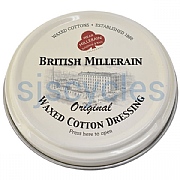 Carradice Cotton Duck Reproofing Wax
£4.99 Inc VAT
Quick view
Product Reviews (9)
Overall Product Rating 4.4 / 5
22 Dec 2020
I recommend this product
Cons
Biggish but fits between panniers.
Pros
Waterproof, quality, drawcord instead of zips.
Exactly as spec'ed: waterproof, good quality and plenty of room. If you prefer one compartment rather than side pockets (maximizing volume) and do not want poxy zips, just the job.
Good size, effective waterproofing,
25 Aug 2020
I recommend this product
Pros
Good capacity, good waterproofing. Stays put on the rack.
I bought this as I needed a decent size rack bag to carry a few days clothes to the office.
I have tested this out in Storm Francis, and to did everything I wanted it too.
Packed to the brim, but lashed down so only the cotton duck is showing. Eveything arrived in good condition.
Time will tell if it holds it shape, but it is very sturdy compared to the one it replaced that tended to lean to one side when full.
Reflective stripes are big and really stand out.
Superb
03 May 2020
I recommend this product
A quality robustly constructed bag with simple strong buckle closures. It should easily outlast my cycling days!!! Much better than the flimsy zipped bags I have viewed and rejected. The size is more than adequate to carry everyday essentials for a casual days ride. And to cap it all it's made in the UK.
Excellent
08 May 2018
I recommend this product
Having regularly used Carradice saddlebags on other cycles, with others, I have the highest regard for their quality and robustness. Purchased for a recently acquired ebike, this rack bag has not disappointed. The 4 plastic studs on the base fit neatly between the top rails of the rack (16 cms apart), while the Velcro fastening straps on each corner of the bag provide both excellent security and quick release. 13 litre capacity (without restricting compartments) holds all I need to carry including a hefty Abus-Granit X Plus lock. Exposure to heavy rain has yet to be tested, but Carridice fabric and build are well known for being waterproof. All in all an excellent product and well worth the cost.
Delighted
08 Jul 2017
I recommend this product
So glad I went for this rack bag. A decent size for tools, waterproofs and other gear. Just completed the Lakes & Dales Loop over 4 days and one day was rain all day. Didn't let a drop in. Very very waterproof. If you like the slightly retro look and buying British then go for it.
Great Bag
20 Feb 2017
I recommend this product
Pros
Excellent quality justifies the price
Fitted in a few moments with the four velcro straps. Rigid design and strong construction should give many years service. High viz strip aids safety but if your back light is on seatpost you will need to use the loop on the bag.
I Should Have Got One Years Ago
23 Jun 2016
I recommend this product
Pros
Simple to use, easy to switch between racks.
Simple to use and exactly as described. Roomy enough for a day out or even a night or two if you are really light packer. Easy to transfer between bikes and an easy 'grab' bag for valuables when touring or out and about
Carradice C Rack Bag
13 Jan 2013
I recommend this product
Cons
none that i have found
Pros
good size and easy to fit
just perfect for a day out. so easy to fit in seconds and i found the velco ideal for holding a full lenght pump as well.its got good reflective sectoins so you are seen by day or night.its also good to support a uk manufacturer
A Great British Product
08 Jan 2013
I recommend this product
Pros
Good quality, attention to detail
The Carradice Super C rackbag is made of cotton duck, which I have found to be waterproof (with my panniers, not been out in the rain with the rackbag yet), and reassuringly made in Lancashire. Quality of manufacture seems fine. It's not as big as I was expecting, but has swallowed a spare pair of shoes, a fleece and a lock. It's perfect for a day trip: for touring or shopping, you need panniers. The closures are all secure with heavy duty plastic clips, not just Velcro. Though more effective, they're more fiddly than Velcro. The 4 velcro straps for securing it to the rack are very effective, though.
There is red reflective material around the sides and back, which seems effective day and night: white hiviz piping seems as effective at night but less during the day. For me that's good as I'm less likely to be doing day rides in the dark.
The small rear pocket has a loop for a light, which is necessary as the bag obscures my seatpost light bracket. The floppy fabric mounted light isn't as effectively facing the rear as on the post bracket, though...
There is a detachable shoulder carry strap, which I've not used as there is a central carry handle too.
Altogether, a great bag for day rides.
Can I use this bag with a 'Rack Time'Rack?
19 Apr 2020
I have a Cube Travel Pro which came with a RackTime rack as standard. It is 12cm wide by 38cm long with a spring holder on it for holding small items. Will the Super C fit please? Thanks
Yes, perfectly. RT20/04/2020
Can I use this on a standard rear Brompton rack?
22 Mar 2020
Yes, this would be suitable.

Thanks - 23/03/20
Could you fit a water bottle in the rear pocket?
08 Nov 2019
Hi, if your water bottle is small yes, a 750 ml cycle bottle will be to big. Thanks 11/11/2019
Can I use the Super C Rackbag with a Tubus Airy rack
23 Jan 2019
Hi,
Ideally I'd buy this and match with a lightweight rack. I don't intend to use panniers and wonder whether it would fit onto a Tubus Airy OK, or if not, what would you recommend as the minimum width a rack would need to be? Thanks.
Unfortunately, you won't be able to fit this rack pack on to TUBUS Airy.
many thanks
23/01/19
Distance between studs on base
21 Oct 2018
Can you let me know the distance in mm between the studs on the base of the bag. I want to know if they will locate outside the side tubes of my narrow profile Tortec rack which is 110 mm wide (90 mm between the inner edges of the side tube). Someone said here that they had to remove the studs to get a neat fit with another Carradice rack top bag and it seems a shame to have to do this with a high quality product like this.
The studs measure 122.5mm overall width, the stud itself is 16.5mm in diameter.

Thanks - 22/10/18
The rack on my Fuji tourer is narrow - 4 inches - will this fit?
07 Sep 2018
can the super C panniers be fitted with the rack pack? thanks
- Dimensions: H 21cm x W 16cm x D 36.5cm
Yes you can use panniers with the rack pack.

Thanks
Could this be used as a front "Randonneur" bag?
29 May 2018
Would it be possible to mount this sideways to a front rack?
Hi there,

I guess you could do, but having not tried, I do not think it would be the best fit as there are not really the mounting points.

Thanks
Will this fit on a Tortec Tour Ultralite Rear Rack? It is quite narrow.
22 Apr 2018
Hi there,

Yes this would fit, but it would simply protrude over the edges a little.

Thanks
Does it work with ...
20 Mar 2018
I have a Tubus Vega Rack and use Super C panniers. Would this Rack pack work well for additional load carrying ie will it interfere with the pannier clips or does it have a soft base that would mould around them. Thanks.
Hi there,

The base is not rigid so would move around the clips, it would certainly fit but you will need to move it slightly to get panniers on or off.

Thanks
Will this fit on a Nitto R10 rear rack?
16 Jan 2018
Would like to know if this will look neat and fit solidly on the Nitto rear rack you sold me earlier last year. Thank you.
Hi there,

The dimensions of the rack are 38cm x 12.7cm and the bag are 28cm x 13.5cm.

So it will be 10cm shorter, and 0.8cm too wide.

Thanks.
Abus Rack
02 Mar 2017
The rack tapers so it is not parallel, if that makes sense, so would the Carradice Super C Rackbag fit ok?
Hi,

The Super C bag should fit to your rack without any issues.

Thanks.
Which Rack Will It Fit?
26 Dec 2016
Hello, my wife was kind enough to buy me the super c rack bag. Now I've got an excuse to upgrade my rear bike rack because this bag is too wide. I'm trying to decide if the old man mountain Sherpa or pioneer would fit best. Can you recommend one, or another brand?
Thanks and merry Christmas

Chris
Hi,

The bag would fit to both of those racks without any issues, the Pioneer is a larger and much heavier rack designed to survive the most extreme use, if this is not what you use your rack for then the Sherpa will be more than capable for you needs.

Thanks.
Is This Bag Also Hand Made Like The Other Fantastic Barley Bags
29 Oct 2013
Hi,

Yes this bag is also handmade.

Thanks.