Carradice Super C Rear Panniers - Black - 54 Litre
Manufacturer :
SJS Cycles part number :
Manufacturer part number :
Details
Made from 100% waterproof cotton duck the Carradice Super C has been THE choice for countless expeditions due to its rugged, reliable nature & is the classic choice of many serious cycle tourists. They are perfect for any type of cycle touring especially when used in conjunction with the matching rear panniers & barbag. The patented Quick-Clip system allows secure but easy on and off fixing to the bike. All Super C bags come with a lifetime guarantee against defective materials & workmanship

Tech Specs:
- Material: Heavy duty black Cotton Duck
- Dimensions: H 40cm x W 33cm x D 22cm
- Fully waterproof
- Carradice Quick-clip pannier hooks will fit racks up to 13mm
- Deep lid & drawcord top prevents rain penetration
- One large external rear facing pocket with high-viz reflector
- Two panniers can be fastened together for easy off the bike carrying
- Adjustable straps can be used as shoulder straps or for additional loads
- Easily re-proofed & repaired
- LED light mounting strap
- Weight 2165g (Pair)

Note: Sometimes when the cotton duck is new, the fabric needs to soften a little so that the fibres spread out for maximum waterproof protection. If used immediately in extreme conditions some leakage may occur (this is not common though). Extra reproofing might help.
Related products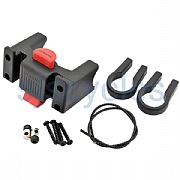 Rixen & Kaul Klick Fix Cordo CC-100 QR Handlebar Mount
£18.95 Inc VAT
Quick view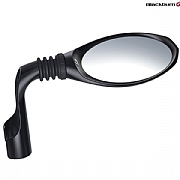 Blackburn Road Mirror - Brake Lever Hood Fitting Mirror for Drop Bars
£18.99 Inc VAT
Quick view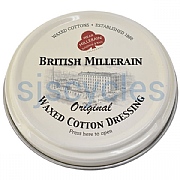 Carradice Cotton Duck Reproofing Wax
£5.99 Inc VAT
Quick view
Product Reviews (11)
Overall Product Rating 5 / 5
Built to last
03 Nov 2022
I recommend this product
Cons
None that matter to me
Pros
Built to last, waterproof and look great
I've had the Super C front panniers for about 7 years , they are tough, rugged and still look like new. These panniers are bombproof and built to last!!
I needed some new rear panniers so bought the Super C rear and they are every bit as good, the build quality is excellent, Carradice have been and continue to be consistent in their manufacturing and care of their products.
I use a Surly nice front rack and Tubus cargo rear, the panniers fit fine on both of these racks.
Very good
06 May 2020
I recommend this product
Pros
Look good and will last.
Happy with my purchase. Nice to see the panniers where signed by the person who made them. Let's see how they cope on tour. Thanks sjs cycles nice one.
Michael
Great value for your money
27 Dec 2019
I recommend this product
I'm really pleased with my panniers. All the other reviews have said it all really. Build quality is excellent, panniers are very spacious and feel like they are made to last.

I love the fact that they dont stand out to much with bright colours and will gain a well travelled retro shabby chic look to them after a while.

I feel like I have purchased a piece of British heritage
Well done Carradice!


Sturdy and classic bit of kit
19 Oct 2018
I recommend this product
Cons
The end caps for the aluminum bar on the back are a bit fiddly to install.
Pros
Sturdy, water-resistant but breathable, adjustable, large capacity
These are solid panniers, and very simple and durable in their execution. You can tell that the people making these cared about the product. I am looking forward to many more years using these panniers.

I was impressed enough I just bought the front panniers and audax saddlebag in the same series.
Excellent - Large, Strong, Love The Canvas
22 Nov 2016
I recommend this product
Cons
No rain cover though they look quite waterproof. Probably heavier than plastic/nylon alterantives
Pros
Capacity, appearance, durability, accessibility.
These panniers are excellent: very large with a big side pocket which is invaluable for quick access. The canvas material is beautiful and looks very durable. There are clever carrying handles which are adjustable and can be joined together. Love the 'Super C' logo.
09 Nov 2016
I recommend this product
well made product looks like they will last for years only one small niggle the strap on the back pocket could do with being sewn on a little lower so that the top was pulled down a bit tighter
Practical And Hardwearing
27 Oct 2012
Pros
Waterproof, enduring, value for money
Just bought our third set of these panniers. The first set finally wore out after years of use and the second set have been appropriated by the children to carry their school kit. The panniers are very roomy, excellent for all my food shopping and day to day cycling needs. Easy to get on and off the bike, not expensive looking so have never been stolen, waterproof and rugged, they are the best!
Superb!
20 Jan 2012
I recommend this product
Cons
None, with reasonable care taken
Pros
Cavernous, rugged, easy mount, just the job
Everything they say about them. Top quality 'old school' panniers. Loads of room. Simplicity of design.

They look like they'll last forever. Time will tell.
Superb
24 Nov 2011
Cons
bottom mount clip needs more adjustability vertically
Good panniers. Can do no wrong acquiring these.
Happy With My Carradice Panniers!
By
Happy With My Carradice Panniers!
31 Oct 2011
I recommend this product
Cons
rear pocket locking straps could be tighter
Pros
durable, waterproof yet breathable, easy to mount/dismount, good heel clearance
These panniers are wonderful! The first thing I noticed is how tough they felt. The cotton duck canvas feel like they'll hold up for decades. I can't wait to take these out on some long tours.

The cotton duck is supposed to be waterproof, and although I haven't tested it yet, it does seem that this will be the case. I can run dry bags within the panniers to ensure this, and I have the option of more breathability on dryer days by not running the dry bags.

I was concerned about heel clearance. I have size 13 shoes and I run my cleats fairly far forward, so my heels are quite far back on the bike. The panniers were easily adjusted to accommodate with no special rack adjustments.

The only thing I'd improve is to set the attachment point on the rear pocket locking straps a bit lower. The pocket covers are very deep, which is good. But the current straps, even when adjusted as tight as possible, still do not keep the cover strapped down tightly to the top of the pocket. Not a huge problem as I can keep small items in bags within the pockets, but would be a good improvement.

All in all, a super set of panniers!


Great Panniers
22 Oct 2011
I recommend this product
Cons
None that I've found yet, but I've heard the hooks are vulnerable with luggage folk at airports
Pros
Strong, spacious, simple to mount and unmount
What can I say? The reputation of these panniers precedes me, else I probably wouldn't have bought them. I read review after review and finally came to these.

Now I have them, I couldn't be happier. They're made of tough canvas and feel like they'll last longer than I will. Once set up, they are quick and very easy to mount and remove.

The pocket at the back is large enough for a water bottle when they're being carried off the bike and I can fit a big chain, saddle lock and a shack lock in it when riding.

The handle over the top pulls up quite tight for easy carrying in the hand when they're off the bike.

I'd definitely recommend these to anybody looking for a quality, last a lifetime set of panniers.

Please advise the volume of each rear pocket and the volume of each main pannier compartment. Thanks
09 May 2023
Sadly the volume of the pockets are not published by Carradice, looking at the size I estimate the pockets are about 5-6L SK 11/05/23
Is it possible to put a second anti-sway catch on these?
28 Feb 2020
And which one would that be? I used to do this on my Ortliebs for real bumpy off-road riding, easier than an extra strap around the bags
Yes, you could use; https://www.sjscycles.co.uk/luggage/carradice-antisway-catch-new-type/

Thanks - 28/02/20
Can I use this bags with the rack Tubus Logo Evo?
29 May 2019
Hi there,

You should be able to do this without an issue, however, as we have never done this we cannot say for certain I'm afraid.

Thanks.
can you supply matching front panniers?
26 May 2019
ex-military now contemplating overseas long tour - long term fan of cotton duck
The front ones are - SJS Cycles part number : 594

Thanks - 28/05/19
is the price for a pair?
26 Sep 2018
Hi

Thank you for your enquiry, yes this is the price for a pair.

Regards
Presumably it is 27 litres per pannier ie 54 litres in total for 2 the pair.
02 May 2018
Hi there,

Yes that is correct.

Thanks
Are These Available As Shown With The Square Red Label ?
12 Feb 2014
or with the smaller oval 'Carraice' label? Have this big red label on all my other Super C bags, prefer a match if I decide to buy the rears. thanks.
Hi,

All of the "Super C" line of Carradice products have this logo as it is the Super C logo, so these panniers will definitely come with this logo.

Thanks.