Carradice Super C Saddlebag - Black - 23 Litre
Manufacturer :
SJS Cycles part number :
Manufacturer part number :
Details
Made from 100% waterproof cotton duck the Super C has been THE choice for countless expeditions due to its rugged, reliable nature & is the classic choice of many serious cycle tourists. The Super C is a large saddlebag capable of light touring fitted with modern quick release fastenings to the lids & with two large external pockets with storm flaps & quick release buckles. All Super C bags come with a lifetime guarantee against defective materials & workmanship.

Tech Specs:
- Material: 18oz black Cotton Duck
- Dimensions: H 28cm x W 48cm x D 17cm
- Fully waterproof
- Two large external pockets with storm flaps
- Internal organiser with zipped pocket
- D-rings on lid for carrying extra loads
- Reflective strips on external pockets
- No coatings to peel off making it easily re-proofed & repaired
- Weight 760g

Note: Sometimes when the cotton duck is new, the fabric needs to soften a little so that the fibres spread out for maximum waterproof protection. If used immediately in extreme conditions some leakage may occur (this is not common though). Extra reproofing might help.
Related products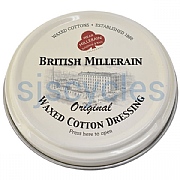 Carradice Cotton Duck Reproofing Wax
£4.99 Inc VAT
Quick view
Product Reviews (7)
Overall Product Rating 4 / 5
Nice bag, needs a top handle upgrades
03 Mar 2020
I recommend this product
Cons
Could use a top handle for easier carrying!
Pros
Side release buckles makes opening/closing less of a chore.
This is my second Carradice bag. I first purchased the long flap/Nelson bag as this is the most popular when looking online. However when the Nelson arrived I was disappointed because (although the bag looks really nice and vintage with leather buckles etc) it is not practical for everyday use because the leather buckles take a long time to open/close! So I opted for the Super C which utilizes side release quick buckles. The bag is definitely easier to open and close however it could use a handle on the top to make carrying easier.
18 Jun 2019
I recommend this product
Well made British product with a plenty of room for needed items when travelling. Great for a short tour or a pleasant day out. The advantage with cotton duck being it can expand slightly to push in slightly more small items when filled. Plus the large outer pockets give an extra amount of room.
Highly recommended
07 May 2018
I recommend this product
Pros
Will last a lifetime.
Carradice cotton duck, almost indistructabe. Always valued quality workmanship and material.
Useful For A Brompton Too
18 Aug 2015
I recommend this product
Cons
Can go grey with age, like the owner
I bought mine long ago around 1991, and occasionally use it on my tourer. Recently I started commuting from London Waterloo station on the Brompton, and tried it on the front short carrier frame. The Carradice three strap fixings work really well, and the bag neatly sits on the bottom support of the frame. Steering and balance are fine. So even at the SJS bag price plus frame, the combination is still cheaper than many of the Brompton bespoke options. Looks better too.
Great Bag
07 Dec 2012
I recommend this product
I had to work through Ortlieb pannier & Tubus rack ownership etc & buy one of these as an experiment in order to get here mentally. I thought these lacked structure & rigidity but thats their strength & probably the reason Ortlieb dont make them. The slight floppiness & looseness makes them stuffable, expandable & reducible & destresses the mountings & absorbs some road shock. Movement is not noticeable when riding. These are a simple solution from simpler times & still relevant today because the cap type lid & Super C catches address the functional & ergonomic drawbacks of the original & the cotton duck feels nice. I made a cardboard cross section template of the bag to check clearance over the rear wheel & the real thing actually took up less room when fitted.
I hang mine from Brooks saddle loops & strap it to the seatpost in the traditional manner which is quick, light & simple. Fitted like this there are many advantages over a pannier & almost no drawbacks. Yes, it touches the back of my leg on the down stroke & I was concerned about this prior to buying but in reality its not an issue as it just touches & doesnt rub or slide to irritate. The advantage over a pannier: no rack (weight, rust, expense, seized or loose fasteners & metal fatigue: all gone!). It sits higher up so stays cleaner, easier access & no heel clearance issues. Sits further forward (ahead of rear spindle) so no frame whipping when honking up hills. Yes it looks like it would raise the bike centre of gravity but it doesnt feel like that in practice. I am convinced it has less aero drag than one big pannier. Weight! 900g to carry 23ltr with no additional hardware. This is NOT heavy in my book, one 20ltr pannier is a little bit heavier before you factor in the rack. Or look at it like this, its only 50% heavier than a Barley saddle bag whilst heaving almost three times the volume. This bag hits the sweet spot on cost, weight, volume, durability & ease of use trade off.
A Quality Product At A Great Price
01 Nov 2011
I recommend this product
Cons
None that I have found
Pros
British made, build quality, price
Its a quality, hand made British piece of bike luggage. Looks the business and certainly lives up to its looks. Small enough to use for commuting. Big enough for longer adventures. Side posckets are a great size. Made to last for years and years. Only possible negative is weight and that it sags/moves around if you don't use a bag support. If you invest in the bagman support it will prevent the movement/sagging. If you accept the weight you won't be disappointed.
Check Your Clearance
13 Jul 2011
I recommend this product
really well made bag, looks indestructable
will easily take shoes and a change of clothes and you could squeeze much more in
don't forget though that if you're putting heavier items in the bag will sag remember to account for this if it could touch your back wheel. you can adjust how high the bottom of the bag sits by adjusting the length of the straps, but you may lose some capacity.
Is this bag compatible with Brooks 67 sprung saddle?
02 Dec 2019
I have a Brooks 67 sprung saddle. Will I need an SQR system and will that work with a sprung saddle? many thanks
The bag would strap straight to the saddle, the size of the bag will mean its going to sway when cycling. So using a SQR would be a good option as it will reduce sway, but not compatible with this bag!

Thanks - 03/12/19
How to attach lights?
14 Jun 2018
Are there mounting points on the bag where you can attach rear lights as the seat post will no longer be visible.

Also, is there a minimum length of seat post required - I am considering using the SQR system.
There is a single band in the middle to hook a light onto, not all lights will fit this.

You will need about 100mm of seatpost showing, and obviously decent clearance to the tyre.

Thanks
Compatibility with Brooks C15
10 Dec 2017
I assume that the Carradice super C is compatible with the Bagman Quick Release Support - Expedition, and that the latter will fit to my Brooks C15.
Hi there,
The Super C is compatible with the Bagman QRS that will fit 99% of railed saddles. The mounting is to the rails so as long as you have not got carbon rails you should be okay.

Thanks
Attach To The Bottom Of The Rack To A Tubus Rack
21 Jun 2017
Hey, I want to buy this bag, but would like to attach the bottom part of the bag to the rack instead of the seat tube in order to push the bottom of the bag away from the saddle, is that possible or should I use a specific product like the bagman?
Thank you!
Hi,

This would be absolutely fine, we often recommend on frames that have tight clearances to use the rack top as the lower support for the bag.

Thanks.
Use Rack For Bottom Support ?
27 Dec 2014
I have a Jamis Aurora Elite that comes with a nice Tubus like rack. The vertical distance from the seat rails to the rack is about 6 inches. Will this work with Carradice Super C saddle bag (with Bagman QR clamp) using the rack for support on the bottom ?
Hi,

On the Super C saddle bag the distance between the mounting point and the base of the bag is over 8 inches, this means that you could in theory use your rack as a support but the bag just may just not sit perfectly.

Thanks.
Carradice Super C / Sqr Uplift System
31 May 2014
Is the Carradice Super C saddlebag (23 litre), SJS part 596, compatible with the Carradice SQR saddlebag uplift system, part 621?
Hi,

Yes, these two products are compatible.

Thanks.