Carradice Super C Saddlepack - Black - 8 Litre
Manufacturer :
SJS Cycles part number :
Manufacturer part number :
Details
Easy 2 strap fittings with quick release buckles and 2 point touch and close fastenings.
Drawcord top under quick release buckled lid.
Zip side pocket for valuables.
Side mesh pocket for bottlr/waterproofs.
LED mounting and reflectors on lid.
Wipe-clean splash guard on underside.
Weight 415g
Dimensions 16D x 19W x 30L (cm)
8ltr capacity

Note: Sometimes when the cotton duck is new, the fabric needs to soften a little so that the fibres spread out for maximum waterproof protection. If used immediately in extreme conditions some leakage may occur (this is not common though). Extra reproofing might help.
Related products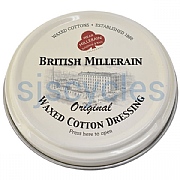 Carradice Cotton Duck Reproofing Wax
£5.99 Inc VAT
Quick view
Product Reviews (8)
Overall Product Rating 4.5 / 5
Good but....
23 Jul 2022
Cons
Weak velcro, fiddly lid, weak internal fabric
Pros
Big, stable, waterproof
It's a great bag that can hold a lot of stuff and stay out of the way but..

After a 3 month tour the velcro that stabilizes the bag by attaching to the top of the rear drop outs has worn through the paint on my frame to raw metal!

The velcro strap has also worn through to the point where it is going to snap. I'm currently trying to contact them about this.

Also one of the internal pockets now has a hole in it due to my pump inside rubbing against it I assume. Not a biggie but annoying as its only 3 months old.

I guess if you don't go off road too much and pack it very carefully it will be fine but I'm ditching it and going for a rack top bag from them providing they can beef up the velcro on it!
Excellent bag, very well made and great capacity
26 Aug 2020
I recommend this product
Cons
Saddle bar straps are a faff. Not QR
Pros
Great capacity and security. Very compact for a days cycling.
Saddlebar straps can be a faff and it's not quick release so I use an 8L drybag to pack or remove contents. Main drawstring and very large lid very secure. Used off-road on my mtb for full day without hindrance and so much better than wearing a small daysack(!) Took full bag complement and water bottle in side mesh pocket totalling 3.5kgs. Very well made and thoroughly recommended.
HANDY SADDLEPACK
12 Sep 2019
I recommend this product
Cons
securing clip can be fiddley to engage
A good option if you don't want a full saddlebag, Large enough for regular ride items including overshoes.
11 Aug 2018
I recommend this product
great service and price from sjs..the bag is normal high quality from carradice.thanks
Super C
11 Feb 2013
I recommend this product
Excellent bag, plenty of room for spare tubes, tools and waterproofs. Be carefull with the net side pocket, my banana disappeared en route somewhere! Smaller items such as energy bars would be OK if they are tucked well in however.
I mounted mine through add on saddle loops as this was more stable than hooking the straps through the saddle rails.
Great Bag
06 Feb 2013
I recommend this product
I live in the USA and ordered this bag. The service at SJS was great. Quick shipping and the bag was in perfect order. This bag is no longer manufactured I believe and it is one the better choices
Capacious
13 Dec 2012
Cons
Small things could get out of main compartment, brushes legs a little, bit heavy
Big for a saddle pack. Wanted this for a rental where I cannot add hardware. Put it on my road bike which has maybe 150mm of seat tube showing on a noncompact frame. I got in it a small saddle pack with my toolkit, a spare saddle and comfortably added a dead pheasant I found on my travels (delicious a week later). Was still room for say a small waterproof and some snacks, admittedly there were a couple of feet and tail feathers poking out. Seems secure although if heavily loaded there would be a lot of stress on the strap rivets. Easy to fix with no extra brackets or stuff. It very slightly brushed my legs pedalling, was not a problem for me.
Nice
30 Apr 2012
I recommend this product
I chose this bag because I was worried the traditional bags might not clear my rear tyre. I'm 173cm (5'8") and ride a 51cm frame. There's barely 20cm (8") between my saddle rails and the rear tyre, and the bag fits with almost 4cm (1.5") to spare. There's some thigh rub when I'm out of the saddle, but it doesn't bother me at all.

Bag is well made, the upper straps are a bit too wide to go through the Brooks bag loops, so I looped them around the rails instead. No rain so far, so I can't comment on its water resistance.

Bottom line: for its capacity and price, there aren't many options around.

Are the rear straps fixed or can one move them?
10 Jun 2019
I have a Tern folder and need both straps to attach to the long seatpost. Can the straps be repositioned or are they fixed?
They are stitched down, but have some movement.

Thanks - 11/06/19
Will this fit Brooks B17?
26 Apr 2018
Will the straps on this bag fit through the loops under my Brooks B17 saddle, or would I have to just wrap them round the saddle rails?
Thanks for the help.
Hi there,

This will fit the Brooks tabs.

Thanks
Are Returns Ok For This Item?
02 Oct 2014
Hello

I need a saddlebag for my road bike but i am not too sure if this on is TOO big. Is it OK to return if it is not what i am after?

Also can you see any issues with using this on a carbon frame and seat post?

Thanks
Will
Hi,

Yes we can accept returns on this item if it is unused. There should be no reason as to why you wouldn't be able to use this with a carbon seatpost or frame.

Thanks.