Carradice Super C Shopper Pannier - Black - 32 Litre
Manufacturer :
SJS Cycles part number :
Manufacturer part number :
Details
Made from 100% waterproof cotton duck the Super C has been THE choice for countless expeditions due to its rugged, reliable nature & is the classic choice of many serious cycle tourists. The Super C Shopper, as its name suggests is the perfect choice for shopping but is large enough for general utility use & can be fitted to either side of the rear rack. All Super C bags come with a lifetime guarantee against defective materials & workmanship

Tech Specs:
- Material: Heavy duty black Cotton Duck
- Dimensions: H 52cm x W 34cm x D 19cm
- Fully waterproof
- Carradice C-System fixes to racks upto a max diameter of 13mm
- Versatile roll top which offers load carrying flexibility
- Wooden handles & shoulder strap for easy off the bike use
- Outer mesh pocket for lock
- 3M Scotchlite reflective strip for high vizibility at night
- LED light mounting strap
- Weight 1090g

Note: Sometimes when the cotton duck is new, the fabric needs to soften a little so that the fibres spread out for maximum waterproof protection. If used immediately in extreme conditions some leakage may occur (this is not common though). Extra reproofing might help.
Related products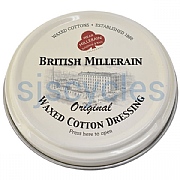 Carradice Cotton Duck Reproofing Wax
£4.99 Inc VAT
Quick view
Product Reviews (6)
Overall Product Rating 4.5 / 5
Wonderful solid panniers
31 Mar 2021
I recommend this product
I have used carradice shopper panniers for decades. I literally use them daily, and replace about every 15 years or so when they finally start to wear out.
Not just for the weekly grocery shopping, but I also used them for around 10 years when I worked as a district nurse, and carried all my kit in them. They are the best value pannier in the world, (and I'm writing this while working in the US!), and you will be amazed just how much stuff you can pack into these.
The pair I have now have just started to look tired and grey, that's after 12 years and this last brutal winter where I was commuting in snow at around minus 15 degrees Celsius.
Forget about buying a car or using Uber to go to Sainsburys, you can carry everything with these.


Very good value
19 Nov 2018
I recommend this product
Cons
No inner pouch, no strap for additional rear lamp
Pros
Big, strong, simple, convenient.
I like these. Very simple, quick on and off, huge capacity, built to last. Ideal for supermarket shopping - especially if it has a scan as you go like Waitrose. The bags clip to the sides of the trolley, finish and pay, then out of the trolley onto the bike! Really convenient.

I'd add a couple of things. One is a horizontal strap for a D ring to attach for the shoulder straps. That could then double up as a place to fit another rear lamp (there's nowhere currently). Secondly a simple inner pouch would be handy for little items I don't want kicking around the bottom of the bag (puncture repair kits, etc).

These are maybe on the large side if you want something to nip into town with and swan about the cafes, but you've got another bag for that, right?!
Curate's egg
14 Oct 2018
Cons
Poor finish with sharp edges. Sides of roll top are open
Pros
Large size. Sturdy materials. Secure on carrier.
Great price and service from SJS Cycles. Not so sure about the pannier. It is large capacity, which is what I needed, and the materials are good quality, but the quality of finish is poor with sharp edges left on aluminium parts, rivets have sharp burrs on the inside of the bag which are easy to cut yourself on. The roll top section is open at the sides, no side panel, so even after rolling it closed some water may get in. Not used it enough yet to know how bad a problem that is.
Excellent for shopping
10 Apr 2018
I recommend this product
Really easy to use for carrying shopping and holds a lot.
Rack clips work well and the middle locking one speeds putting the pannier on the rack and taking it off.
Follow up to my original review
15 Mar 2018
I recommend this product
Pros
New quick release clips. Shoulder strap. New anti sway.
Tried shoulder strap turns the bags into quite a comfortable courier type bags.
The Quick-clip Pannier Catches are a big improvement on the old catches which could be quite difficult to open. Alas maybe good for thieves. They can be retrofitted which I will do for my other panniers. I don't feel the need to lock the catches in place with supplied screws they don't move along the aluminium holder very easily and the end stops will stop them coming of completely. Useful if you use more than one bike with different racks.
The anti sway can now be turned 360° degrees useful as there is a lot of different shaped racks. All in all one of my best purchase ever.
PS Ortlieb are junk in comparison to Carradice specially the shoppers which will make superb touring panniers.
Excellent quality
13 Mar 2018
I recommend this product
Cons
No rear pocket or tab to attach light to.
Pros
Wax finish. Size. Handles. Price.
I have some super c rear panniers but fancied something a bit bigger and easier to carry off the bike. Definitely meet my requirements. Not tried the shoulder strap but the wooden handles are excellent. Unlike my old super c these come waxed and the water just beads off. Although my old ones never let water in the outside does get wet. Not so with this wax finish.
The price was as usual the best price I could find on the internet by a decent margin.
Downside... No rear pocket the side mesh is not as good. No where to clip light on always useful to have another spot for a light.
Questions & Answers
If you have any questions ask here or phone 01278 441500 (+44 1278 441500).