Ortlieb Mounting Set for Ultimate 6
Manufacturer :
SJS Cycles part number :
Manufacturer part number :
Details
Replacement lockable handlebar mounting bracket for use with Ortlieb's Ultimate 6 bar bag.
Related products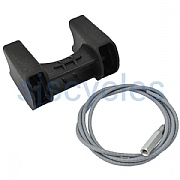 Ortlieb Ultimate 4-6 Mounting Extension Block - OE165
£11.99 Inc VAT
Quick view
Product Reviews (5)
Overall Product Rating 4.8 / 5
Simple design but effective
18 Apr 2023
I recommend this product
Cons
Easy to overtighten the clamping screws underneath
I'd tried to move my previous mounting and managed to irreparably break it. Replacement arrived quickly. Simple to mount, just don't over tighten the clamping screws underneath. No need to
Solid as a rock
13 Oct 2022
I recommend this product
Cons
A fiddle to change if upgrading bar or stem.
Pros
Solid, convenient, capacious, 100% waterproof
I love the Ortleib front mounted bar bag. Easy to install and super solid. There is a video on YouTube produced by Ortleib. Worth watching a couple of times before you install. I have since uninstalled to replace the bar stem - adding a riser stem. It was a bit fiddly but it's gone back on just as solid as before. The truck is to loosen the securing bolts and slacken the cable until it will slide over the bar clamp. Just a question of slipping it back over the new clamp and re tightening. The cable might be a little mashed by the securing bolts so don't over tighten when you install. If all else fails you can get a replacement cable from SJS. Brilliant product, top quality just like all of the Ortlieb kit. Very happy with the bar bag the perfect place for valuables and jelly babies out on the trail. I hIghly recommend the Ortleib bar bag.
22 Jun 2021
I recommend this product
Cons
Loss of space on handlebars.
Pros
Easy to fit. Robust construction.
Well made product with clear fitting instructions. Fitted well to my Mercury with flat bars and Ergon grips. You do lose real estate on the handlebars for lights, etc, but it is worth it.
Good
28 Oct 2019
I recommend this product
Cons
hard to transfer to another bike
very easy to fit and tighten into chosen position (angle) on bars. BUT it was hard to remove to change bikes after just 2 weeks as the tensioner bolt had frozen into position - I had to dismantle the mounting block itself to get this undone. A shame too that you probably can't reuse the wire more than a couple of times. Not sure how useful the lock is really.
Great attachment method!
29 Aug 2017
I recommend this product
Pros
Design, construction, clear pictorial instructions
I bought as a replacement attachment for the Ultimate 6 Large handlebar bag. Usual well designed and constructed Ortlieb part. I have found the key lock useful in low risk areas when popping into a cafe or shop but may not be so secure if left unattended for a long time. Ensure the face of the mount is vertical before tightening the cables (don't over tighten!). This results in the ideal support for the handlebar bag. I think 3kg is the maximum load supported.
Can I use this with my Ortlieb handlebar basket?
21 Jun 2022
The basket I have is: https://www.sjscycles.co.uk/luggage/ortlieb-handlebar-basket-chilisignal-red-16-litre
If not, which fitting do I need for a second bike?
NO, you require SJS part: 52404 for the Ortlieb basket.

JK 21.06.22
Can I get Ultimate 6 barbag mounts with matching keys?
01 May 2022
I have multiple bikes, with which I would like to use my barbag. However, I would prefer not to have to carry different keys depending on which bike I am riding. Is it possible to get a mount that will work with my existing key? Alternatively, can I purchase new mounts with matching keys?
Ultimate 6 with sti levers?
21 May 2020
I'm looking up get an ultimate 6 barbag up use with a dawes galaxy 2013 cromo with sti levers. Do you think there is space between the cables for a bag this size?
This depends on the width of the bar, STI levers used and positioning. We have definitely seen these fitted though.

Thanks - 22/05/20
Are the bracket size
16 Sep 2017
Hi, can you please tell me if there is just one size bracket for Ortlieb Mounting Set for Ultimate 6 Bag (large or medium). I've got a large. Thanks
Hi,

The bracket is indeed the same for both sized of the Ultimate bar bags so this bracket will be fine for use with your bag.

Thanks.
Can I Use This With A Ortlieb 5 Bar Bag
29 Mar 2017
I have an older ortlieb bar bag (2009) which I think is a 5 model. Is the attachment for the ultimate 6 the same as for the ultimate 5? Can I use this mount. I know you can still get mounts for the 2-5 but ideally I want to use this one so I can fit the adopters to give extra handlebar space for lights above the bar bag.
Hi,

Unfortunately the mounting brackets for the Ultimate 5 and Ultimate 6 are different so are not cross compatible.

Thanks.