SKS Chromoplastic Mudguard Set - 26" - Black
Size
Manufacturer :
SJS Cycles part number :
Manufacturer part number :
Details
Previously known as ESGE Chromoplastics, SKS are the Rolls-Royce of mudguards; they are virtually unbreakable and are very elegant. Their beauty is not just skin-deep. The stainless steel v-shaped stays make for easy fitting and the quick release Secu-clips are far safer than standard fixings, preventing front wheel lock up in case of a foreign object getting trapped between guard and wheel. The mudguards have no sharp edges and are amazingly flexible. The production process of fine aluminium foil is encapsulated within a matris of high performance plastic. This process provides high resistance to corrosion resulting in great flexibility.
Related products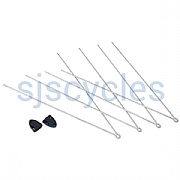 SKS Mudguard Fitting Kit
£14.99 Inc VAT
Quick view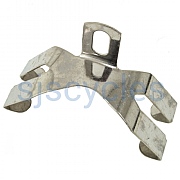 SKS Stainless Steel Rear Mudguard Bridge - Each
£4.99 Inc VAT
Quick view
Product Reviews (5)
Overall Product Rating 4 / 5
Extremely difficult to fit to a Nomad Mark II but once one ...... do the job
14 Feb 2021
I recommend this product
Cons
Fiddly as all hell to fit. Had no idea spacers were required until they arrived .... in Australia
Pros
Awesome build quality
A very well made set of mudguards ? Yes

Expensive in UKP and when converted to AUD ? Yes

These are though, anything but an easy fit to a Nomad Mk II

I had to buy ( after the initial purchase of the guards and I reside in Australia so postage was prohibitive to say the least ) no less than 20 spacers for these to fit.

With all that has been going on, shipping was relatively quick at seven days ( both orders ) but at an astonishing 48 UKP my wallet almost exploded ??

As per another review here, the fitting was an experience in itself as they do not seem suited entirely so take some corralling into place.

Once installed ? They do the job and do look good, although, to me, this is secondary to functionality.

Be warned though. Do not order these expecting them to fit straight out of the box. You will need 15 - 20 spacers to install them on. a Nomad MKII !

In use, these have proven indestructible so zero complaints around product quality etc

19 May 2017
I recommend this product
Cons
Stainless steel fittings would have been nice
Pros
Good fit, tough and well made.
Easier to fit than I thought after reading all previous reviews, used a bike stand to avoid struggling on the garage floor, a case of measure twice cut once - took a couple of hour to fit. Plenty of fasteners were supplied but was expecting stainless steel.

Sks P55
25 Dec 2012
I recommend this product
Cons
Hard to fit, Not enough nuts
Delivery took just 2 days. Like other reviewers here I found them quite difficult to fit and could have done with an extra couple of nuts. Once fitted they look good and do the job they're supposed to.
Sks P55
08 May 2012
Cons
Fitting to size a nightmare
Really solid mudguards but a real hard to fit. Had to cut off two lots off rear stays, in order to not cut off too much, then found almost too short. Am really going carefully with front ones.
Sks P55
20 Dec 2011
Great mudguards but terrible fit, clearly look like they are designed for 700c wheels as i had to saw a huge amount off the stays to get close to the wheel and even then due to the bracket attachment there is still 20mm clearance. They are good quality and robust but i am very suprised i had to faff so much in order for them to nearly fit!
I need to replace the front mudguard on my Thorn Sherpa.
24 Jan 2021
The tyre size is 26 x 1.75. What width of mudguard would you recommend? Thank you.
We use 50mm guards.

Thanks
Will the 65cm fit a 2005 Raven Tour?
12 Aug 2020
55mm would be the maximum.

Thanks - 13/08/20
What size mudguard would you recommend for Schwalbe Big Apple 26 x 2.00?
20 Apr 2020
Thorn Sherpa
08 Jan 2020
55 is the max size on a Sherpa I thought I'll be running 26.2 mondials
Hi, you can fit 65mm. Thanks 9/1/2020 AK
Thorn Sherpa
07 Jan 2020
Would the 26x55 be ideal for the thorn Sherpa?
Either 55 or 65, depends on the width of your tyres RT 080120
Hi would the 65mm version of these be wide enough to work ok on 2.5" tyres (Surly Troll)
31 Aug 2018
2.5" in mm is 63.5mm, these may clear, but are going to be tight.

Thanks
Which should I choose for Swalbe Marathon Mondial 26 x 2.0?
09 Dec 2017
Hi,

2.0 measures as pretty much 50mm, so the 55mm should clear but it will be tight. I would choose the 65mm if your frame has the clearance to fit them.

Thanks
Thorn Nomad and Schwalbe Ice Spiker 26 x 2.10
21 Nov 2017
Were these the original mudguards which came with the Nomad (bought 9 years ago)? The Ice spiker ate their way through the original mudguards, however if I buy a new pair i am hoping to mount them a little further away from the tyres.... Do you think this will work? Or do you recommend another type? Thanks in advance!!
Hello,

Yes these would have been the ones that came on your original bike. Mounting them further away from the tyre should work, however we have never tried this so we cannot say for certain im afraid.

Thanks.


Can i use these with my 26" x 1.9" Maxxis Worm drive tyres?
10 Aug 2017
I have an old Specialised Hardrock mountain bike that I use for commuting. This is fitted with Maxxis worm drive tyres (26" x 1.9"), that have tread at the edges and are slick in the middle. Any help would be appreciated.
Hi the 26 x 65 version will fit over the 1.9 tyres. There are images online of other old Hardrocks with full mudguards fitted so it should be possible on yours. Thanks.
Right For 26X1.75 Schwalbe Marathon Plus Tyres?
05 Jan 2017
Hi there. I have a Surly Long Haul Trucker with 26x1.75 Schwalbe Marathan Plus tyres. Would these be the correct size mudguards to go with those?
A shop recently sold me 28" 35mm width (SKS item no 10964) but I think that may be too narrow?
Thank you!
Hi,

These would be the guards we'd recommend for your bike. The 35mm option would be way too narrow, the mudguards need to be wider than the tyres with a bit of clearance to give the best coverage.

Thanks.
My Mountain Bike Is Fitted With Schwalbe City Jet Bike Tyre - 26
19 Oct 2016
My mountain bike is fitted with Schwalbe City Jet Bike Tyre - 26" x 1.5". Which mudguards would you recommend for me to fit.
Hi,

Providing you have room within your frame and forks you could go for the 55mm option, but these would sit much wider than your tyres. For narrow tyres like your 1.5" a guard that is 45mm wide would be the best option.

Thanks.
Mudguards To Fit 26X2.00 Tyre
26 May 2016
Hello,
I am looking for black mudguards to fit scwalbe marathon 26x 2.00 tyres fitted to my thorn raven tour. Are these the ones? What are other options in black please?
Hi,

These SKS Chromoplastic guards would indeed be the same as what was originally fitted to your bike. We sell a number of other black mudguards that will be suitable for use with your bike form companies like Axiom, M:Part and even other models from SKS.

Thanks.
Do These Mudguards Come With Everything To Fit Them,?
14 Dec 2015
Hi,

They come with all of the parts to fit the mudguards together, but may require extra fixing bolts for final fixing to frame as different frames require different sizes of bolts.

Thanks.
Right Ones For A Raven Twin Tandem With 2" Schwalbe Duremes?
15 Nov 2015
Hi. I bought new tyres from you recently (2" Duremes) which are great! However there is insufficient clearance now on the mudguards for anything other than the cleanest routes (the old tyres were narrower).
The Raven Twin brochure refers to selecting SKS P55 with 2" tyres. Could you just confirm that I have found the right product?
Hi,

You are indeed correct, the P55's are the correct size and these SKS Chromoplastic mudguards are the ones we'd recommend.

Thanks.
Standard Mudguards For Thorn Raven Sports?
17 Nov 2014
Are these the standard set of mudguards that are fitted to the Thorn Raven Sports Rohloff bike? If not which are, and what other alternatives do you suggest?

My tyres are 26 x 1.5 Panaracers.
Hi,

On all of our bikes with 26" wheels but tyres narrower than 1.75" we actually fit modified versions of the 700C SKS Chromoplastic mudguards. The standard versions are SJSC part number 664, details on how to modify them can be found by searching for "mudguards" in our Blog.

Thanks.
Do These Mudguards Come With A Mudflap
22 Sep 2014
The photo shows the front mudguard with a mudflap. Is this included or an extra?
Thanks
Hi,

The front mudguard comes with a mudflap pre-fitted. The rear comes with a reflector pre-fitted.

Thanks.
Silver P55 Guards Mudflaps And Reflector Included?
12 Feb 2014
Do the silver P55 mudguards come with the mudflaps and reflector as pictured?
Hi,

Yes these mudguards come with everything that is pictured.

Thanks.