SKS Chromoplastic Mudguard Set - 700c - Black
Size
Manufacturer :
SJS Cycles part number :
Manufacturer part number :
Details
Previously known as ESGE Chromoplastics, SKS are the Rolls-Royce of mudguards; they are virtually unbreakable and are very elegant. Their beauty is not just skin-deep. The stainless steel v-shaped stays make for easy fitting and the quick release Secu-clips are far safer than standard fixings, preventing front wheel lock up in case of a foreign object getting trapped between guard and wheel. The mudguards have no sharp edges and are amazingly flexible. The production process of fine aluminium foil is encapsulated within a matris of high performance plastic. This process provides high resistance to corrosion resulting in great flexibility.
Related products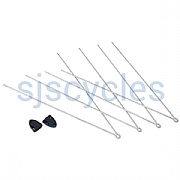 SKS Mudguard Fitting Kit
£14.99 Inc VAT
Quick view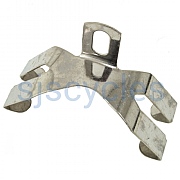 SKS Stainless Steel Rear Mudguard Bridge - Each
£4.99 Inc VAT
Quick view
Product Reviews (7)
Overall Product Rating 4.4 / 5
Good solid mudguards
22 Jul 2023
I recommend this product
Cons
Cutting to length was tricky
Good mudguards and was able to fit them quite easily.
Ordered wrong width but SJS sorted it all out for me very quickly so thanks to the team that sorted that out for me.
Worth it.
30 Sep 2020
I recommend this product
Having fitted these before, I had no problems in fiitting, but as others have said, the instructions are poor.

The doohickies to cover the stay ends are a bit fiddly and require accurate stay cutting. Since I fitted these to a 27 1/4" wheel with a view to changing over to 700c I didn't really want to cut accurately twice. Whilst these are neater, in the end I used some older simpler covers I had.

The stainless stays are hard and difficult to saw with a junior hacksaw and also difficult to file the cut end smooth because of the hardness. It's worth taking the time to do this properly though.

All in all, these are good and worth the cost.
Mudguard
26 Oct 2017
I recommend this product
Cons
Not really adequate for disc brakes
Pros
Durable, good finish, effective
Excellent mudguards, my main ctiticism is that the stays are too short to achieve a neat fit round a disc brake caliper. It is possible to bend the stays round the caliper but it leaves them deperately short at the muguard shell end. Perhaps the manufacturer will eventually realise this and remedy it.
Very Good
12 Jun 2012
I recommend this product
Cons
slow to fit and set up
Had mine fitted for over a year. Haven't budged. Very close fit but despite that they have retained their clearance. Take an age to fit at first but don't all mudguards?
Sks Mudgards
18 May 2011
I recommend this product
Pros
Good looking, tough, does the job
I was rebuilding my bicycle following an eight year absence from the recreation. Obviously this was one of the components needed to replace worn out ones and make the bike look good.
The safety feature on the front guard works extremely well as I found out on a fast descent from Mt Pantokrator in Corfu in 1994 (this safety feature has been around some time).
If you have dynamo lighting the metal strip inside the guard carries the current thus reducing the need for wires. I did find it very fiddly to assemble but once in place it is very neat and replaces the old black plastic tops which came off so easily.
Sks Mudgards
08 Mar 2011
I recommend this product
Cons
Questionnable safety feature
The front mudguard has a patent "safety" feature which is a plastic connector designed to break in the event of snagging. It makes the connecting rod longer, so you either have to use a hacksaw to reduce the length or consider removing the plastic connector. Also, be aware that 700 x 35 means 700 tyre and 35 mudguard. If your tyre is 700 x 35 you need the 45mm mudguard.
Sks Mudguards
08 Dec 2010
I recommend this product
My first set lasted through nearly 10 years of daily commuting, so they are worth the investment. I would say, having fitted these, and two other sets to other bikes recently, that fitting the stays can be a bit fiddly, and using a hacksaw to reduce the length of them on one wheel is usually necessary, but once in place that's it for good!
Adapting to fit to rear of fork crown
20 Sep 2023
My bike (Boardman ADV 9.4 carbon) has the front mudguard fixing at the rear of the fork crown, pushing the position of the front guard too far back. If I chop the fixed bridge off, could the accessory rear bridge you sell be used to provide an adjustable bridge at the front (I would rivet or epoxy it in place once I get the placement right. Is there a better solution.
Yes that would also work, if tyre clearance is an issue then Epoxy would be the better solution. SK 20/09/23
What are the widest tyres that can be resanubly be fitted with the 65 option
06 Aug 2022
Really 55-60mm tyres, but it very much depends on what the tyre width is one on the rim and inflated,

To be safe we suggest running the tyres 10mm narrower than the guard asto account for tred sticking out and to provide total coverage.

JK 08.08.22


Mudguards 700 x 32 tyre
29 Oct 2021
I want to buy some mudguards for my old tourer. I have 700x 32 tyres on it at the moment. What size mudguards do I order. Thanks!
Thank you for your enquiry, the 45mm width will be fine

WD 29/10/21
Width of the pinch?
15 Jul 2020
I'm fitting 35mm tyres into quite a narrow front fork. Wondered what the width of the pinched section is so I can determine if they will fit.
the 45mm refers to the overall width of the mudguard,

Hope this helps,

Is the rear guard bridge metal or plastic?
05 Apr 2020
The last set of chromoplastics I bought (for another bike) had a plastic bridge. I like this as I have a suffered several failures of the metal bridges over the years. Does the 45mm now come with a plastic bridge?
Also, how easy is it to remove the new design rear reflector to fit a light?

Thanks
The bridge is metal. The reflector is fitted with one screw and a pin, easy to remove.

Thanks - 06/04/20
650b x 50mm fit?
16 Mar 2019
Are these the best option for 650b wheel with 50mm tyres or would you suggest bigger width guards? Thanks
650b x 50mm = 684.00 = 700c x 31mm in terms of diameter, so we would look to go with 55/60mm guards.

Thanks - 18/03/19
What,s the maximum tyre size i could fit under 50mm guards? Thank you.
13 Mar 2019
Hi there,

In theory, you could fit a 45mm tyre with those guards but to be safe we would say that the maximum would be 40mm.
Can I use this size with 700 x 35 tyres
03 Oct 2018
They would be used on a Whyte Suffolk with disc brakes using Schwalbe 35mm tyres.
Hi there,

You should be able to use these without a problem.

Thanks.
29 Sep 2016
Will this set fit on tyres size 60-622 28x2.35in or will I need something bigger?
Hi,

Your tyres are 60mm wide and the widest option these guards are available in is 50mm so are narrower. The only guards we have that are wider than your tyres are 65mm so there will be very little clearance either side. We do two sets in 65mm, one set from SKS which are part number 37018 and one set from Axiom which are part number 41833.

Thanks.
Which Width Of Mudguard Is Part Number 34053 ?
17 Jan 2016
Hi there, I bought a Thorn Audax last year and the mudguards on the invoice are part number 34053. Can you let me know which width they would be? I've measured them and they seem to be between sizes. Thanks Steve
Hi,

That part on your invoice is the same as the 35mm version of these guards you've left the question on. The ones on the invoice are the workshop versions without any packaging.

Thanks.
What Is The Appropriate Width Chromoplastic Mudguard?
10 Jul 2014
To fit to a 27 X 1 and 1/8 wheel
Hi,

With 27 x 1 1/8 tyres you should be able to use the 35mm guards, I would however recommend going for the 45mm guards just for the extra bit of clearance and it would allow you to change to 27 x 1 1/4 tyres if you ever wanted to.

Thanks.