Mucky Nutz Bender Fender 2.0 - Front
Colour
Manufacturer :
SJS Cycles part number :
Manufacturer part number :
Details
The Bender Fender 2.0 is Mucky Nutz' next generation Bender Fender. They've considered all the great attributes from the original and improved on them.

- Improved Performance: The fender has been modified so that it is now longer, both front and back, and wider, increasing the muck catching area
- Improved Fitting: There is a third fitting point for the fork brace, allowing the fender to follow the brace profile much tighter than before, circular or otherwise
- Minimised Weight: Although the Bender Fender 2.0 is larger than its predecessor and comes with an extra strap it is still the lightest mudguard available, at just 16g, as they have reduced the strap width to 10 mm
- Variety: The Bender Fender 2.0 is available in 8 colour combinations with more on the way if all goes well

Here's a reminder of the Bender Fender's plus points:
- It stops any muck, horse, cow and dog faeces from being flung into your face
- It is fitted as close as possible to the knobbly bits for optimum 'muck' catching
- It protects your fork stanchions and brace from getting caked, reducing the need for cleaning and servicing
- Discretion is its middle name. It's small but effective. Don't just take our word for it! There's loads of positive chit chat on the forums and in the online mags
- It's the lightest mudguard available
- Uses hook and strap loop straps to attach to the brace and stanchions, so it's easy to fit and take off
- It's compatible with all forward and double sus brace designs
- It can be used as a rear shock guard on some full sus arrangements
- When off, it's easy to clean as it's flexible and opens flat. Simple wipe it and you're done!
Related products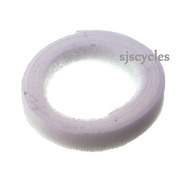 Mucky Nutz Bender Fender 2.0 Fastener - 10 mm x 0.8 m
£2.99 Inc VAT
Quick view
Product Reviews (2)
Overall Product Rating 5 / 5
Amazing
06 Feb 2014
I recommend this product
Pros
price, looks, mudguarding
Bought one as my Neoguard just wasnt cutting it, didnt think would be much better tbh

I tested it on my 1st ride, and yeah it works perfectly. no water in my face and saves the frame also a bit.

Plus looks the part.

It started looking a bit shabby after loads of rides but i removed it and wiped with a wet cloth and now its like brand new again.

Best thing is it hasnt scratched my forks either!
Fender Review
27 Oct 2011
Excellent product, well worth the money and very effective. Simple to fit and highly recommended.
Questions & Answers
If you have any questions ask here or phone 01278 441500 (+44 1278 441500).