SKS Suntour Angle Bracket
Manufacturer :
SJS Cycles part number :
Manufacturer part number :
Details
Sold as single unit (also available as pack of 4 units under SJSC item number 50784).

Both holes are 6mm.
Related products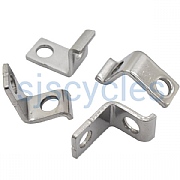 SKS Suntour Angle Bracket - Pack of 4
£5.99 Inc VAT
Quick view
Product Reviews (5)
Overall Product Rating 4.2 / 5
Great Little Bracket
14 Oct 2017
I recommend this product
Great bracket to allow fitting full mudguards to bikes with Suntour front suspension (Possibly other makes also).
Made fitting Tortec full length mudguards to my Giant Roam 1 a breeze. Only £1.50 each so a cost effective solution to this problem. Highly recommended if you are in the same situation as I was in wanting full mudguards on a hybrid bike used for commuting in all weathers.
Rear facing fork eyelets to mudguards..
04 Oct 2017
I recommend this product
Using these to mount SKS Bluemels Primus mudguards to a Merida carbon fork with mid-fork rear-facing eyelets (this is on the model named Cyclocross). BTW, the screws (NOT included with bike, fenders, or these brackets) are M4, rather than M5 like most fender bolts and water bottle mounts. I used those otherwise useless screws from a Lezyne mini-pump package (the ones that mount the pump holder to the package).
Definitely Worth £1.50
29 Nov 2016
I recommend this product
Cons
Better to mount at the axle if you can.
It never crossed my mind they would supply two for the price of one, so I bought two. I used these to mount M:PART polycarbonate mudguards on my Cannondale Quick CX 2. They were robust and strong, and fitted perfectly. These particular mudguards however would have better suited a mounting closer to the axle. Consequently they vibrate a bit and the quick release brackets pop off if going over a big bump.
Does The Job
23 Nov 2016
I recommend this product
Not a lot you can say about a bracket.It does the job, and looks neat an tidy.Price is good as well as delivery and service from SJS Cycles. A 5STAR positive rating.
Sold Singularly!!!!!
11 Oct 2016
Cons
doesnt fit the other fork
This is sold as one bracket, never even crossed my mind when ordering that it would be just one bracket, who would want one bracket!!!!!, someone with one suntour fork, someone who had cut their bike in half, someone who wanted to fit onlt half a mudguard, aaaaaahhhhhhhh!!!!!!!!!!what a pain.
What diameter is each hole?
21 Mar 2018
I'd like to use this to attach a mudguard to a disk brake mounting bolt, but they're M6 rather than M5. Can you tell me the diameter of each hole on this part?
Hi there,

Both holes are 6mm.

Thanks
Can I Mount This To The Disc Brake Caliper Bolt?
02 Jan 2017
I am riding a Giant Tcx which is running disc brakes and without eyelet on the forks.
Hi,

In theory this would be possible providing your brake bolt is long enough, but it won't be much help as most mudguards have stays that come down both sides of the wheels so you'll still need a way of fitting the other side as well.

Thanks.
Do You Have 2 Sks Suntour Angle Brackets In Stock?
11 Nov 2016
Hi,

We have plenty of these in stock for you to order two.

Thanks.
Does This Bracket Come With The Bolt To Attach It To The Fork ?
03 Nov 2016
If not, What size would i need to get ?

Hi,

This bracket comes as pictured without any bolts, the correct bolt size would depend of the fitting you have in your forks.

Thanks.