Kneesavers Pedal Extenders
Length
Manufacturer :
SJS Cycles part number :
Manufacturer part number :
Details
Kneesavers Pedal Adaptors are stainless steel extensions which relocate each pedal an additional 20, 25 or 30mm away from the crankarm. Developed by physical therapist Randy Ice P.T., C.C.S., Kneesavers help eliminate foot ankle knee or hip pain for those cyclists with a toe out condition as well as improve biomechanics in those cyclists with wide hips, large feet, or bowlegged/knock-kneed leg structure.
In his practice evaluating and treating cyclists with cycling related pain, Randy Ice recognised the design limitations of current fixed and free floating pedal and crankarm systems. These systems limit toe-out to approximately 3-5 degrees before heel contact is made with the crankarm and / or chainstay. By installing Kneesavers, the degree of toe-out can be increased up to 35-40 degrees, distancing the pedals further apart improves the bio mechanics of cyclists with the above mentioned conditions, thereby improving pedaling efficiency and power for both competitive and recreational cyclists. Foot, ankle, knee or hip pain is relieved!

For 9/16 inch pedal threads.
Related products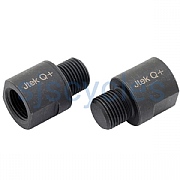 Jtek Q+ Pedal Extenders 9/16 Inch
£14.99 Inc VAT
Quick view
Product Reviews (7)
Overall Product Rating 5 / 5
Does what it says
03 Jul 2019
I recommend this product
Cons
Only available as a pair. Pricey
Pros
Keep me cycling. Allow me ride a variety of bikes with narrow cranks.
These prevent knee issues for me on bikes with a narrow Q factor which is most older bikes. I keep buying more of them as I can't be bothered to keep taking them on and off
No More Pain
27 Aug 2017
I recommend this product
Cons
Pricey (but worth it)
I bought a pair of the Jtek Q Pedal Extenders for my wife to use on the back of our tandem a few years back. She found she had no knee pain on the very first ride using them. We acquired a new tandem and on the first ride out with no extenders she experienced knee pain again so I bought her a set of these as there is no need to remember to wipe with a little oil after each clean to prevent rust.
Just What The Doctor Ordered
13 Jun 2017
I recommend this product
Pros
Allow you to put down more power when pedalling
I didn't realise how much I truly needed these kneesavers till I installed them and then went on a ride.

It felt like I could put more power down and pedalling in general was just more natural and comfortable.

As I will be getting another bike in a few months time, I will have to order another set.
Mr
28 Sep 2012
I recommend this product
Pros
Great solution to biomechanical problem
This is a great purchase as I have toe out on my right foot, and cycling was very uncomfortable with shoes locked on to pedals, not to mention the extra stress on my knee. I do think they are over priced as they are only a piece of stainless bar cut to length and threaded, but alternative solutions to pedal position are almost non existent.
Kneesaver Pedaladaptors
29 Dec 2011
I recommend this product
Pros
Easy to fit, improves cycling action
I have been using these adaptors for a few months now and they have improved my cycling action completely. my ankle used to brush the crank at the axle but it no longer happens. It took a bit of time getting used to the position of the pedal but now I can locate the pedal easily now. Very easy to assemble so I can't recommend enough if you have any issues with your pedaling action.
Kneesaver Pedal Adaptors
21 Dec 2010
I recommend this product
Pros
Allows me to cycle long distances pain-free.
This has completely transformed my cycling experience. I have a very toe-out stance the only way I could ride a bike comfortably was to basically have my left foot hanging over the side of a flat pedal, causing foot pain after 20 miles, or to force my foot to stay on the pedal properly, causing knee pain. With this, these problems are a thing of the past. Quite expensive for what it actually is but it they are beautifully machined and worth their weight in gold if you have feet alignment problems.
Kneesavers Pedal Adaptors
31 Oct 2010
I recommend this product
Cons
None, given my circumstances.
Pros
Easy to fit. The difference between being able to cycle properly or not.
This is a repeat purchase for me, so pleased am I with my previous one. A road accident in 2001 left me with a right foot turned out by 25 degrees. This means that my right heel catches the crank on my right pedal, or I twist my hip to compensate. The kneesaver sorts this problem and allows me to cycle like I did in the old days. And why a repeat purchase? Because I suddenly realised that if my bike gets stolen the greatest loss will be this little gadget: so a spare!
Would fitting stainless extenders to aluminium crank Gav Ed problems with galvanic corrosion?
11 Jun 2023
Hi, yes it might. However using Park Tool ASC-1 Anti-Seize Compound will help prevent the problem. Galvanic corrosion can occur with steel pedal threads and alloy cranks and alloy seat posts and steel frames to mention just two instances. Thanks
Is there a max rider weight the stainless ones can bd used with?
11 Jun 2023
Hi, Kneesavers do not publish a maximum rider weight or guidance on this matter. Nor do any of the other pedal extender manufacturers and we have not had any reports of failure. Thanks
Will they fit a Ribble CGR 725 with Race Face Chester flat pedals?
20 Jun 2022
Are your pedal extenders manufactured in the UK?
I prefer to Buy British and avoid Chinese products.
These are made in Taiwan, sadly no one in the UK makes pedal extenders. These will most likely be compatible with your pedals.

JK 21.06.22
Instructions
02 Nov 2020
Hi. Are there any instructions how to define wich length I need? Thx
Hello, we suggest visiting the Kne Savers website for this:

https://www.kneesaver.net/faq.html

JK 03.11.20
Are these compatible with Look Keo Pedals?
22 May 2019
Hi, yes they will work. Thanks 22/05/2019
CAN I USE THIS WITH A CARBON CRANK?
29 Aug 2017
Hi,

We would recommend contacting the manufacturer of your cranks, we have never tried these in a set of carbon cranks and the longer lengths add leverage that may not be recommended with carbon cranks.

Thanks.
Is The Weight Per Single Or Pair?
21 Jan 2017
Hi,

The weight is for the pair.

Thanks.
What'S The Difference In Weight And Materials Between The Jtek Q And The Kneesavers
21 Nov 2016
Hi,

The Kneesavers are made from Stainless steel where as the Jtek are made from basic Cr-Mo steel. The Kneesavers are lighter across the board with the 20mm option 13grams lighter, the 25mm option 8grams lighter and the 30mm option 3grams lighter.

Thanks.
Shimano Pedals?
02 Nov 2016
Hi, will these fit onto shimano SPD pedals?

Thanks
Hi,

These use the same thread so will be fine for use with Shimano SPD pedals.

Thanks.
Is The Size Not Included Of The Thread Size So It'S 20Mm Plus The Thread
13 Oct 2016
Hi,

You are correct, the length is just for the length of spacer and it does not include the length of the thread.

Thanks.
Which Size?
11 Apr 2016
I have been getting pain in my outer knee. Cleat adjustment causes my heel to clip the chain stay. How do I know which length extender to go for?
Hi,

There is no chart for selecting a particular length, you just need to select a suitable length based on how wide you need your foot to sit so when its at the desired angle it does not contact the crank arm.

Thanks.
Size
18 Aug 2015
These will fit on to the pedals of a modern road bike? Two year old Trek.

Kind regards

Paul
Yes they will fit. They are 9/16 thread.
Thread
04 Mar 2015
Are these 9/16" threads?

Tks.


Hi,

These Kneesavers pedal adaptors are indeed 9/16" threaded.

Thanks.