Kneesavers Pedal Extenders - 9/16 Inch to 1/2 Inch
Manufacturer :
SJS Cycles part number :
Manufacturer part number :
Details
- Male End: 1/2"
- Female End: 9/16"
- Only available in 20 mm sizing
Related products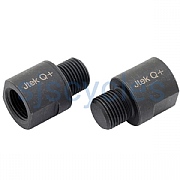 Jtek Q+ Pedal Extenders 9/16 Inch
£14.99 Inc VAT
Quick view
Product Reviews (1)
Overall Product Rating 4 / 5
Perfect
24 Nov 2016
I recommend this product
Great quality. Excellent fit. Does the job. Very pleased.
Peugeot Touring Bike With French Pedal Threads
23 Jun 2015
Hi,
Are these the correct adapter to allow me to fit modern SPD pedals to my 1980s French tourer with French pedal threads?
Thanks,
Mike.
Hi,

Unfortunately I don't believe these are, the 1/2" pedal thread is normally only found on kids bikes. As far as we're aware old French pedal threads were 14mm exactly compared to modern standard 9/16" (14.3mm) and kid sized 1/2" (12.7mm). If your cranks are steel there is the possibility of re-tapping the threads to the 9/16" size.

Thanks.
Does This Mean I Can Use A 9/16" Pedal On A 1/2" Crank?
14 Mar 2014
Hi,

Yes that's what these are used for, so that can work.

Thanks.