Shimano PD-M520 SPD Pedals - Silver
Manufacturer :
SJS Cycles part number :
Manufacturer part number :
Details
Cycling Plus Recommended 9/10

Value for money dual sided SPD pedal, a favourite off-road sport SPD.

- Super-compact and lightweight design for a multitude of cycling uses.
- Sealed cartridge bearing spindle keeps out water and mud for a smooth action, and makes for a durable pedal.
- Open design helps to shed mud
- Weight: 380 g per pair
- Includes cleats.

Cycling Plus 2007 BEST BUY 9/10 - "Superb SPD performance for the price, these set the benchmark."

Shimano's original SPD system is one against which all similarly designed pedals are judged. The M520 offers exceptional value and performance for money, and it's a tried and trusted design that works. Its mud-shedding design and reliable clip and release mechanism is aimed at mountain bikers. The M520s also make great all-round pedals for tarmac when used with SPD shoes and the realease tension can be backed off low or wound up tight for extra security on the road. These pedals last for ages and you buy the axle removal tool that allows you to get to the bearings for quick and easy servicing. If you're not a fan of clipless road pedals then you should consider a pair of M520s because they're very tough wearing and smooth running.

Cycling Plus 2006 'Best Buy' - 9/10 Better mud clearance than before. Ideal for road users too.
All the same mud-shedding capabilities with the open binding design of the race-proven PD-959 pedal at an entry-level price. SPD® compatible. This pedal only works with SH-51 cleats (supplied) or SH-56 multi-release (avalible as spares)
Related products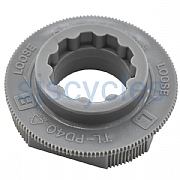 Shimano TL-PD40 SPD Clipless Pedal Axle Removal Tool
£1.99 Inc VAT
Quick view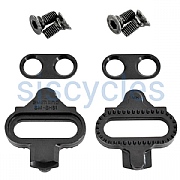 Shimano XTR SPD PD-M985 SM-SH51 Cleat Set - Single Release - Y42498200
£17.99 Inc VAT
Quick view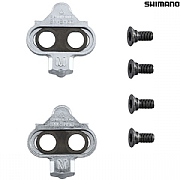 Shimano XTR PD-M985 SM-SH56 Cleat Set - Multiple Release - Y41S98090
£17.99 Inc VAT
Quick view
Product Reviews (9)
Overall Product Rating 4.8 / 5
Excellent SPD Pedal
01 Apr 2021
I recommend this product
These are great double sided SPD pedals, which I now have on 4 of my bikes.
Shimano,quality product as always
09 Feb 2021
I recommend this product
Good service,quality product,promt service
Deserve the good reviews
27 Feb 2020
I recommend this product
Pros
Well finished, open, light
Very smooth out of the box. Because you can see grease around the axle seal, I suspected that they aren't sealed cartridge bearings as described, so I took one apart to find they are loose balls (internally the same as my 20 year old M525 pedals). However, they are easy to grease as you simply unscrew the axle assembly, put in some fresh grease and do them up again slowly. This squeezes old grease out. You will need the Shimano tool TL-PD40 (not supplied) which in turn needs a 36mm spanner. The adjusting nut and locknut are easily tightened with a couple of spanners. The pedals come with instructions how to fit the cleats and adjust the pedal clips. The pedals are very open, hard to see how they could be any more minimalist. The body finish is bare metal which should not show the inevitable scratches, but they are also available in black for some reason £10 more. The cleats supplied are SM-SH51 single release.
An All-Round Good Buy
12 Jan 2012
I recommend this product
I have five pairs of these pedals, used on my utility / training bikes and a tandem. (Look pedals on my racing bikes). I noticed that one was loose on the spindle late on 28 December, no complaints after three years' hard use. I ordered a pair around 2100 on that day and they arrived in the morning post on 30 December. Excellent service in my view.

Although regarded by Shimano as budget pedals I find them wellmade and excellent value for money. SJS' price is very competitive and the inclusion of a set of cleats left me wondering why I paid £750 for such two months ago. Next time I will just order more pedals!

Excellent Value
03 Aug 2011
I recommend this product
SJS delivered promptly and my first experiance with this type of peddle having used clips and straps on road bikes for decades. They seem well made and very good value. Although not the lightest peddles around I found them easy to use and efficient. Easy double sided entry, and even more important, easy release. For me, the miniscule weight saving on a more expensive pair doesnt add up.
Excellent Pedals, Fantastic Value
07 Apr 2011
I recommend this product
I'm new to SPD's and have fitted these to my road bike which i commute on. easy to set up and use and because they clip in on both sides there's no need to worry about flipping them to clip in. Excellent for the novice, commuter or those looking for SPD's at a sensible price
Does What It Says On The Tin
11 Jan 2011
I recommend this product
I'm on my second pair of these now, so they must be okay! So far as I know these are the cheapest SPDs on the market, and never having used more expensive ones I don't know what more they could provide. You can't knock the value for money, though, especially considering that they come with a pair of cleats! I did notice that they were easier to clip into when they were brand new and seemed to 'tighten up' a bit with use, but I never adjusted them so it may just be me.
Outstanding Value and Performance
04 Aug 2009
I bought these pedals for my road bike and they have performed flawlessly, even riding from London to Paris. Never had a problem with either entry or release. Easy to clip into whilst riding. Fantastic value at this price. I cant think of anything bad to say about them.
Great pedals
18 Nov 2006
These are a great set of pedals for £15.99. Double sided, easy entry, if you're considering SPD's don't hesitate to try these!
Questions & Answers
If you have any questions ask here or phone 01278 441500 (+44 1278 441500).