Sunlite Pedal Adaptors - 9/16 Inch to 1/2 Inch
Manufacturer :
SJS Cycles part number :
Manufacturer part number :
Details
For 9/16" pedals going to 1/2" cranks. 21mm long extension.
Commonly used for fitting road and mountain bicycle pedals to gym exercise bikes.
Related products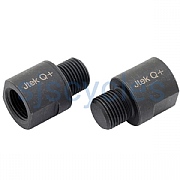 Jtek Q+ Pedal Extenders 9/16 Inch
£14.99 Inc VAT
Quick view
Product Reviews (1)
Overall Product Rating 5 / 5
Very Good Product
24 Jun 2016
I recommend this product
Cons
A little expensive for what they are, but if you need them you should not hesitate to buy them.
Pros
they do exactly what they are meant to do
I ordered these adaptors to convert my one piece crank to 9/16, l,m now happily cycling around on my old single speed Monark with clipless pedals.
Pedal adapters
17 Mar 2020
I know that, i meant...
Do you sell pedal adapters that run 1/2 pedals into 9/16 cranks.
Thanks
Hi, we don't have 1/2 to 9/16. Thanks 18/03/20
Pedal adapters? 1/2 pedal to 9/16 crank? Please
16 Mar 2020
Thanks

For 9/16" pedals going to 1/2" cranks. 21mm long extension.


Thanks - 17/03/20
can I use Sunlite pedal adaptor with J tekQ extenders
23 Mar 2019
Bought the extenders only to find my crank is 1/2 inch, Can I use both or will I have to make do with any extension the adaptors will give me.
Thanks
Hi, we do not recommend using extenders and adaptors together. You could break the components with the extra leverage. We think make do with the adaptors extension and return the Jtek extenders for a refund if you want. Thanks 26/03/2019