Sunlite Pedal Extensions 9/16" - 19.5mm
Manufacturer :
SJS Cycles part number :
Manufacturer part number :
Details
9/16" male and female thread compatible with most crank arms and most pedals.

19.5mm of extension.

By installing pedal extensions, the degree of toe-out can be increased up to 35-40 degrees, distancing the pedals further apart improves the bio mechanics of cyclists with previous joint issues thereby improving pedalling efficiency and power for both competitive and recreational cyclists. Foot, ankle, knee or hip pain is relieved!
Related products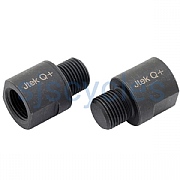 Jtek Q+ Pedal Extenders 9/16 Inch
£14.99 Inc VAT
Quick view
Product Reviews (3)
Overall Product Rating 3.3 / 5
Pedal Extensions
19 Feb 2016
I recommend this product
Cons
quite heavy altough they probably need to be
Pros
perform the advetised function pefectly
After switching from clipless to flat pedals I noticed that my feet kept drifting outwards whilst riding. I then noticed these adaptors and thought that it made sense to position my pedals further out than normal to allow my feet to be a postion they naturally want to be. After many adjustments on the bike I realized that the saddle needs to be slightly lower and more forward on the rails to allow for the feet to sit wider. it is very common for cyclists to suffer from muscle imbalances and knee problems, After using these, I noticed after a while that my glutes and hambstrings became easier to stretch which in turn allowed my back to loosen up etc and in general, the way my muscles have loosened up shows that they were a lot tighter than I realized which would lead to longer term problems. I now find that I have no muscle sorness etc even after a 3 day loaded tour. I can safely say that these have changed my cycling for the better as I feel much more confortable and because my legs are postioned wider, I am also getting more power as I am engaging the inner thighs more than on the normal position, I definately recommend them but bear in mind that you will need to make other adjustments to the bike to compensate for the wider postiton of the pedals, (saddle slightly lower and more forward worked for me) I would also seek advise from a physio/podiatrist to ensure there ok for you.
Pedal Extensions
02 Jul 2015
I have been trying to overcome IT Band (Illiotibial) issues for about 4 months so thought I would give these a try. A nicely made product but as already stated a little heavy. A small price to pay if it cures an issue however.
For me, I found them uncomfortable and after a couple of rides removed them as I found cycling like a duck did not feel comfortable. The stretches and exercises proscribed by the physio are now having a positive result and I would recommend following advice from a physiotherapist if you have IT band issues which cause pain on the out side of the knee along with a good bike fit.
Pedal Extensions
08 Sep 2012
Pros
simple, effective, good value
This is the third pair of these I have as well as two pairs of the more expensive knee savers, so I now have them on Road, Audax, Tandem Fixed and MTB.
Don't know how I managed without. Less knee pain, more power (as leg is working in strongest plane and less heel rub against crank and frame. They aren't a shiny as the kneesavers and need an occasional oil and both add a bit of weight if you count grams, but otherwise they are up there with clipless pedals in terms of transforming the comfort and efficiency of my ride. If your natural stance is toe out, get them!
Sunlite Pedal Extensions: Are They Ok To Use With A Carbon Crank Arm?
24 Nov 2016
Hi,

These pedal extenders are absolutely fine for use with Carbon cranks.

Thanks.